Good Old Cameras From Good Old Germany; Classic And Secondhand Models At Moderate Prices Attract More And More Foreign Shoppers
Germany is a good place for photographic camera enthusiasts to go. This is true for people who are looking for used cameras that they can buy at reasonable prices as well as for classic collectibles. Top models of the most famous brands dominate the market for used and classic cameras, with Leica in highest demand. But other high-value and professional products made by Canon, Nikon, Pentax, Rollei, and Hasselblad can also be found at moderate prices. If you are looking for used professional equipment it's a good time to buy, especially since so many professional photographers are switching to digital. There are good bargains to be had in 35mm SLR cameras as well as medium format and view cameras.
Photos © 2005, Heiner Henninges, All Rights Reserved
What foreign camera shoppers love about Germany is that they can be sure to get a good product at a reasonable price and that all good shops offer a guarantee on used cameras. In particular, collectors don't have to worry about copies or fakes if they go to a known, specialist dealer. Another advantage is that most dealers in the big cities of Germany are used to dealing with foreign clients and employ English-speaking personnel. Most of them take their customer service very seriously and see reliability and steadiness as keys to their success. All owners of the bigger shops know that they make a living because of their reputation and that customer satisfaction is the basis of their business. If there are big differences in the prices for the same products it is mostly because of the differences in condition. Cameras in mint condition are more expensive than those that have signs of heavy usage. That is true for both collectible items as well as high-value, secondhand products.

In order to provide a survey of used and collectible prices in Germany, I visited some of the most respected dealers in the country's biggest cities. They all have clients abroad and some of them are conducting business not only in their shops but also by selling a lot over their websites on the Internet.
Cologne
Cologne is Germany's capital of photography. It is the home of photokina, the biggest fair for the imaging industry in the world that takes place every two years. In Cologne you will find museums, galleries, and also shops that are related to photography everywhere throughout the city. One shop that is widely known not only by the people of Cologne but also by photo enthusiasts all over Germany and abroad is Foto Gregor. The shop offers new products as well as photofinishing services. Photographers from all over the world visit this shop because they can find a wide range of quality used cameras and can sell their own equipment or exchange one used item for another.
This year Foto Gregor is celebrating its 30th anniversary. There are over 50 employees working in the shop, 40 of whom are specialists in various fields of photography. At Foto Gregor you can find nearly everything the photographic market offers. One specialty is rare Leica accessories and everything that Leica supplies. They have cameras, lenses, slide projectors, spotting scopes, and of course a big choice of used equipment as well as rare individual collector's items, or even complete collections. Foto Gregor is always seeking to buy used Leica equipment, and they treat their client professionally and individually. They offer two business models--you can trade in your own used equipment and exchange it for another product or you can get cash for it at once.

We recently talked with Mr. Schuhmacher, who has been working for Foto Gregor for many years. He sees the trade in used cameras decreasing a little bit since the advent of digital photography, but used still accounts for more than 10 percent of overall sales. About 80 percent of the used equipment comes from individuals, the rest are from collections.

"The biggest part of our secondhand business is Leica products," he says. "Apart from our German clients we have many people from the U.S.A. and Japan looking for high-value classic cameras. Our business booms during photokina. But there are also many people from North Africa, for example from Morocco or Egypt as well as Turkish clients, buying used analog cameras. We also serve many young people who are looking for a cheap entry into photography with used SLR equipment. Clients from Japan are mostly collectors of classic cameras."

During our visit we saw a wide array of quality used and collectible cameras. (Editor's Note: Prices here are stated in Euros. As we went to press the exchange rate was $1.23 to one Euro. An easy conversion figure is to multiply the Euro by about 20 percent to get the dollar amount.)

In stock during our visit:
· Leica IIIG with 50mm f/1.4 lens: 4996 Euros
· One prototype of Leica M6a and one of Leica MP6 je 1 Stück (there are only about 10 pieces in the world): about 30,000 Euros
· For people who are looking for a cheap entry to SLR photography the shop offers, for example, a Minolta XG1 for under 50 Euros.
Foto Gregor
Neumarkt 32-34
(Cologne)
D 50667 Köln
Phone: +49 221 9257 6611
www.foto-gregor.de
e-mail: info@foto-gregor.de
Hours: Monday to Friday 9:30-19:00;
Saturday 9:30-14:00
Munich
Foto-Video Sauter is Munich's premier address for photo enthusiasts. They have in store anything that is hot in analog and digital photography. They also offer used cameras from a long list of makers. The strongest brands in the used camera segment are Leica, Canon, and Nikon. Approximately 80 percent of their clients are Germans and the remainder come from abroad. Even though most of the foreign clients come from Austria, Italy, and Croatia, there are many regular customers from the U.S.A. and Japan. Most of the clients rely fully on the advice of the sales personnel. Their business concept is twofold. Foto-Video Sauter sells used products on a commission basis. In this case, the client has no guarantee, but he can return the product in around 14 days. The prices depend on supply and demand.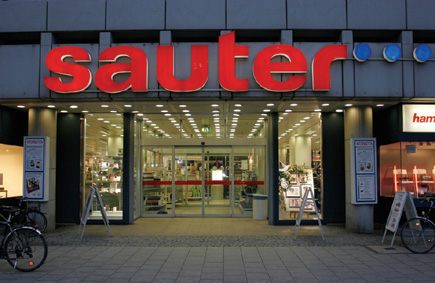 Foto-Video Sauter guarantees its used cameras for one year. They carefully inspect all products and, for example, examine lenses for fungus and make sure all camera functions are in working order. The shop specializes in used SLR cameras in price levels between 50 and 4000 Euros. The shop does not offer high-value collector's items. The company has been run as a family business for over 50 years now and has over 50 employees. Foto-Video Sauter does not sell used cameras via its Internet shop.

In stock during our visit:
· Leica M6: 1200 Euros
· Leica R8: 4000 Euros
· Leica M7: 2300 Euros
· Nikon F90: 350 Euros
Foto-Video Sauter
Sonnenstr. 26
D 80331 München
Phone: + 49 89 551504-14
www.foto-video-sauter.de
e-mail: info@foto-video-sauter.de
Hours: Monday to Friday 09.30-20.00,
Saturday 09.30-18.00
Frankfurt
Foto Hobby Rahn has existed as a family-run business since 1910. At the moment the shop is moving to bigger quarters in the city. Foto Hobby Rahn is a Leica Specialist and makes about 90 percent of its business with Leica equipment. Apart from their German clients they serve mainly buyers from the U.S.A. and Japan who are looking for special collector's items, in which case price is often of little consequence. Foto Hobby Rahn is very proud to also offer very rare items. During our visit we saw an original Leica 0-Series camera for about 300,000 Euros. As the owner is himself a collector, he does not always want to sell the very rare models.
In the new premises Foto Hobby Rahn will also function as a Leica gallery. In addition, they plan to exhibit their collector's items in a store museum. The shop is also organizing Leica workshops in cooperation with the Leica Academy. The shop also has an English-speaking website at: www.fotohobby.de/engl/start.html.

LATEST VIDEO