Flashpoint DG-Series Monolights: Affordable & Versatile, With LED Modeling Lamps
The important characteristics of any studio lighting system are the quantity, quality, and color of the light they produce. Other factors such as recycle time, type of output control, build quality, and the ability to accept accessories may be crucial, but for many of us the most essential element is price. I was impressed by previous Flashpoint monolights (April, 2012, issue of Shutterbug) because they're rugged, dependable, and significantly, for the advanced amateur and aspiring pro, inexpensive. Now Flashpoint has introduced a new family of monolights—the DG series—that builds upon all of the positive aspects of previous models and takes them in a new direction.
The Flashpoint DG400 and DG600 AC/DC Digital Monolights combine power supply, flash head, and controls in a single attractive and blue polycarbonate unit that weighs just a few pounds, and is about half the size of monolights delivering comparable power. Despite its compact size, the DG600 delivers up to 300 ws of consistent 5600K output. As is true with all Flashpoint monolights, the 600 designation is based on the combined output of two heads.
Wireless Tripping
Additional DG600 monolights can be wirelessly tripped via their built-in switchable optical slaves. The slave switch has several positions with a colored LED indicating which mode was chosen. An Adorama representative told me that green represents on, red is off, and orange, which appears to light both red and green LEDs, is another off. He further explained that the optical slave could not be used with any camera/flash combination that has a pre-flash feature.
Depending on output power selected, the DG600 monolight has a recycle time as fast as half a second with a flash duration as short as 1/1500 sec, which means you can photograph energetic subjects with little risk of ghosting or underexposure due to an incompletely recycled capacitor. The back of the monolight sports a large digital display that makes adjusting its continuously variable output easy to set (and remember) and the sturdy, fan-cooled housing features a grippy rubberized surface.
Battery Pack
The DG600 can also be operated AC-free with the optional ($129.95) battery pack that's useful when electricity is unavailable on-site or long extension cords aren't practical or safe. Its sibling, the DG400 monolight, has nearly identical features with less output and a slightly lower price ($169.95 vs. $199.95).
In The Studio
After unpacking the equipment, I put together a basic lighting setup in my 11x15-foot home studio using the DG600 and a 32" Flashpoint 5-in-1 Collapsible Disc Reflector ($25.95) within 15 minutes. Setup is simple and fast because the 7-watt LED modeling light is built in and the flash tube is pre-assembled in the monolight's head. Flashpoint DG monolights have a mini-phone plug sync connection and by using the (included) cable it can be triggered by connection to your SLR. Since not all digital SLRs have an external flash sync connection, Flashpoint's optional 8-Channel Radio Remote Control Set ($29.95) is a useful accessory. It has a range of 90 feet and a price that won't break your piggy bank.
Tip: On a budget? Consider Adorama's Non-Dedicated PC Sync Terminal Adapter ($10.95) that fits onto your SLR's hot shoe and lets you use the provided cable.
In addition to affordability, another advantage of the Flashpoint system is the availability of an extensive series of inexpensive light modifiers that range from umbrellas to light banks and beauty dishes. I had a sampling of each to use for this test, starting with a 36x36" PZ Octabox ($114.95). This octagonally shaped light bank provides wraparound soft light and seems to be a perfect light source for portraits. Different kinds of softboxes generate differently shaped catchlights in a subject's eyes, and the catchlight from the Octabox looks almost as if an umbrella created it without the shadows produced by a bumbershoot's ribs.
Not everybody has an extra hundred bucks for an Octabox, so I tried an affordable alternative. I mounted a 33" Adorama Translucent Umbrella ($9.95) on the DG600 and used it in shoot-through mode as the main and only light for a casual portrait session. For another shot, I turned on the DG400 with a 60", 16-rib white Adorama Parabolic Umbrella ($24.95) as fill. The DG-series monolights make lighting ratio changes as easy as rotating a single knob, and by varying the output of the fill light with the DG400's continuous power knob you can change that ratio, making the photograph more or less contrasty depending on the subject and effect you're trying to produce.
During one session I photographed Amber Nicholson, who appears courtesy of Studio 21 Dance (www.studio21-dance.com) in one of the costumes she wears while performing. For these images I attached a 27" Flashpoint Beauty Dish ($134.95) with white lining to a DG600 acting as the main light. Flashpoint offers six different kinds of beauty dishes, including 16, 21, and 27" models, which are available with either white or silver lining.
A beauty dish is an alternative to a softbox and is a metal reflector that uses its parabolic shape to distribute light toward a focal point. It wraps light around a subject, producing an effect somewhere between direct flash and a softbox, and can add drama when used with accessories like the optional ($79.95) 20˚ Grid. A translucent fabric diffuser is included with Flashpoint's beauty dishes to provide additional softness with white-lined dishes or to cut contrast from silver-lined models. I made comparison images with and without the grid to give you an idea of what simply snapping a grid in place can do to a photograph's mood.
LED Modeling
Using an LED source as a modeling light means that there are no more bulbs to lose or break. An LED will save energy and last longer than an incandescent or quartz bulb but it's visibly dimmer than the 150-watt quartz lamps used with Flashpoint monolights I've tested in the past. This difference shows up in two ways: because the LED is dimmer, it can be tricky to see the effect of reflectors when there's high ambient light; in a dark studio it's not as much of a problem.
Tip: When moving the reflector, watch where the main light is located but also pay attention to the shadow side of the subject's face—ignore the other side—and you'll get it where you want regardless of the kind of modeling light that's being used.
The second problem relates to autofocus and depends on how well your camera focuses under low-light, low-contrast situations. For all of the various Canon EOS cameras I used when testing the DG monolights, the only problem I encountered was when shooting my 60D in Live View mode, where it tends to focus slower in low light anyway. When shooting through the viewfinder—no problem.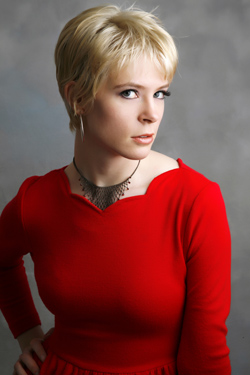 You can use a single monolight—DG600 or DG400—to make a portrait and I tested this hypothesis during a shoot with Pam Simpson. I mounted the 60" white Adorama Parabolic Umbrella and photographed her two ways. First, with the umbrella set in a typical bounce position, but always keeping in mind that the bigger a light source is, the softer the light it produces will be. Next, I reversed the umbrella and used it in shoot-through mode to produce more directional light. One monolight, one light modifier, but two different effects. Take a look at both of the images and see which you prefer, but notice the exposure for the shoot-through has a smaller aperture (f/16 vs. f/8), which might be a consideration when photographing products or for wedding photographers shooting the classic hands and rings pose.
Farace's Laws of special effects applies to lighting, too: no matter what technique you use, a portrait's look is always subject dependent and will depend on the person, what they are wearing, and the background used. To show you what I mean, I used two different approaches to photograph Pam wearing her grandmother's 70-year-old wedding dress. While the same two Flashpoint DG monolights are used in each shot, the background is different and I used dissimilar lighting setups to produce completely different effects. Although the differences are obvious by just looking at the portraits, see captions for specifics of light placement and exposure.
Conclusion
Flashpoint monolights continue to improve from the stone-axe simple units I tested many years ago to the updated units I wrote about in 2011 to the new DG series, which stakes out new territory by their use of LED modeling lights. Their ability to use battery power is a big advantage for wedding photographers who can now bring a power supply into a church or synagogue without running around trying to find an AC outlet and wrangling cables that somebody—there's always one guy—will trip over.
With camera brand speedlights priced at $450 to $550 each, the two Flashpoint monolights I tested together only cost a little over $350. Monolights like these are also extremely easy to use when compared to modern dedicated speedlights. "Light" as a wise photographer once told me "is light" and the new Flashpoint DG monolights provide lots of bang for your lighting buck.
For more information, contact Adorama Camera, Inc. at www.adorama.com.
FEATURED VIDEO