ExpoImaging's Ray Flash; A Ringlight For The Rest Of Us
"Something you threw together in crafts class, Princess?"—Buck Rogers in the 25th century
As a kid during the 1950s, I had one of the last Buck Rogers ray guns produced. These were actually flashlights made by Norton Honer but were designed to look like Buck's ray gun. It's only fitting that ExpoImaging's Ray Flash ringlight converter projects light as well.

Ringlights and the "ringlight" look come in and out of fashion and they create a unique, three-dimensional effect that has a shadow-wrapped look that, depending on the subject, you're gonna love or hate. I especially like ringlights for close-up photography because the light source originates from a circle around the lens, producing a virtually shadowless effect.
Ringlights may be ideal for macro work but when used as either a main or fill-in light have lots of other uses, including fashion, wedding, and portrait photography. On the other hand, ringlights can be pricey so do you really want to drop more money on a light that you're only gonna use occasionally, or would you prefer a hybrid such as ExpoImaging's Ray Flash that works with a flash unit you may already own?
Ring Around The Lens
You may know ExpoImaging as the developer of the ExpoDisc Digital White Balance Filter, but they make lots of other stuff. They designed the Ray Flash as an adapter for specific Canon and Nikon hot shoe flash units to replicate the lighting effect produced by a dedicated ring flash unit. The Ray Flash is designed to fit the Canon Speedlite 580EX and 580EX II as well as the Nikon SB-800 AF Speedlight. While the unit is available for those specific Canon and Nikon flashes, ExpoImaging tells me that there are no plans for other makes and models of flash units unless feedback from Ray Flash owners indicates that it is possible to use the Ray Flash with other types of flash units. Line up, beta testers!

The Ray Flash maintains all of your existing flash's inherent TTL functions and loses only one stop of light when compared to direct flash from the host unit. Weighing 16 oz, the Ray Flash contains no electronics, batteries, or flash tubes and does not require any cables. Light distribution is accomplished through a system of internal prisms, reflectors, and light shapers that are designed to distribute and evenly project the light. When using the Ray Flash all of the host flash's automatic functions operate normally but manual exposure (more later on this) will require the use of a handheld light meter or a series of test shots, not so much a biggie with a D-SLR's preview screen. The Ray Flash's 41⁄8" internal diameter is large enough to accept almost all professional lenses from Canon and Nikon.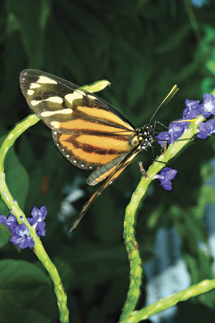 Testing the Ray Flash with subjects that could fly turned out not to be a challenge. It performed well under high humidity conditions and gave me well-exposed photographs, such as this with an exposure of 1⁄15 sec at f/16 and ISO 400.
All Photos © 2008, Joe Farace, All Rights Reserved
For my tests I used a Canon (www.canonusa.com) Speedlite 580EX II and to ensure consistent output I installed four of Energizer's (www.energizer.com) long-lasting Ultimate Lithium AA batteries. These are the batteries formerly known as Energizer e2, but no matter what you call them they produce almost double the number of flashes than their competitors. In addition to long life, the batteries are 33 percent lighter than alkalines and will perform in temperatures from -40? to 140? F or -40? to 60? C for our Canadian readers.

Attaching the Ray Flash is simple: Slide it over the flash head and turn the lock on top of the unit to secure it in place. However, I could not get it to fully engage on my Canon test flash. The upside of using the Ray Flash is that it requires no modifications to your flash unit; the downside is that its awkward shape and weight distribution can make the camera and flash feel a bit top heavy. The Ray Flash may seem lightweight and is easily supported by hot shoe-mounted flash units but when attached can make the camera/flash package feel unbalanced. Tip: While it can be handheld, putting the whole megillah on a tripod is not a bad idea when photographing subjects that won't fly away.
This photograph was made with an exposure of 1⁄25 sec at f/14 in Manual mode. Camera was a Canon EOS 5D with a 50mm Macro lens with Pro-Optic (www.adorama.com) 2x tele-converter.
FEATURED VIDEO