DxO PhotoLab 4 Photo Editing Software Review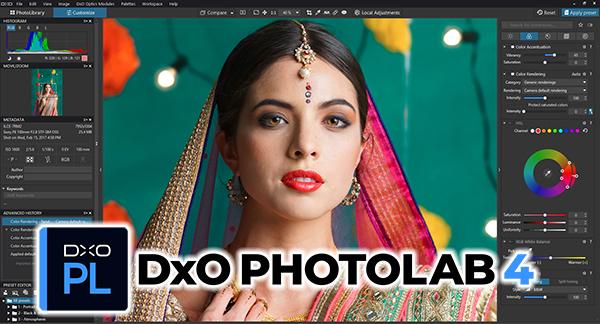 DxO just released PhotoLab 4, a major update of their innovative photo-editing software. This latest version features DxO DeepPRIME, a game-changing technology you're going to be hearing about over and over from now on. DxO DeepPRIME is a groundbreaking demosaicing and denoising engine based on artificial intelligence and trained with deep learning. And I'm not kidding when I say it will make old Raw files from your 10+ years old camera look like they were shot with the best and latest camera model on the market.
The big news and most outstanding addition to DxO's fourth version of PhotoLab software is DxO DeepPRIME, but DxO made other enhancements to this underappreciated photo editor.
DxO PhotoLab 4 brings a new dynamic interface system called DxO Smart Workspace, offers an enhanced PhotoLibrary with a batch renaming feature, and streamlines the workflow by adding a new and exclusive editing history tool called DxO Advanced History. They also added the ability to selectively copy and paste specific settings. Last but not least, the new DxO Instant Watermarking feature lets you demarcate photos by adding a text and/or graphic watermark directly to the image.
You can try DxO PhotoLab 4 for free for one month. That's a deal no one should pass by. A fully-functional, one-month trial version of DxO PhotoLab 4 is available on the DxO website.
DxO DeepPRIME Explained
Noise. Think of it as radio static you can see instead of hear. It's what your TV looks like when the cable goes out. On a digital image, noise appears as granulation and colored dots that significantly degrade the image quality. It can also appear as banding, i.e., a series of faint but disruptive parallel lines.
Mistakenly conflated with the grain that appears on film, noise is actually a natural byproduct of the electronic transaction that occurs between your camera's sensor, signal processing ASIC (Application Specific Integrated Circuit) and analog-to-digital conversion hardware. Although the firmware in the camera is optimized to minimize noise, noise can nonetheless be increased by high sensitivity (ISO) settings, low levels of scene illumination, long of exposures and even high ambient temperature.
DxO DeepPRIME corrects digital noise better than any software product I have ever witnessed. Except for the fact that I performed the conversions myself using Raw files from 10+ years ago, I would not believe the performance. It's that good.
The images are improved for another big reason. DxO DeepPRIME also superbly performs demosaicing. Demosaicing technology recreates complete colors based on the pixels from a photo sensor that initially only receive one of three basic colors.
Performed together, denoising and demosaicing can output phenomenal results.
DxO Smart Workplace
We all tweak our photo editing workplace (i.e., the graphical interface that consists of an open image flanked by menu options on the left and right) from time to time. DxO has taken workplace tweaking to an entirely new level. Users can change and arrange their spaces by editing type (Light, Color, Detail, Geometry) or local adjustments; by favorite palettes once the user earmarks their favorites using a new icon; or by active edits.
Batch Renaming
Not important to everyone but extremely important to some, users can select several files at once and then use a dedicated dialog box to search and replace text in the names of the selected files, add text before or after the existing names and/or rename the selected files, and optionally add a number. So if you are renaming and uploading a large set of images to a certain website or even to cloud storage, you will save tons of time.
DxO Advanced History
DxO Advanced History in DxO PhotoLab 4 maintains precise step-by-step tracking and saves every edit that has been applied to an image, including the date and time it was imported and any initial automatic enhancements. Every step is displayed in the palette in chronological order, so you can pick any point in time and restore the image to exactly how it was at a certain juncture.
DxO Instant Watermarking
It's way cool, the way this works. Easily embed text, a graphic, or both in a set of images simultaneously and view the result instantly. If you watermark clients' proofs, social media posts or submissions to online puppy adoption services, this enhancement is worth its weight in gold.
Selectively Copy and Paste
This new DxO PhotoLab 4 feature allows you to synchronize the settings of several similar images by transferring individual edits from one photo to another. Another timesaver that you don't need until you do need it—and then you'll really love it.
Preexisting Features
Even if you're not familiar with DxO PhotoLab, you surely know the name DxO and are somewhat familiar with their accomplishments. Aside from rescuing Nik plugins (you can read about Nik Collection 3 here) DxO is highly regarded as a science-based photo software maker who revolutionized the way we correct for lens distortions. Their creation of DxO PhotoLab 4 is based in part on their massive library of over 60,000 camera/lens combinations.
DxO PhotoLab 4 and previous versions of PhotoLab include many advanced features including highly precise U POINT Local Adjustments, Haze Removal that is powered by DxO ClearView Plus, an incredibly innovative HSL Color Management system that uses the DxO Color Wheel, DxO Smart Lighting and DxO PhotoLibrary. DxO PhotoLab 4 also comes complete with a powerful palette of presets.
DxO PhotoLab 4 in Operation
When I saw the preview demonstration, my big pessimistic concern was processing time. I knew from previous experience that DxO software is always potent and rock solid; regardless, when I saw the enormity of DxO DeepPRIME, I was apprehensive. My worries immediately disappeared like Yellow Cabs on a rainy day. DxO DeepPRIME is pleasantly fast. Now—this assessment depends on a few things like the type of computer you're driving and Raw file size. So your experience may differ from mine. In any case, I'm certain you will not be disappointed with processing speed.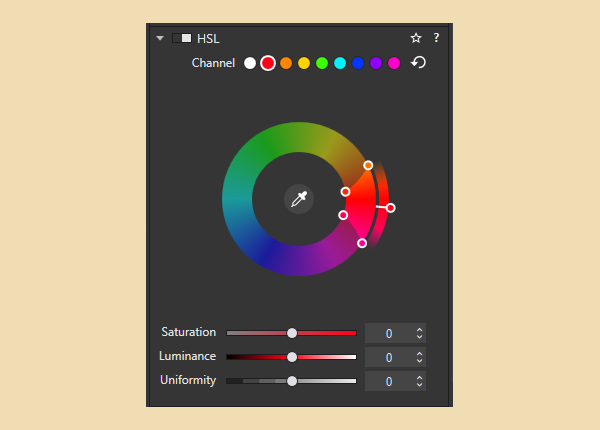 All of the other features of DxO PhotoLab 4 work as advertised. The one component that always deserves more love is the unique DxO Color Wheel, DxO's innovative HSL Color Management system. Using this tool, users can select a color range from eight different channels via a sampling pipette, fine-tune that value, select a replacement color and adjust the transitions with incredible precision. The DxO ColorWheel provides unparalleled control over color so you can create even more natural and expressive works of art.
Conclusions about DxO PhotoLab 4
The Big Take-Away is that DxO PhotoLab 4 brings new life back to old, noisy Raw files, and by extension, back to the outmoded cameras that created them. You can buy a used Nikon D300s and create final images that rival the latest DSLR or mirrorless marvel. My highly-prized, soap-bar-sized Canon PowerShot S90 can live again because I can now convert the Raw files into truly dazzling images.
In a big way, DxO PhotoLab 4 photo editor increases the value of previously obsolete cameras, those cameras that were once thought to be unable to produce images that measure up to today's standards. The box should be emblazoned with "AED" because DxO PhotoLab 4 is the Automated External Defibrillator that can restart the heart of your old camera.
I have never seen a noise reduction engine that even comes close to the power and performance of DxO DeepPRIME. Don't take my word for it—download the full-power, 30-day free trial version (link here) and try it for yourself. Dig up your oldest, noisiest Raw image files—especially the ones that you consider hopeless—and let DxO PhotoLab 4 work its magic.
Firing up my fearless prognosticator here, I figure we have about 3.2 years before a substantial portion of the DxO DeepPRIME image correction engine is embedded in camera firmware and made available in—what? You are expecting me to write Mirrorless cameras? DSLRs? No. Cellphones. That's where the volume is, and the profits from software licensing are driven by volume. But until then, you can make your old camera do things that cameras of the future will be able to do if you use DxO PhotoLab 4 now.
Price and Availability
Available in two versions, Essential and Elite. Since the Essential version does not include DxO DeepPRIME, my advice is don't even consider it. Both are available at a reduced "launch promotional price" until November 19, 2020.
DxO PhotoLab 4 Essential Edition is $99.99 (going up to $129). But the one you want, DxO PhotoLab 4 Elite Edition, costs $149.99 (will be $199 November 20).
If you own a licensed copy of DxO OpticsPro or DxO PhotoLab 3 you can purchase an upgrade license for DxO PhotoLab 4. Sign in to your DxO customer account for details.
—Jon Sienkiewicz
FEATURED VIDEO