Digital Diary; A Hands On Approach To Ink Jet Printing
Have some fun with your printer. Brightec's Night Luminescent Photographic Paper creates high quality output that looks normal by day but luminescent at night.
Editor's Note:
This month starts a new column here at eDigitalPhoto from Joe Farace. Loyal readers of the magazine will know that Joe has been doing the Buzzwords here each month, and frankly, he ran out of letters! Joe's a true expert and digital practitioner, so each month he's going to keep us up-to-date on what's happening in the digital world by keeping a diary of what has captured his interest and imagination. We hope you enjoy Joe's Digital Diary.
Dear Diary: Those of us who have been around long enough to use Apple Computer's (www.apple.com) StyleWriter and Canon's (www.usa.canon.com) original BubbleJet printers know that ink jet printing is far from new, but what is new is that it's never been cheaper, better, or easier to use for digital photographers. Or is it?
Ink, Schmink
Every ink jet printer uses different inks; so right out of the box the same kind of paper won't produce the exact results with every possible printer. The printer manufacturers' paper will always work well and third-party paper manufacturers try to design their media to be compatible with a majority of printers. Sometimes the match is a good one, and sometimes it's not. Most if not, all of the ink jet papers that I`ve tested from Adorama, Moab, Pictorico, and Tetenal produced excellent results with specific printers, but not every possible printer.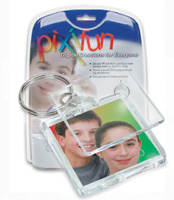 Pixifun's Photo Key Ring Kit contains Windows-based software templates, six key rings, and 18 photo inlays that let you use your computer to create key chains for family and friends.
Some ink jet printers use pigment-based inks in their black cartridge and dye inks in their color cartridges, while others, use dye-based inks in all of their printers. Yet others use pigment-based inks for everything. The reason for these differences is that pigmented black ink is better than dye-based ink for printing sharp, dense text on plain paper and some manufacturers prioritize text over photo quality. Because of the high absorption rate of plain paper, dye and pigmented inks can be combined, but when printing on photo paper, printers using different kinds of ink turn off the black ink, so it's a composite and often a compromise made from the colored inks.
Ink Jet Printing Dos & Don'ts
Do read the manual. It has all kinds of information about what kind of paper works best and other features, such as how to make borderless or double-sided prints, if your printer has these capabilities.

Don't leave your printer on unless you plan on using it. Having it on all day lets air flow around the tiny nozzles and causes them to clog, which results in time and ink wasted cleaning heads before making your next print.

Do print something every day. Idle nozzles are the clogger's playground and if you don't exercise those print heads, they'll get clogged, too.

Don't be making a big investment in fancy ink jet papers just to experiment.

Do purchase a sampler pack or small quantity of a paper you're interested in.

Don't try a continuous feed ink system until after you have some experience working with your printer and ink jet printers in general.

Do make test prints with those sample papers, writing notes for future reference about the software driver's settings.
The $179 Epson Stylus R300 makes producing colorful photos a snap with or without a computer! This printer can even print directly on ink jet printable CDs and DVDs.
Print On Paper Or CD!
How far have ink jet printers come? The $179 Epson (www.epson.com) Stylus Photo R300 makes producing colorful photographs a snap with or without a computer! This R300 even prints directly on ink jet printable CDs and DVDs. With up to 5760x1440dpi resolution, six individual photo ink cartridges, and Windows and Mac OS connectivity, the Stylus Photo R300 is a versatile device for digital imagers on a budget. On its front you'll have a built-in memory card reader and even an USB port, all of which makes it easy to print directly from your CD-R drive, Zip drive, or any PictBridge (see sidebar) enabled digital camera. I disconnected my old (sometimes it worked; sometimes it didn't) card readers and now have one less USB device drawing power and enjoy more dependable card reading with the R300. If you have a Bluetooth-enabled device (see sidebar) with printing capability, you can print with Epson's optional Bluetooth adapter.
Have Fun With Your Ink Jet Printer
Digital photography is all about having fun (I think so anyway), so here are three ink jet printing products that will put a smile on your face and your friends too, I'll bet.

Adorama's (www.adorama.com) ProJet SilverMirror media is a polyester based material with a highly reflective finish that looks like you're printing on metal! With a price tag of $26.95 for a letter-sized pack of 10 sheets, be careful about mistakes and examine both sizes; the coated (printable) side has a slightly frosty appearance. If you want a print everyone will remember, make it on ProJet SilverMirror.

Make your prints glow in the dark with Brightec's (www.brightec.com) Night Luminescent Photographic Paper that produces high quality output that looks normal by day but luminescent at night. Brightec's patented papers allow photographic details to be seen in the dark but are not like the yellow and green "glow in the dark" products you might have carried on Halloween. You can be practical and print maps on Brightec so you can get where you're going without looking through glare on the windshield from the overhead light or have fun and put a Brightec poster of your child's favorite cartoon character in the closet to scare away monsters at night.

Pixifun (www.pixifun.com) makes all kinds of products that make using your ink jet printer even more enjoyable. Their Photo Key Ring Kit ($12.99) contains Windows-based software with ready-to-use templates, six key rings, and 18 photo inlays that let you use you computer to create photographic key chains for family and friends. Look on their website for more practical products like Photo ID badge and CD/DVD label kits as well as fun stuff like Photo Stickers!
One of the most important ink jet dos and don'ts is don't try a continuous feed ink system until after you have some experience. This is my hand after attempting to install a continuous flow monochrome ink system on an Epson Stylus Photo 1280. PS. It never got installed.
Drive Your Bluetooth Across The PictBridge
Bluetooth (www.bluetooth.com) is a standard for a low-cost, short-range radio link between mobile computers, cell phones, digital cameras, and other portable devices. The Danish King Harald Bluetooth, best known for unifying Denmark and Norway in the 10th century and his dental hygiene, inspired the funky name.

The Camera & Imaging Products Association (www.cipa.jp) standard CIPA DC-001 a.k.a. PictBridge provides a direct connect solution for image input devices and output devices by standardizing services for these devices. The first release of PictBridge focuses on direct print services between digital still cameras and printers.
Some guys never learn. Here are my hands after installing an Epson compatible continuous feed ink system on yet another poor Stylus Photo 1280. Despite the instructions I was able to get it installed, and despite the "Epson compatibility" the prints look flat and lifeless, so it was back to the cartridges for me.
Contacts
Adorama, Inc.
(800) 223-2500
www.adorama.com
Brightec
(781) 684-0770
www.brightec.com
Epson America
(800) 463-7766
www.epson.com
Moab Paper Company
(435) 259-3161
www.moabpaper.com
Pictorico
(800) 899-5009
www.pictorico.com
Pixifun, Pexagon Technology, Inc.
(203) 453-8300
www.pixifun.com
Tetenal, HP Marketing Corp
(973) 808-9010
www.hpmarketingcorp.com