Covering The Photo Beat; Backpacks, Filter Software, And A Superbungee Strap
The Nikon COOLPIX S560
The COOLPIX S560 is a lightweight, compact, and easy-to-use digital camera. It offers 10 megapixels, a 5x zoom Nikkor lens with Optical Vibration Reduction Image Stabilization technology, and a 2.7" LCD screen with anti-reflection coating. The COOLPIX S560 also features a number of new modes that include close-up, portrait, landscape, backlight, night portrait, night landscape, smile, food, and blink warning. Contact: Nikon Inc., 1300 Walt Whitman Rd., Melville, NY 11747; (631) 547-4200; www.nikonusa.com.
Tamron's AF18-270mm Di II VC Ultrahigh Power Zoom Lens
The AF18-270mm F/3.5-6.3 Di II VC lens has a minimum focusing distance of 19.3" with a maximum magnification ratio of 1:3.5, a filter diameter of 72mm, and comes with a flower-shaped lens hood. This 15x zoom lens features a built-in Vibration Compensation device that is optimized for both Canon and Nikon D-SLRs. Contact: Tamron Lenses USA, Inc., 10 Austin Blvd., Commack, NY 11725; (800) 827-8880; www.tamron.com.
Superbungee Camera Strap From Skooba Design
This camera or binocular strap features Skooba's unique sport-tuned suspension system. The system incorporates a high-density floating bungee cord ring that absorbs shock and offers a friction laminate-covered shoulder pad that contains a flexible strip of air-filled cells to minimize discomfort. The strap fits any of today's cameras and binoculars with a 3⁄8" strap slot or threaded through the key ring-type holder on older model cameras. The Superbungee Strap is available in five colors and has a retail value of $19.95. Contact: Skooba Design, Division of Three Point Ventures, LLC, 465 Paul Rd., Rochester, NY 14624; (877) 435-5679; www.skoobadesign.com.
The Cerise Quad-Core Workstation
Said to be built with the needs of digital photographers in mind, the Cerise Quad-Core Workstation computer features a 2.67GHz Intel Core 2 Quad Q6700, 3GB of 800MHz DDR2 memory, and a 256MB nVidia GeForce 8600 GT graphics card. Three of its four hard drives are arranged in a RAID 5 array to protect your data. The Cerise Quad-Core Workstation uses Windows XP Home, XP Pro, Vista Home Premium, or 32-bit Vista Ultimate operating systems. Contact: Cerise Computers, LLC, 338 Clubhouse Rd., Hunt Valley, MD 21031; (888) 769-8979; www.cerise.com.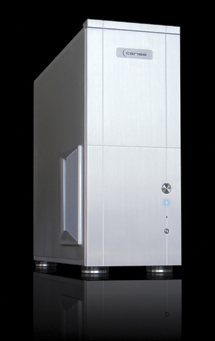 The Red Apple StudioCruzer From CaseCruzer
This rugged carryon case was designed to protect the Red One digital motion-picture camera with LED viewfinder and lens, plus a laptop computer. It measures 22x14x9" and features metal reinforced padlock protectors for enhanced security. The Red Apple StudioCruzer is airtight, waterproof and dustproof, and comes with an unconditional lifetime warranty. Contact: CaseCruzer, 4665 State St., Montclair, CA 91763; (800) 882-4730; www.casecruzer.com.
FEATURED VIDEO