In Brief; Hahnemhle's Bamboo FineArt InkJet Paper; Warm Tone, Matte Surface, Quiet Mood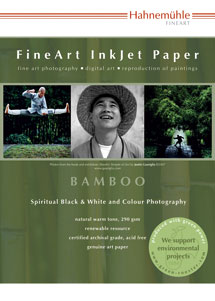 OK, so I have on the meditation tape and have done my breathing exercises and now I'm ready to print on Hahnemühle's Bamboo paper, which they dub prime for "spiritual black and white and color photography." Made from 90 percent bamboo fibers and 10 percent cotton, and washed in "pure spring water," the paper comes with a bit of New Age hype but at the end of the day delivers an excellent surface for printing low-saturation color images and even crisp black and white with a bit more abstract bent. The slightly warm wash of the paper tint also creates a nice base for bright colors that while not as spiritual, perhaps, certainly reproduce quite well.

Kidding aside, Hahnemühle papers range from the crisp to the smooth, from cold bright white to mellow warm. This soft-surfaced paper provides a welcoming surface for both pigment and dye-based inks, and at 0.5mm thick will probably load a sheet at a time through the top or front load feed of your printer, as it did on my Epson 3800. I worked on the paper during a fairly humid stretch, and found that keeping it in the box and not letting the humidity soak in helped with the initial feed and flatness. While Hahnemühle claims it is "instant dry," I found that I had to let it air out a bit when it first came from the printer, and, as is my custom, I let it sit uncovered overnight for the ink to set. I am not sure if that is truly necessary for this paper, but old habits die hard.
The setting sun in Acadia National Park created a glow on land and water alike. While not trying to typecast a paper, this is the kind of image Bamboo seems made for.
All Photos © 2010, George Schaub, All Rights Reserved
You can find profiles for the paper on Hahnemühle's website, and thankfully the profile actually contains the name of the paper and does not require a secret decoder ring, as do some other papers and especially Epson's offerings. This acid-free paper is available in cut sheets up to 17x22" and 3" rolls up to 44" wide. A survey of the web for prices on a 20-sheet 13x19" box came up with around $4 per sheet in that quantity.
(Left): I have printed this low-saturation image of late fall on numerous papers, and thus far my favorite rendition is on the Bamboo stock. It seemed to emphasize everything that attracts me about this foggy morning.(Right): Just for a change I tried out a hard-edged image made among the craggy rocks at Otter Point in Acadia National Park. I upped the Clarity and Contrast and pushed Curves to bring out some specular highlights, and the paper responded extremely well. This put me in a bit of a—good—quandary in that it seems the paper can handle both "types" of images with aplomb.
I printed for a few days with the supplied samples, and regardless of the New Age pitch did indeed find that I gravitated to printing color using "softer," lower saturation images. I would not recommend going too soft or opening up the shadow side too much, as when I did so I lost shadow edge. Leave it as is and perhaps drop the Clarity or similar tactic and the shadows will come open quite nicely. In other words, let the image speak for itself and this paper will deliver the goods—don't force what is already a surface tendency. And just for fun I also worked with some hard-edged monochrome images. To my pleasant surprise they showed a gradation of tone and character that would, in my experience, not be revealed on a harder or colder surface.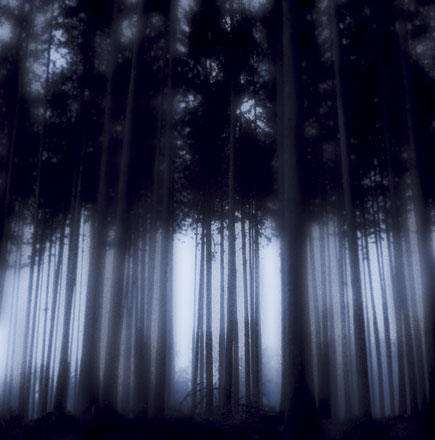 This is a scan from a 21⁄4 Plus-X made many years back on a foggy morning outside Ulm, Germany. I dropped Clarity to near zero to aid in the effect, and used Bamboo to complete the mood.
Can a paper call the tune when it comes to images you choose for printing? I believe it does, at least when it comes to interpreting images in a certain way. Is Bamboo a "spiritual" paper? Well, we can forgive Hahnemühle that bit of hype and simply say that given the right frame of mind and images, you might find yourself making images with this paper that elevate the visual experience to a higher plane. Namaste.

For more information, contact Hahnemühle USA Inc. at: www.hahnemuhle.com.
FEATURED VIDEO