Adobe's Photoshop Lightroom 2.0; The Beta Version Tells Us What's To Come Page 2
The retouching tools have also been moved. Previously they were to be found in the toolbar. In LR 2.0 Beta they have been relocated to the right-hand panel just below the histogram. This enables the options for the tool to drop down when the tool is selected.
Another improvement, which falls under "do we really need this--well okay, what the heck," is the framing vignette effect (#6). LR 1.0 included a lens correction vignette effect which corrected light falloff in the corners of the original image. When the image was cropped so was the vignette effect. The new framing vignette allows you to use vignette as a creative effect on the cropped image (compare the image of running horses in #5 to the cropped with vignette image in #6).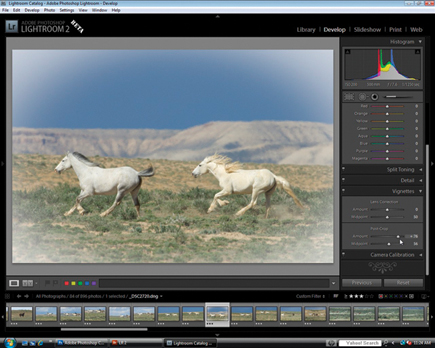 6. The framing vignette allows you to use vignette as a creative effect on the cropped image (compare the full-frame image of running horses in #5).

Other improvements to the Develop module, though unseen, are improved keyboard shortcuts for Exposure adjustment, and improved Auto adjustment.
Print Module
The big improvement in the Print module is the addition of a great new function which will benefit everyone, from casual photographers to full-time pros. This is a feature called Picture Package, which sounds like something that you order with your high school portrait (#7). In fact, it is. Picture Package allows you to place multiple images of various sizes on a single page to print. After all the various size images have been added to the page you can manually position them where you want or use Auto Layout to automatically reposition them in an efficient, easy-to-cut layout.
7. Picture Package allows you to place multiple images of various sizes on a single page to print. This will be of great benefit to school, wedding, and event photographers, as well as the casual photographer who wants to share prints with family and friends.

This maximizes paper use, minimizes waste, and is a boon for those wishing to sell their work to portrait clients, or simply pass out prints to family and friends. In my opinion, this new feature is too cool for...dare I say it?...school.

There are two more deceptively simple enhancements to the Print module. The first is the ability to print to JPEG. It doesn't sound like much but this feature allows you to send a LR print layout directly to a lab that will print JPEG files, another time-saving device for the working pro and casual photographer alike.

The second enhancement is in print sharpening. The current version of LR provides three levels of print sharpening. New algorithms in LR 2.0 Beta automatically determine the correct amount of print sharpening required based on the output media and resolution of the file. While I did not try this feature, it sounds promising.
Additional Improvements And Features
There are several other improvements to the beta version which will bring cheer to photographers. The first is the ability to use multiple monitors. There are numerous possibilities for using multiple screens. One example would be to move the Grid View to the secondary monitor while working in the Develop module. Or you can use the grid to reorder images while creating a slide show, print, or web output.

Improvements have also been made in Photoshop integration, including the ability to open files in Photoshop as Smart Objects to utilize the nondestructive workflow this allows; the ability to merge multiple exposures into a single Photoshop HDR; and to select images to merge as a panorama.

All in all, I would say that LR 2.0 Beta contains some major improvements, enough to warrant an upgrade to LR 2.0. Some of them will greatly enhance image management and others will make LR a more all-around useful tool. Which of these new features will make it into the final LR 2.0, and which others are yet to come out of the beta forum, remains to be seen.


Lightroom 2 Pricing & Availability
This article was written on the Beta version of the software. We'll have a full report on the final release soon. Note that Lightroom 2 is available for immediate purchase for a suggested retail price of $299 (US) at Adobe.com (www.adobe.com) and other authorized retailers. Owners of Lightroom 1.0 can upgrade to Lightroom 2 for $99 (US). Full system requirements and more information on Lightroom 2 can be found at www.adobe.com/products/photoshoplightroom.

For more information, contact Adobe Systems Inc., 345 Park Ave., San Jose, CA 95110; (800) 833-6687; www.adobe.com.