5 Quality Inexpensive Lenses for Photographers on a Budget
We love lenses, especially lenses we can buy at a loveable price. Here are five lenses that are high quality and inexpensive. The image above was shot with a Tamron 35mm f/2.8 prime lens for Sony mirrorless cameras. Exposure setting on Sony a7RII: f/8 for 1/125 sec, ISO 250.
Arguably the biggest advantage DSLR or mirrorless cameras offer over any other type is the ability to interchange lenses. That's likely the main reason you bought one instead of a compact or superzoom model, no? Then let's check out some lens deals before they get away.
Note that the Sigma and Tamron lenses detailed below are for Micro Four Thirds and Sony mirrorless camera mounts respectively, but both companies offer many other optics to fit just about every other type and brand. The other three lenses we cover below are available to fit Nikon or Canon DSLRs and in some cases, other lens mounts as well. Do a little digging and there's a good chance you'll find the mount you need.
#1 Yongnuo 50mm f/1.8 AF
Unlike many of the low-cost lenses that have unfamiliar names, the Yongnuo 50mm f/1.8 works with the autofocus system in the camera, and can be used on full-frame as well as crop-frame (APS-C) DSLRs. Your assurance that it's an AF/AE lens lies in the gold-plated electrical contacts on the bottom of the lens mount that allow the lens to communicate with the camera body.
Suitable for use as a normal, everyday lens, the fast f/1.8 aperture is great for low-light situations. If you've been struggling in the dark with the kit zoom that came with your camera, this lens will give you the new experience of available light photography. And if you have one of the popular Rebel series Canon DSLRs, the effective focal length of this lens becomes 80mm, which is absolutely ideal for portraits.
#2 Meike 8mm f/3.5 Fisheye
Every photographer would love to own a fisheye lens, but who can afford one? You can, that's who. Seriously made of 11 glass elements arranged in 8 groups, this Meike fisheye lens focuses down to about one foot. That said, because of the ginormous depth-of-field, there is really very little need to focus with great precision.
When used on a full-frame Nikon, the Meike 8mm fisheye produces a circular image inside the frame with a solid black border. You've seen the classic round fisheye image a thousand times. But when used on a crop-frame camera it provides a full image that covers 180° diagonally. For some tips about using fisheye lenses, check out 10 Tips for Shooting with a Circular Fisheye Lens. Read it if you dare—it will make you want a fisheye, guaranteed.
#3 Sigma Art 30mm f/2.8 DN lens for Micro Four Thirds
Start with a highly regarded brand that has been making lenses for decades and add high-end features like OS image stabilization, HSM Autofocus and a fast aperture and you're sure to come out with a winner. Sigma also offers a 19mm f/2.8 and a 60mm f/2.8 in this series. And for you Canon EOS-M mount fans, Sigma has an awesome 30mm f/1.4 DC DN lens that's part of their Contemporary line and is available at Amazon for just $299.
On a Micro Four Thirds camera the Sigma 30mm f/2.8 performs equivalent to a 60mm f/2.8. (The effective focal length doubles because the Micro Four Thirds sensor is smaller than a full frame of 35mm film.)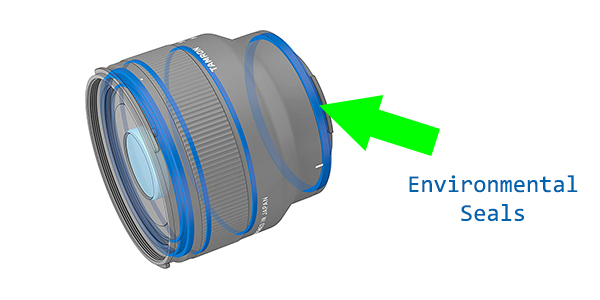 #4 Tamron 35mm f/2.8 Di III OSD for Sony Full-Frame & APS-C
For Sony mirrorless cameras only (full-frame and APS-C formats) the Tamron 35mm f/2.8 prime lens is very small (about two inches tall) and light, but it's big on performance. It delivers wideangle coverage and provides half-life-size 1:2 maximum magnification ratio and 5.9 inch minimum focusing distance for working with close-up subjects. Many photographers consider 35mm to be the "normal" focal length for full-frame and film cameras.
Built to last with Moisture Resistant construction, it's covered by Tamron's 6-Year USA Limited Warranty (on new lenses purchased from Tamron USA Authorized Dealers). Tamron offers a broad line up of compact, close-focusing lenses for Sony mirrorless, including three primes that are the same price and almost exactly the same size as the 35mm f/2.8. They are the 20mm f/2.8, 24mm f/2.8 and this 35mm f/2.8. You can read more about them here: Tamron Prime Lenses for Full-Frame Sony Mirrorless Cameras Review. All are small and all use the same 67mm filter size.
#5 Thingyfy Pinhole Pro
This Pinhole lens is exactly that—a hole the size of a pin in a sheet of aluminum. No need to focus because the depth-of-field is from an inch or two to infinity. That's the benefit of a micro-small aperture; however, because the Laws of Physics are immutable and often harsh, the downside of such a small opening is massive diffraction. Because the light waves bend as they pass through such a small opening they get all jumbled up and bump into each other. That's the scientific explanation. The real world consequences include: fuzzy but creative images, extraordinarily long exposure times and invariably a tripod for accurate work.
BTW, you could make a pinhole lens yourself. Start with a body cap that fits the camera of your choice and a thin disk of aluminum about the size of a quarter. Do not use a quarter. Cut a hole about one-inch in diameter in the center of the cap with a Dremel Tool. Lightly hammer the sheet of metal in the center until it becomes nearly as thin as paper—the thinner the better but don't make any holes yet. And keep the taps light so the edges don't curl up. Glue the metal over the hole in the body cap. Using a Jeweler's Drill or some other suitable tool, drill a tiny hole in the absolute center of the metal-cap sandwich. Experiment with the exposure times. For interesting effects, drill two holes about one centimeter apart. On second thought, maybe it's just easier to order from Amazon.
Order a Thingyfy Pinhole lens from Amazon. Price $69
—Jon Sienkiewicz
(As an Amazon Associate, Shutterbug earns from qualifying purchases linked in this story.)
FEATURED VIDEO