5 Great Starter Cameras to Move Up to from a Smartphone
People everywhere are discovering they have a talent for photography. Cellphone snaps can take them only so far, though. So they ask us to recommend a good beginner camera. Although the question is more complex than it seems, the good news is there are tons of outstanding cameras available at a wide range of prices and features from starter to stellar. Here are five first-class choices.
Think About Your Needs
For many, it's time to take off the training wheels and let their full photographic creativity break through. Others mainly want to try their hand at posting YouTube videos of their hobby, family or girlfriend(s). Some need better quality images for work—a Realtor for instance—or they have a product to sell on eBay and they know that better pictures get higher bids.
Think about your needs. Even if it seems corny in the age of instantaneous information, make a list of the things you want to be able to do with the camera and—more importantly—what you intend to do with the images you capture. For example, do you want high resolution images you can edit in Photoshop, or just some smaller stuff to post on your Instagram account, Facebook or website?
Where Might This End?
If you suspect that this casual fling you are planning with photography could grow into a full-blown romance, overbuy. Buy your next camera now instead of your first one. In other words, get some gear you can grow into.
If there is even a 10% chance that you want to continue to develop as a photographer, buy a camera that has interchangeable lenses. The quality of the photos may or may not be any better, but the versatility and future options allow you to try more things, improve your skills and expand your photographic possibilities. You will not regret it.
Here Are Some First-Class Options
Here are five very capable cameras that represent outstanding value and fair price. All produce excellent quality images and are reliable. There are many other choices available, for sure, but this list will get you started. And all are Amazon Best Sellers.
Under $300 – Superzoom Compact
Panasonic Lumix FZ80
You can have your cake and your cupcake too—the Panasonic Lumix FZ80 is an easy-to-use point-and-shoot class camera but it features a whopping 60X zoom lens that spans the 20mm to 1220mm (35mm equivalent) lens range and has Power O.I.S. (Optical Image Stabilizer) for steady shooting. Ideal for those Little League games, birding and general photography. Great vacation camera. Has an 18.1-megapixel sensor, electronic viewfinder (EVF) and a 3-inch LCD display for playback or focus.
Video is a strong point for the Panasonic FZ80 superzoom. It provides 4K QFHD video recording (3840 x 2160 pixels) with three unique 4K ultra HD video Pause-and-Save 4K photo modes so you can extract individual high resolution still photos from 4K ultra HD video filmed at 30 frames per second.
Available at Amazon. Price $298
Under $350 – Take Everywhere, Waterproof Compact
Olympus Tough TG-6
It's waterproof down to 50 feet, dust proof, shockproof, crush proof, freeze proof and anti-fog. In other words, you can use it at the beach, in a blizzard, or hand it to the family klutz and not worry. Great for backpacking, carefree urban snap-shooting and perfect for youngsters. But don't let its tough exterior fool you—inside it's a high performance 12-megapixel compact camera with a fast f/2.0 lens for indoor shots without flash and a 4X zoom 25-100mm (35mm equivalent). If summertime in your household means backyard pool, this is the best pool accessory since the floating beer can holder.
The Olympus Tough TG-6 shoots 4K movie and full HD video, and 120 fps high speed movies too. Slip it in your back pocket and you'll always be video ready.
Available at Amazon. Price $349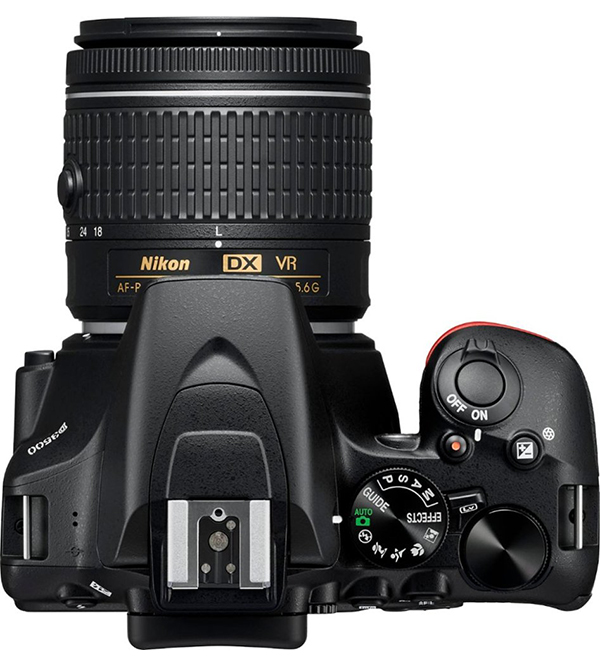 Under $500 – Traditional DSLR
Nikon D3500 with 18-55mm f/3.5-5.6G VR lens
We can recommend this camera to our friends and neighbors with confidence, even if they're new to the camera game and need something that everyone in the family can use and enjoy. The Nikon D3500 is easy to learn, and the 18-55mm (wideangle to short telephoto) zoom lens that comes with it has image stabilization to cancel camera shake. Ten different Special Effects are also available in-camera and they are really fun and creative. It's a camera you can grow with instead of grow out of.
The Nikon D3500 DSLR is an entry-level camera but it has features found on higher priced models, like a high resolution 24.2-megapixel sensor, 5fps (frame-per-second) burst shooting, ISO up to 25600, Full HD (1920x1080p) movie recording with full-time autofocus that has face-detection and subject-tracking capabilities—and more. Best of all, it accepts world famous Nikon lenses.
Available from Amazon. Price is $497
Under $600 – Mirrorless, Optimized for Vlogging
Canon EOS M50 with EF-M 15-45mm lens
Many leading-edge technical features are packed into this popular Canon EOS M50 mirrorless camera, including Dual Pixel CMOS AF for fast, accurate autofocus and a 24.1-megapixel CMOS sensor with the latest DIGIC 8 image signal processor. Includes wideangle to telephoto Canon zoom lens (15-45mm is the equivalent of about 24 to 72mm if it were a 35mm film camera) so you can enjoy a true wideangle for group shots and scenery. For added versatility, it accepts Canon EF-M interchangeable lenses (and other Canon lenses via adapter).
Optimized for video, the EOS M50 camera can record in 4K UHD at 24 frames per second for that cinematic look similar to most movies and TV shows. For slow motion effects, it can record at high speed.
The Canon EOS M50 has a built-in high resolution electronic viewfinder (2.4 million dots) plus an articulated variable-angle touchscreen LCD. The touchscreen feature helps newbies with the transition from a smartphone. And if you're working from home (who ain't these days?) you can use the EOS Utility Webcam Beta Software (Mac and Windows) to turn your Canon EOS M50 camera into a high-quality webcam.
Available from Amazon. Price $599
Under $1000 – Full-Frame Mirrorless, Enthusiast's Dream
Sony Alpha a7II with 28-70mm lens
If you're surprised to see a $1000 entry on a list of Starter Cameras, hear us out. Sony's Alpha a7II is easy to use for anyone, even someone who has never used a "hold it up to your eye" camera, yet it has high-end hobby features that can optionally be explored as you grow more adventurous.
The Sony Alpha a7II is a full-frame mirrorless camera, which means that the sensor size is the same size as one frame of 35mm film. Most (nearly all) beginner cameras have a smaller APS-C size sensor. It accepts all Sony FE series lenses and comes with a 28-70mm zoom which is just right for everything from portraits to groups and landscapes. Plus is accepts older Minolta Maxxum/Sony AF lenses with an adapter, and hundreds of other lenses (via adapter in Manual mode only). What's more it has body-integral image stabilization, so all of those lenses (including the gypsy brands) are shake-free.
The Sony Alpha a7II features a 24.3-megapixel sensor and built-in lens-correcting firmware that compensates for peripheral shading (vignetting), chromatic aberration and distortion.
For video shooting with the Sony Alpha a7II, the filmmaker in your family will appreciate the high-bit-rate XAVC S format with 60p, 30p, and 24p recording options, all at 50 Mbps. It also provides S-Log2 gamma adjustment with a dynamic range approximately 1,300% of the standard sRGB spectrum. Timecode and user bit settings are available as well as clean HDMI output for a variety of recording options.
Available at Amazon. Price $998
(As an Amazon Associate, Shutterbug earns from qualifying purchases linked in this story.)
FEATURED VIDEO