Top Photo Books Of 2007; Pictures & Words For Business And Pleasure Page 2
Evocations of Place: The Photography of Edwin Smith; by Robert Elwall; Merrell; 176 pages; $59.95; (ISBN-13: 978-1-8589-4373-2)
Author Robert Elwall is the photographic curator of the British Architectural Library and his book explores the work of Edwin Smith, one of Britain's most acclaimed photographers. Evocations of Place features a collection of 181 of Smith's elegant duotone images that expertly capture the historic architecture, lavishly decorated interiors, lush landscapes, and breathtaking gardens that England is so famous for. Many of the images presented here are rarely displayed, which makes this book an inspirational and intriguing treasure.
Ghana: An African Portrait Revisited; by Peter E. Randall; Peter E. Randall Publisher LLC; 320 pages; $40; (ISBN-13: 978-1-931807-47-0)
This book is a visual celebration of this beautiful African treasure created from the works of six accomplished photographers. Peter E. Randall, Nancy Grace Horton, Tim Gaudreau, Gary Samson, Charter Weeks, and Barbara Bickford document the fruits that resulted from 50 years of Ghana's independence with over 150 full-color images. These candid portraits of daily life reveal many of the positive changes the people of Ghana have experienced and their hope for an even brighter future.
Regarding the Land: Robert Glenn Ketchum and the Legacy of Eliot Porter; by John Rohrbach with Robert Glenn Ketchum; Amon Carter Museum; 128 pages; $49.95; (ISBN: 978-0-88360-100-6)
Eliot Porter was among the first photographers to capture the magnificent beauty of nature with color film. His work was widely exhibited and served to inspire future generations of artists and environmental activists. Robert Glenn Ketchum found his inspiration here and has risen to become one of America's leading landscape photographers. In this book, John Rohrbach, senior curator of photography at the Amon Carter Museum, and Ketchum explore Porter's images and how the next generation of artists has expanded upon his unique vision of landscape photography.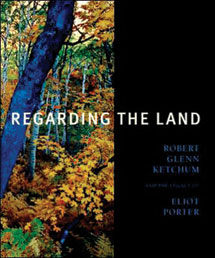 Predator: Life and Death in the African Bush; by Mark C. Ross and David Reesor; Abrams; 208 pages; $35; (ISBN: 978-0-8109-9301-3)
Photographer, writer, safari guide, biologist, and bush pilot Mark C. Ross spent more than 30 years in Kenya gaining knowledge and a deep understanding of Africa's wildlife. Ross and David Reesor have filled this informative book with a beautiful collection of 175 full-color images that serve as a virtual safari, focusing on the daily lives of the five top predators. Exciting photographs of lions, cheetahs, hyenas, leopards, and crocodiles are paired with highly educational text and the removable pocket guide offers an easy-to-read list of traits, statistics, and viewing tips for each predator. This is a journey you simply won't want to miss.
SNOG: A Puppy's Guide to Love; by Rachael Hale; Little, Brown and Company; 160 pages; $19.99; (ISBN-13: 978-0-316-00295-0)
Photographer Rachael Hale has won fame around the world for her whimsical images. This time, she treats us to an adorable collection of lovable puppy portraits. Captured against subtle backgrounds or with simple props, these puppies gaze at the lens with human-like expressions of curiosity and playfulness. I guarantee that you won't be able to resist this book.
Portrait Photographer's Handbook 3rd Edition; by Bill Hurter; Amherst Media; 128 pages; $34.95; (ISBN-13: 978-1-58428-207-5)
This guide offers excellent advice on how to master the complex art of portrait photography. The book features a wonderful collection of 140 images created by such notable photographers as Tony Corbell, Monte Zucker, and Chris Nelson. The photos are used to illustrate Bill Hurter's comprehensive lessons on everything from choosing the right equipment, to the use of proper lighting and posing, to tips on digital retouching. He explores all aspects of portraiture from classic to contemporary in order to help you grow as an artist and improve the quality of your work.
FEATURED VIDEO