Sigma 18-35mm F/1.8 DC HSM Lens: On Assignment: Photographing Denver's Forney Museum Of Transportation
Because of changing display and lighting conditions, photographing classic cars and locomotives in a transportation museum produces challenges that require the flexibility of a fast wide-angle zoom. When photographing inside Denver's Forney Museum of Transportation (www.forneymuseum.org) I used the Sigma 18-35mm f/1.8 DC HSM, a lens well suited to the task.
The Tools
Sigma's 18-35mm f/1.8 DC HSM is part of their DC series of lenses designed for APS-C-sized sensors so the imaging circle is matched to the size of the sensor. For this assignment, I used a Canon EOS 60D with a 22.3x14.9mm sensor, producing an equivalent angle of view of a 28-56mm lens. Shooters of Nikon, Pentax, Sigma, and Sony cameras, the other mounts for which the lens is available, will achieve an angle of view equivalent to 27-52mm. Unlike other lens manufacturers, Sigma priced the different mounts the same ($799) so don't feel you're going to be paying a premium for your camera choice. Bucking a trend with camera manufacturers' lenses, the Sigma 18-35mm f/1.8 DC HSM includes a lens hood at no extra charge.
The 18-35mm f/1.8 DC HSM is a bit hefty (28.6 oz), but Sigma has managed to keep the front filter size down to 72mm. It's solidly built and uses Thermally Stable Composite (TSC) compound material to reduce size and weight and increase durability. The lens has 17 elements in 12 groups incorporating a molded aspherical element made from Special Low Dispersion (SLD) glass to compensate for aberrations and curvature at the widest focal lengths. The lens uses a Hyper Sonic Motor (HSM) drive to provide high-speed autofocus that's quiet enough for a library, let alone a museum. Internal focus and zoom makes using the lens functional and intuitive. There's no image stabilization but that won't bother Pentax or Sony shooters who have it built into their camera bodies.
I was pleased with the sharpness of all the images I made, including those shot wide open. The nine-blade rounded diaphragm creates beautiful bokeh. With focusing as close as 11" the lens might not be capable of true macro photography but it's good enough to capture small details on the different kinds of machinery displayed in a museum like the Forney.
The Techniques
Before heading to the museum I attached one of Fotodiox's affordable ($9.95) Slimline UV filters for protection. Its low-profile aluminum filter ring avoids the kind of vignetting that thicker mounts cause on wide-angle lenses. In museums there are stanchions, chains, and other obstacles that can scratch the front element of a lens and while purists may prefer not to use a filter because they think it degrades the image, my feeling is that it's cheaper to buy a new filter than get a lens repaired or replaced. While walking through a car show's trade show, the front element of one of my personal wide-angle zoom lenses came in contact with a wire rack. S-c-r-a-t-c-h. Ten bucks is cheap insurance.
Even though you pay an admission charge, I think of myself as a guest in any museum and try to behave like a guest in someone's home. That means following house rules. At the Forney, tripods are not allowed and you can understand why for safety and liability reasons, but they do allow the use of monopods.
Shooting in a museum like the Forney boils down to working with the three classic elements of low-light photography: slow shutter speeds, high ISOs, and a fast lens. The Forney looks dark and while it's not really brightly lit—the reason I chose it for this test—the lighting around many displays have motion sensors to illuminate cars as you approach.
While you'll need a steady hand to shoot at low shutter speeds, picking an optimum ISO setting that trades noise for hand-holdable speed should be done before you visit. Shoot a series of ISO brackets, preferably with a subject that has large shadow areas because that will show any noise loud and clear. Examine your test shots on a monitor or make an old-fashioned style "test strip" print and make your decision of what your maximum ISO setting should be.
When shooting in a museum I start with the camera's White Balance (WB) setting on and when making images of coaches and carriages at the front of the museum it produced a warm look that was far from color correct. Switching my Canon EOS 60D to Tungsten color balance mode I made the comparison (unretouched) shots. The Forney has large exterior windows in the front of the building and when photographing the front of the Big Boy locomotive the shot went too blue (for me anyway) so I switched back to AWB. Other options include using a white car as a white card to make a custom color balance or just correct in postproduction using software such as PictoColor's iCorrect EditLab Pro.
The nemesis of shooting in any museum are the ropes (or chains) and stanchions protecting priceless vehicles, like Amelia Earhart's Kissel Gold Bug roadster, from overzealous visitors, but there are discreet ways around this kind of obstacle. I do it by sitting on the floor and shooting with the lens at its widest angle setting with the chain or rope sometimes resting on my head. The floors of the Forney are clean but don't try this in your Armani slacks.
Tip: Remembering the names of some of the cars you photograph can be difficult (Isotta Fraschini anyone?) so I often shoot a close-up of the display plaque so I can recall the car's marque when later sorting image files.
You will see many unusual vehicles at the Forney, including the six-wheeled, six-cylinder 1923 Hispano-Suiza Victoria Town Car that was owned by D.W. Griffith and appeared in his 1933 film, My Lips Betray. The Sigma 18-35mm f/1.8 DC HSM focuses as close as 11", so I used it to make detail shots of the car, including the rear deck emblem, after which I backed away to show the full length of the car. When photographing a behemoth of this size including our nemesis, the black chain, in the shot is inevitable. You can live with it, my choice, or get out your Photoshop skills and make it disappear, but including the chain does show how the Hispano is displayed.
In addition to motion-activated lighting, the overall room lighting varies room to room, with the motorcycle room being the most challenging not only because of lower light levels but because the bikes themselves are placed close together, making for excellent research purposes but not great photo ops. The room has a wall display of antique bicycles and other transportation devices, including a huge steam-powered tractor.
The variety of vehicles on display, homey atmosphere, and friendly staff make the Forney Museum of Transportation a delightful place to visit with a surprise around every turn. To capture all your memories, the Sigma 18-35mm f/1.8 DC HSM lens makes a versatile companion for the occasion.
Forney Museum Of Transportation
The Forney Museum of Transportation began as the private collection of J.D. Forney of Fort Collins, Colorado, and now includes more than 500 exhibits relating to transportation, including antique cars, motorcycles, trucks, and steam locomotives, including the impressive (and well named) Big Boy. Most of the museum's exhibits are from J.D.'s collection and Jack and Pat Forney put a tremendous amount of time, energy, and money into keeping this historic treasure alive. The museum opened to the public in January 2001 at their current 140,000 square foot facility. Right now, 70,000 square feet of space is being used for exhibition and administrative purposes with the remaining space reserved for future expansion.
The Forney is located at 4303 Brighton Boulevard near downtown Denver and its friendly staff makes you feel welcome and at home. Doors are open from 10am to 4pm Monday through Saturday and 12pm to 4pm on Sunday. Admission is affordable and varies for adults, seniors, and children (3-12) but kids younger than 3 are free.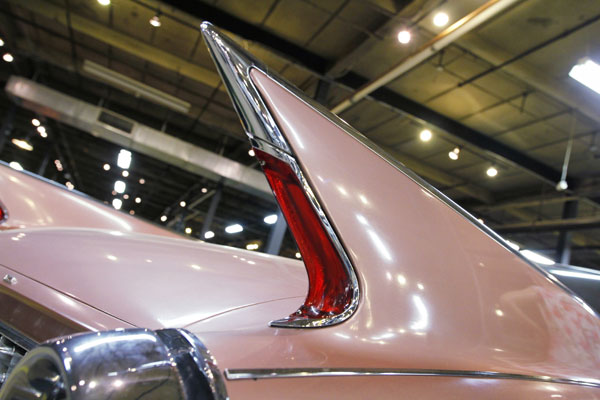 For more information, contact the Forney Museum of Transportation at www.forneymuseum.org.
Specs At A Glance
Sigma 18-35mm f/1.8 DC HSM
Focal Length: 18-35mm
35mm Equivalent Focal
Length (APS-C): 27-52mm
Minimum Aperture: f/16
Minimum Focus: 11"
Focus Method: Internal
Weight: 28.6 oz
Dimensions: 3.1x4.8"
Mount: Canon EF, Nikon F,
Pentax K, Sigma SA, and
Sony Alpha
Price: $799
For more information, contact the Sigma Corporation of America at www.sigmaphoto.com.
FEATURED VIDEO