Latest Tamron Zoom Creates New Genre: Ultra-Wide Closeup Photography
Tamron just introduced the 11-20mm f/2.8 Di III-A RXD fast-aperture, ultra-wideangle zoom lens for the Fujifilm X-Mount, and Shutterbug was able to take it for an extended spin. Although it covers more than 105° at the 11mm focal length, it features close-focusing down to 5.9 inches, prompting us to propose that it enables a wholly new type of photographic composition: Ultra-Wide Closeup.
Overview & First Impressions
Wow, this is a lot more than just another ultra-wideangle wideangle zoom. Providing 16.5-30mm (35mm equivalent) zoom coverage, the new Tamron 11-20mm f/2.8 Di III-A RXD for Fujifilm mirrorless cameras apparently thinks it's a closeup lens, and has the performance chops to back it up.
Note that this lens is nearly identical to the Tamron 11-20mm f/2.8 zoom that was launched for the Sony E-mount in 2021. Nearly everything written here can be applied to the Sony APS-C mount version as well.
The never shrinking (i.e., available at all focal lengths) f/2.8 aperture combined with a minimum subject distance of 5.9 inches at 11mm and 9.4 inches at 20mm opens the gateway to all-new avenues of creative expression. At the widest setting, the max reproduction ratio is 1:4. More importantly, photos shot at close range look different compared to closeups shot with other lenses. You can be creative with the perspective and have more fun with the background.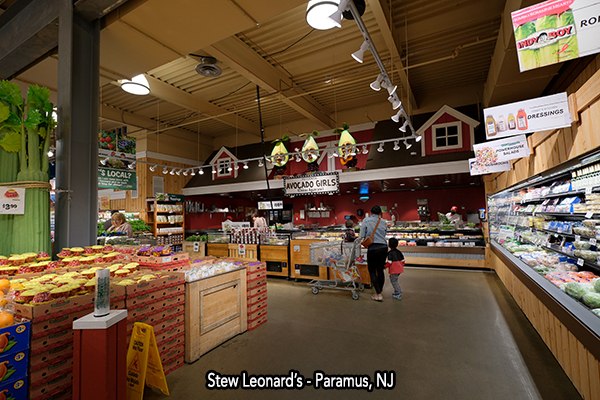 It's exceptional at normal working distances, too. The zoom range is ideal for interior shots, cityscapes and landscapes and we noticed virtually zero distortion or vignetting. At the 30mm setting it's excellent for street shooting although we'd probably opt for the Tamron 17-70mm f/2.8 Di III-A VC RXD for random urban portraits. Come to think of it, the ideal setup would be to have both.
Personally, I think bokeh is overrated as a creative element, but I must confess that I enjoyed exploiting the bokeh delivered by the Tamron 11-20mm f/2.8. At 11mm the depth of field is extensive, but at the 20mm (30mm equivalent) the bokeh was very impressive.
Another lasting impression is the compact size and light weight. The Tamron 11-20mm zoom is only 3.4 inches long and has diameter of 2.87 inches at the fattest part. And it weighs but 11.8 ounces. This means that it belongs in your bag on every outing, even if you're planning to use other lenses predominantly, because packing and carrying it is so easy. Needless to add, this zoom is an excellent choice for travel, and that's for more reasons that's it compact dimensions.
It's a fun lens to use indoors and out. And it delivers razor-sharp still images and video with outstanding color.
Specifications & Features
Autofocus Design
The Tamron 11-20mm f/2.8 uses their proprietary RXD motor unit. RXD is an abbreviation for Rapid eXtra-silent stepping Drive. It utilizes an actuator to control the rotational angle of the motor, thereby directly driving the focusing lens without use of a reduction gear. The result is autofocus that is very accurate and very fast. It's also very quiet which is a major boon to video shooters.
In actual use we found the AF to be exceptionally smooth and fast, with zero lag time and extreme accuracy on a Fujifilm X-T5.
Uniform 67mm Filter Size for Ease and Economy
It may seem like an insignificant detail, but the Tamron 11-20mm f/2.8 zoom features the same 67mm filter size that's shared by nearly every model in Tamron's mirrorless lens lineup. This is an important benefit if you use filters—easily switch an expensive polarizer from one lens to the other instead of buying two filters of different sizes. It's also a timesaver when you change lenses because you can interchange lens caps without fumbling in your bag.
Weather Protection for Outdoor Safeguards
The Tamron 11-20mm f/2.8 zoom has weather seals strategically located at the lens mount and other areas to help prevent against water and dust ingress. The front surface of the first element is coated with an oleophobic fluorine compound to deflect fingerprints and facilitate removal of dust.
Despite weather sealing, we always caution readers to protect their cameras and lenses from the elements at all times. This is a general warning we provide for all brands and models.
Exterior Construction: Fit & Finish
Overall mechanical construction is superb. The Tamron 11-20mm f/2.8 mounts on a Fujifilm body with authority and stays tight. The finish is an attractive matte black that looks great on both black and silver-color cameras.
The zoom ring rotates fully from 11mm to 20mm in about one-quarter of a turn, making it fast and simple to go from ultra-wide to near normal. The focusing ring, should you ever need it, turns freely and smoothly. All-in-all the construction is the equal to any lens we've reviewed.
Optical Construction
The Tamron 11-20mm f/2.8 ultra-wideangle zoom features 12 elements in 10 groups. The optical design includes one XLD (eXtra Low Dispersion), two LD (Low Dispersion) and two Molded Glass Aspherical lens elements that effectively control aberrations (including axial chromatic aberrations). Glass surfaces are enhanced with Tamron's own BBAR-G2 (Broad-Band Anti-Reflection Generation 2) to minimize ghosting and flare and improve results under backlit conditions.
Performance Summary
The images we captured with the Tamron 11-20mm f/2.8 were consistently sharp from edge to edge at all focal lengths and all apertures. We were frankly shocked by the exceptional close-focusing performance and we shot many more closeups than we expected to, considering that it's an ultra wideangle zoom.
Color rendition, contrast and lifelike fidelity were spot on. We experienced virtually zero distortion and could not detect any level of fringing or other critical aberrations.
Conclusion
Walkaround photographers' dream optic or the key to unlocking dramatic ultra-wideangle closeups? Both. At a price well under $1000 we can confidently say that Tamron's 11-20mm f/2.8 zoom makes a valued addition to any Fujifilm shooter's lens arsenal.
Price & Availability
The Tamron 11-20mm f/2.8 Di III-A RXD zoom lens for the Fujifilm APS-C mirrorless cameras is available now. The price is $829 and the lens can be purchased from your local authorized Tamron dealer. To find one near you, click this Dealer Locator. Shop local; save our shrinking photo specialty store base.
Additionally, the Tamron 11-20mm f/2.8 may be ordered from Amazon. Visit the Tamron Store on Amazon to check out other Tamron lenses.
For a behind the scenes look at Tamron's Foshan factory, read Production Process of a Tamron Lens.
—Jon Sienkiewicz
(As an Amazon Associate, Shutterbug earns from qualifying purchases linked in this story.)