Safari Luminations' Pro Lighting Kits; Mix And Match To Meet Your Needs
"Come on and safari with me…"—The Beach Boys
I recently got a chance to see Safari Luminations studio lighting products that are distributed by Denny Manufacturing (www.dennymfg.com) and was impressed with their design, construction, and concept. Safari Luminations is a family of monolights and light-modification products aimed at the new shooter or someone getting started in studio photography. All of this strikingly designed gear is available à la carte or in three kits designed to fit different budgets. Denny offers a Basic two-light kit ($688.50), an Advanced three-light kit ($1168.75), and the three-light Pro Light Kit ($1865.75) that I tested. In addition to their lighting gear, I also got to use one of Denny's new Freedom Cloth backdrops (see "A New Kind Of Background" sidebar) that makes a perfect complement to the Pro Light Kit or any other kind of studio lighting setup.
Let's Go On A Safari
The Pro Light Kit a.k.a. BPK3 Kit includes three Zebra monolights: the package contains two 320 ws Zebra 320 monolights that are clearly intended for use as the main light and fill. The third monolight is a 160 ws Zebra 160 that can be used as a background, hair, or backlight. The two higher output lights fit on the included 10-foot heavy-duty Air Cushion light stands while the smaller light perches on a lighter weight 10-foot stand. To modify light quality, the kit includes a 28" square softbox along with an adapter ring that lets you mount it on a Zebra 160 or 320 monolight to serve as the main or key light. A 36" white umbrella mounted on the other Zebra 320 monolights can provide fill light and there's a set of barn doors for use as a hair or background light when attached to the Zebra 160 monolight.

All of the kit's components are mix and match and you can use one, two, or three lights in any combination and unlike a lot of starter kits that cut corners to meet a price point, the light stands included in the BPK3 Kit are heavy-duty professional quality. Traditional reflectors are provided for each of the monolights and Denny's catalog shows several inexpensive accessories, including two different snoots and a honeycomb grid.

The Zebra monolights can be used in a studio, but because of their light weight and portability can just as easily be set up on location or in a temporary studio, like my basement, where all of the photographs from this review were made. That's why the Pro Light Kit also includes two cases: one to hold the light stands and one to hold everything else. Sometimes companies also skimp on ancillary components such as cases, but like all of the other gear that's included in the Pro Light Kit, the two soft-sided bags are rugged and professional and should stand up to repeated use even if you, unlike moi, handle them less than delicately.
I wanted to give Gabby something to do with her hands and set up this mini forest of inexpensive (non-Denny) light stands. The photograph was made with a Canon EOS 50D and an EF 28-135mm IS lens. Exposure was 1⁄60 sec at f/11 and ISO 125. A Zebra 320 with softbox attached was placed at camera left and a Zebra 320 was positioned camera right with the 36" white umbrella mounted. The main light was set at 1⁄4 power and the fill was on 1⁄2 power. A Zebra 160 with barn doors attached was placed at right rear to accent the model's hair and was set at 1⁄2 power. Background was Denny's Garden Pattern in Freedom Cloth.
© 2009, Joe Farace, All Rights Reserved
Pieces And Parts
All three (see model comparison chart in the Instant Links section at www.shutterbug.com) Zebra monolights are AC/DC compatible and operate on regular wall current or battery power using either Denny's optional Zebra Zap Pac DC power pack ($211.65) or Quantum's Turbo or Turbo Z batteries using a cable that's provided so you can take these lights anywhere. A fully charged Zebra Zap Pac battery produces approximately 115 full power flashes at 320 ws or 200 flashes at 160 ws. A built-in level indicator shows battery power status with a red light that reminds you when it needs recharging. The Zebra Zap Pac DC power pack (ZP-1) includes battery, AC battery charger, DC cord, and carrying case.

The BPK3 Kit includes a 28" heavy-duty square softbox but there are others available in a series of Safari Luminations foldable softboxes, including octagonal, square, rectangular, and a strip box, and all, except the 10x36" strip box, are available in several sizes. Check Denny's catalog (there's one online viewable as a PDF file) for details. Like the monolight housings, the Zebra light banks feature a black-and-white zebra stripe motif around the edges that give them a stylish look but also have a more practical reason.

Have you ever captured the edge of your softbox in a shot? I have and I'm sure there are those of you out there who will admit that it happens. It shouldn't happen with the Zebra light banks because, unlike the solid black edges of traditional softboxes, you should see the black-and-white zebra trim in your viewfinder or at least in the LCD screen after you've captured the image.

The light banks have an umbrella-like assembly and, unlike other softboxes that use a similar design, seem stronger in keeping with the overall professionalism and rugged construction of all of the Safari components. Even for someone not used to working with studio lighting gear, the Denny softbox is easy to assemble without the frustration that sometimes accompanies the assembly process of flexible (and sometimes not-so-flexible) rod-based light bank construction. While the light bank has the zebra stripe pattern, the umbrella does not have a black backing and no stripe. This allows it to be used in Shoot-Through mode, essentially adding another light bank to your lighting tool kit, but when used as an umbrella some light loss out the back is inevitable.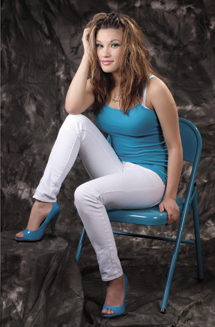 Mary liked the way Gabby's outfit matched a metal prop chair (inexpensive and from Target) and used it here with a softbox mounted on a Zebra 320 at camera left with another Zebra 320 at camera right with the 36" white umbrella mounted. The (closer) main light was set at 1⁄4 power and the fill was on 1⁄2 power. A Zebra 160 with barn doors was placed at right rear to accent the model's hair and was set at 1⁄2 power. Exposure in Manual mode with an Olympus E-30 was 1⁄60 sec at f/10 and ISO 125.
© 2009, Joe Farace, All Rights Reserved
In The Studio
As they say in the instructions for kids' toys, "some assembly is required" with the Pro Light Kit and you will need to open a bunch of boxes, including a really big one that contains much of the whole kit, and assemble the components by installing flash tubes and modeling lights and mounting the monolights on the light stands. That doesn't even include assembling and installing the light bank (tricky but not difficult), umbrella, and barn doors (pretty easy even for a novice). I gave the job to Mary since she hasn't worked with studio lights in a long, long time and she didn't have a single problem putting it all together. Tip: The half wing-shaped knob that locks the flash into the angle you want appears to come close to the monolight's housing but is on a ratchet, so just lift and rotate to a more convenient location, and continue tightening.
FEATURED VIDEO