REVIEW: Tamron 18-300mm f/3.5-6.3 Ultra-Zoom Lens for Fujifilm is Sharp, Compact and Sensational
When we reviewed the Tamron 18-300mm f/3.5-6.3 Ultra-Zoom Lens in Sony APS-C mirrorless mount, we were truly impressed that a long-reach zoom that small (< 5 inches) had such outstanding IQ, focused to 5.9 inches and cost less than $700. But I must confess that all the while, I was eagerly awaiting the Fujifilm X version of this beauty. I finally landed a sample, and here's what happened.
Here's the review we published based on the Sony version late last fall: Review of Tamron 18-300mm f/3.5-6.3 Di III-A VC VXD Ultra-Zoom for Sony APS-C and Fujifilm X-Series.
Because the mechanical and optical specifications are the same, and because virtually everything we wrote about the Sony model applies in equal measure to the Fujifilm version, we're not going to hit replay. Check the link above if you're interested in the particulars. Instead of a traditional review, we'll show some examples of how the lens performs in everyday world situations.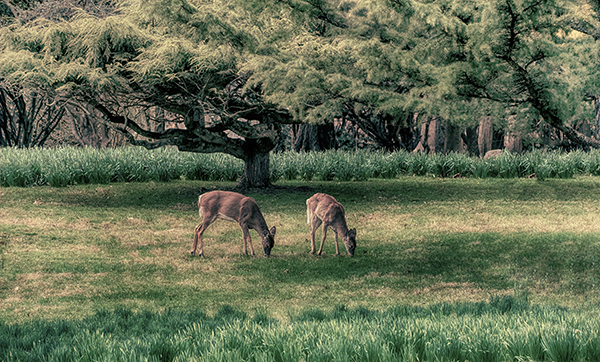 Freehand Review Format
When I review a lens I normally photograph subjects that specifically reveal the strengths and weaknesses of the product. Sometimes the subjects are rather unremarkable, but are selected because they work well as example photos. I often show 100% crops with arrows and boxes and other maddening details because I think it's the best way to convey the features and image quality within the limitations of a webpage. With the traditional, structured approach there's not a lot of room for creativity.
This review is different. With the mandatory protocol out of the way, I was free to use the lens any way I chose. So for a couple weeks I took the types of pictures I like to take when shooting for my own pleasure. And I processed, cropped and (slightly) manipulated them, too. Not claiming any great artwork here, but I do believe that these images are typical of the things an average photographer (like me) can create with the Tamron 18-300mm f/3.5-6.3 Ultra-Zoom.
The Fujifilm X-Series Mirrorless Platform
I like Fujifilm cameras—a lot—and it was a pleasure using this new all-in-one Tamron zoom on a Fujifilm X-T4. My only persistent grumble about Fujifilm X-series cameras has been the shortage of third-party lenses. For a long time, the only available aftermarket lenses were some lesser-known brands—and nearly all were manual focus. Now, Tokina offers five models, including a slick mirror lens (Tokina SZ 500mm f/8 Reflex Manual Focus Lens). And Sigma very recently introduced three primes in their Contemporary series for Fujifilm cameras: the 16mm f/1.4, 30mm f/1.4 and 56mm f/1.4. Now with Tamron entering the arena, the party is getting started.
Equivalent Zoom Range
Because Fujifilm X-series mirrorless cameras have image sensors that are APS-C size, the Tamron 18-300mm f/3.5-6.3 Ultra-Zoom performs the equivalent of a 27-450mm zoom on a full-frame camera. The 1.5X factor, which is a pain when using wideangles, is a major benefit when using telephotos—50% longer focal length means extra-powerful telephoto reach. Shooting birds was a true joy.
Specifications
Fit and Finish
The zoom ring turns smoothly without jitter and feels very solid. The zoom attaches to the camera's lens mount with an authoritative snap and locks securely in place. The overall tactile experience is very positive and reassures the user with all the hallmarks of high quality construction. In short, everything about the Tamron 18-300mm f/3.5-6.3 Ultra-Zoom feels top notch.
In the Field
The full catalog name of today's subject is Tamron 18-300mm f/3.5-6.3 Di III-A VC VXD zoom lens for Fujifilm. I used a Fujifilm X-T4 mirrorless camera body with this lens. The combination is light and tight, and feels good in the hand.
Handheld Shooting
Because of the excellent balance, potent VC (Tamron's Vibration Compensation image stabilization) and the fast, accurate autofocus, I found it very easy to shoot handheld, even when I used the Tamron 18-300mm f/3.5-6.3 Ultra-Zoom on Fujifilm cameras that do not have stabilization built in. Normally, I instinctively brace myself against my car, a tree or any other stable object when shooting a tele, and so I did with this Tamron zoom. That helps, of course, but even casual, offhand shooting without improvised support was shake free.
All telephoto lenses, especially those that extend over 300mm, are difficult to hold still, I don't care who you are or how much experience you have. Tamron's proprietary VC effectively suppresses the shakiness. Handheld shots came out sharp and crisp. Additionally, based on AI rules, the lens chooses the best compensation characteristic for video shooting at focal lengths of 70mm or less.
Autofocus Performance
The speed and accuracy of the autofocus were impressive. The Tamron 18-300mm f/3.5-6.3 Ultra-Zoom contains a VXD linear motor focus mechanism, and it's very precise. It also features effective Focus Tracking that allowed me to keep the wild neighborhood whitetail deer in focus as they fled. Using an advanced design, the focus mechanism directly moves a group of lens elements without using gears, so the operation is very quiet—and that's especially important when shooting video.
Crazy Close-Focus
When we read the phrase Ultra-Zoom or 300mm (450mm equivalent) we naturally think about making distant objects appear closer. But with the Tamron 18-300mm f/3.5-6.3 Ultra-Zoom you can also focus spatially closer and make small objects appear big. At the 18mm setting, this Tamron lens focuses to 5.9 inches, producing a 1:2 reproduction ratio. Note that the 5.9 inches are measured from subject plane to image sensor; at 1:2 macro, the subject is about 5mm (0.2 inches) from the front surface of the lens.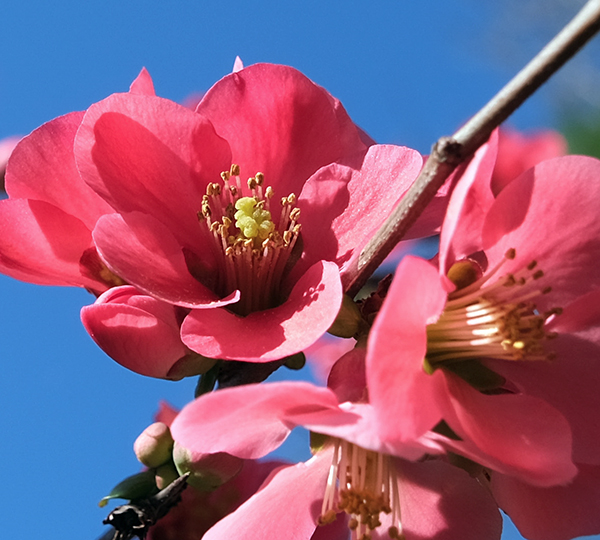 Snapping birds more than 6 meters away one second and bugs less than 6 inches away the next is pretty amazing. Having a zoom ratio of 16.6X and a magnification ratio of 1:2 combined in a single all-in-one zoom lens is simply incredible.
What is 1:2 Half-Macro?
Taking a step back in history, one of the best known macro lenses of all time is the 55mm f/3.5 Micro Nikkor from highly esteemed Nikon. The first version of this lens appeared in the mid-1960s, and it has evolved slowly and deliberately. Throughout its storied history, most versions were able to achieve 1:1 (so-called "Life Size Macro") reproduction with (and only with) the addition of the optional M1 Extension Tube. Without the tube it focused to 1:2, or "half life size."
Remarkably, this Tamron zoom can achieve 1:2, half life size macro performance, too, when the focal length is zoomed to 18mm.
Silly 67mm Filter Size
Most of Tamron's lenses for mirrorless cameras use 67mm filters. Emphasizing the 67mm filter size may seen frivolous, but listen to this. The fact that a lens has a front element small enough to accommodate a 67mm filter says a lot about the overall size of the lens; 67mm equals 2.64 inches. More importantly, however, is the fact that you can buy one polarizer or ND filter and use it on several different lenses. That's much cheaper than buying multiple copies of the same filter in various sizes.
And if you have a number of lenses that have the same 67mm filter size, you can swap lens caps when you change lenses. The 67mm cap on the lens you are attaching to the camera fits the lens that you are removing from the camera.
Conclusion
People buy Fujifilm X series mirrorless cameras for the high quality images, sensational color reproduction and abundant features. Using the Tamron 18-300mm f/3.5-6.3 Ultra-Zoom I was able to achieve all of these and more, without sacrifice.
Content creators will appreciate the versatility of this lens. The zoom range is extensive, close-up focusing is nothing short of amazing and the extra-quiet AF system eliminates annoying background noise.
Considering where this piece fits in the marketplace, the closest Fujifilm-branded lens is the Fujifilm XF 18-135mm f/3.5-5.6 R LM OIS WR. It's equivalent range is about 27-203mm, far short of the Tamron's 27-450mm ultra-zoom range. And the cost of the Fujifilm brand is $900, that is, $200 higher than Tamron's. Don't let me mislead you—I own and love Fujifilm lenses, both primes and zooms, and I think they are among the finest in the world. That said, if I were picking one zoom to carry all day at the zoo, or when exploring a new city, or anywhere else that I'm likely to encounter a wide range of subjects that require a highly versatile lens, I'm going with the Tamron.
Price and Availability
The Tamron 18-300mm f/3.5-6.3 Di III-A VC VXD Ultra-Zoom Lens for Fujifilm X series and Sony APS-C mirrorless cameras is available now. You can order online from Amazon if your local camera dealer does not have it in stock. Price if you order from Amazon is $699. You can also visit the Tamron Store at Amazon to view all popular Tamron lenses.
—Jon Sienkiewicz
(As an Amazon Associate, Shutterbug earns from qualifying purchases linked in this story.)