The Real Rocket Man: How Ben Cooper Captures His Spectacular Space Launch Photos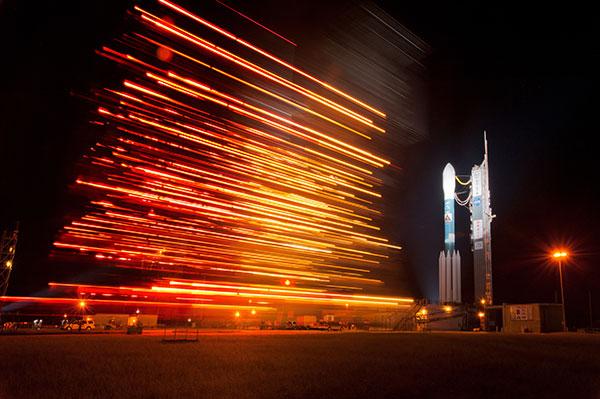 One might say that Ben Cooper rocketed to stardom in high school. Back then he knew nothing about space launches, except for the fact that he wanted to shoot them. While not a sci-fi fan, he found himself captivated by the entire concept of going into space.
So, there he was, in his freshman year of high school, an uncredentialed student about to photograph a night launch for the very first time—Space Shuttle Columbia (STS-93). Purchasing a ticket in advance garnered him a spot along with countless Floridians and tourists. But, as a fledgling space launch photographer, he still had one hurdle to overcome: he knew nothing about what to expect nor how to go about shooting a launch.
One Giant Step…
Luckily he'd had the foresight to take one bold step that would provide him with the needed starting blocks. He had e-mailed NASA, and, to his surprise, received a response. NASA had sent him their official Night Exposure Guidelines that they provide to media. Sadly, that first launch was aborted, as was the second liftoff he'd planned to photograph.
However, all was not lost. A job as a photographer on the high-school newspaper landed him at Cape Canaveral yet again, this time as a credentialed member of the media. And that launch shoot—of Space Shuttle Endeavour (STS-100)—went off like clockwork.
"I had already made the acquaintance of the manager of the photo lab at NASA," Cooper recalls, "and he gave me some advice on shooting this daylight launch. At the time I was using ISO 100 color print film. When I'd finished shooting, he then took the film and developed it at the NASA lab on site." Along the way, he had garnered friendships with rocket launch photographers who have inspired him. Among them are Bill Hartenstein and James Brown.
Unbeknownst to him those many years ago, Cooper would launch his career with that first aborted launch. After high school, his college years would see him shooting launches for the website spaceflightnow.com, which is dedicated to news about aeronautics and space exploration. Years later, his career continues to soar like the rockets he photographs. In fact, Cooper will soon be marking his 200th space launch.
The Roaring Thunder
Anyone can buy a ticket to a launch and photograph it from a well-defined perimeter. However, to gain more intimate access to NASA's launch facilities you have to fall into one of two categories. "In order to set up cameras around the immediate area of the launchpad," Cooper notes, "you have to be media or working there.
"It's a little different for each launch, but the average citizen taking pictures at Cape Canaveral can get pretty close. You can get as close as, say, three or four miles for some launches. But largely it depends on what the launch is and what time it is taking place. On some launches you might not get closer than 10 miles."
He continues: "You can feel the shockwaves out to three or four miles and possibly even out to 10 miles. The sound won't be deafening from 10 miles but it will sound like distant thunder. Even media don't get close enough to necessitate wearing earplugs or sound-cancelling headphones."
At the Launchpad
Cooper always has a camera with him, which he shoots hand-held. "The closest I've ever been to a launch is maybe a mile and a half," he says. "That's about the limit that they'll let anybody watch." That's the simplest part of the equation. Setting up remote cameras around the launch site is another matter entirely.
In fact, Cooper has a typical routine for shooting from the launchpad. "As part of the preparation, I'll make a list of my planned shots." Besides spending the previous day preparing all his gear at home, Cooper spends four to eight hours setting up around the launch site. He's not fixated on any one location. He has maybe 15 or 20 locations in mind, each to be fitted with a camera set up with the appropriate lens, focal length setting (for zooms), and manual focus setting (even to the point of taping down the focusing ring), each rig requiring testing on site. "I've used as many as 25 cameras for one launch." He also noted, that, of those, there may be one camera that fails to perform, for whatever reason.
How does he trigger those remote cameras, some of which may be positioned miles from where he's shooting with a handheld camera? "Most of the time I'll be using the sound of the launch to trigger the cameras," Cooper explains. "I have a custom-made battery-powered sound trigger attached to each camera. Sometimes, for example, I might use a timer or intervalometer, if I want a photo taken before the sound arrives."
He's had these triggers since his very first launch—talk about preparation! "Even back then, I had wanted to do the launchpad shots and the first thing you learn is that you need a trigger. At that time I couldn't find one that was sold commercially."
Weathering the Elements
Preparing the gear also involves protecting it against rain, and especially wind and vibrations. Against rain Cooper will use garbage bags over the camera, or he may use a PVC tube as a housing.
"If I put the tripod down in the grass, I'll use tent stakes and tether the tripod legs to the ground so the tripod doesn't fall over," he says. "Or you find something to clamp the camera onto."
Of course, you have to make sure everything lines up with the rocket that's about to be launched. And there's always a risk that one of those launchpad cameras or lenses will get damaged or destroyed by flying debris or extreme heat. "And we also have to contend with wildlife when setting up these remote cameras."
If a launch is delayed, he may leave his gear out on the launchpad. If the delay involves more than one day, he'll pack up and start from scratch when the countdown resumes.
Shooting Day and Night Launches
Daytime and nighttime launches are of course different, but not markedly so in terms of exposure, Cooper tells us. You still have that bright flash of light to contend with, but you're dealing with different levels of contrast.
Cooper explains: "Most people who see a launch for the very first time remark, Wow, that was much brighter than I'd imagined! Even in the daytime it's pretty intense. But in the daytime, it's pretty much the same as a regular day exposure, but my advice is, more often than not to use manual shooting mode, because it's so bright that the flame can disrupt the autoexposure sensors in your camera."
Although he was quick to add that today's metering systems may be better able to handle that raging intensity. For a typical day launch exposure, Cooper recommends ISO 200, f/8 at 1/2000 second on a sunny day.
"A night launch is another story," he continues. "I have used autoexposure and it works. Between in-camera TTL metering and Raw processing, you can hardly go wrong anymore. To play it safe, however, for a night launch I would say you should know your manual exposure pretty much ahead of time."
He noted that the difference may be no more than two stops of added exposure at night, for example, 1/500 second. Some exposures, though, may last much, much longer. Also, Cooper prefers not to go beyond ISO 400 and never uses Auto ISO.
As far as frame rates, for his handheld camera he'll shoot at the highest frame rate. For the remotes, considering that he doesn't know how slow the rocket is during liftoff and to prevent the memory buffer from filling up, he'll limit his cameras to 3 or 5 frames per second.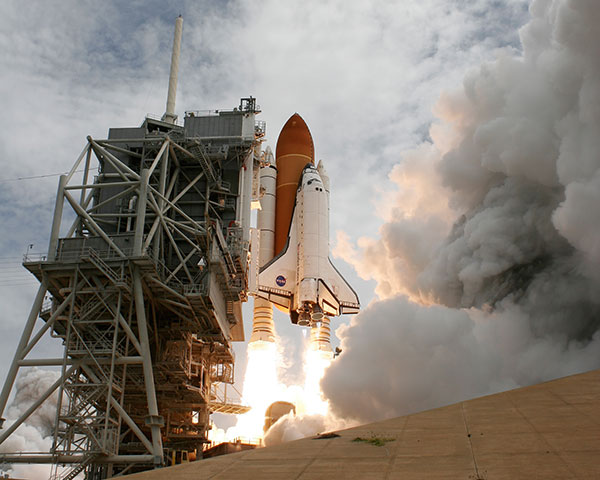 Tips for Aspiring Launch Photographers
Cooper advises aspiring rocket launch photographers to do their homework first and foremost. "Look at launch pictures in the media or from NASA to get an idea of what it takes. You'd also do well to look at the data that's attached to that launch. Or, it's worked for me, ask somebody." He says you should also "be prepared for delays. A launch can be canceled at literally the very last second. So be flexible."
He has one more important recommendation, which is essentially, don't get so caught up in shooting the launch that you miss seeing it, especially the very first time. "Don't look through the viewfinder when you're watching a launch," he says. "If you want to get a great picture, set the camera up on a tripod, make sure you've got it lined up, then fire it, step away—and watch."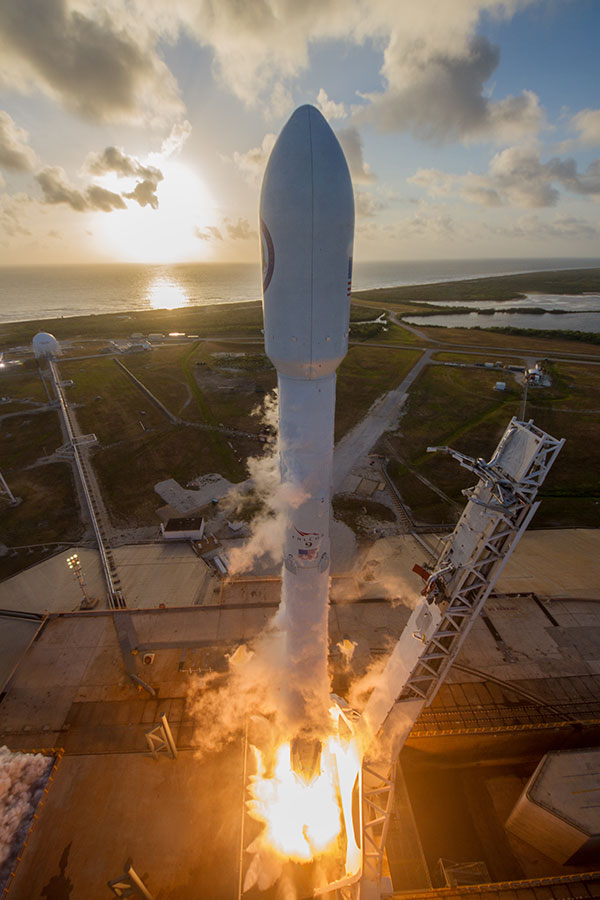 As to what excites him about space launch photography, Cooper says: "The excitement comes from the challenge. You have one chance to do it, to get it right. There's no do-over."
Like the rockets he photographs, Ben Cooper's space launch photography has risen to great heights, giving us glimpses into a world very few of us get to see firsthand. Cooper doesn't simply settle for the familiar launch shots. He goes out of his way to capture viewpoints that are eye-opening and expressive. Very often, they're not simply documents of an age in transition, but instead are a magnum opus for our age.
What's in Cooper's Gear Bag
• Nikon DSLRs: D750, D7200
• Canon DSLRs: EOS 7D, 60D, 50D
• Lenses: AF-S Nikkor 500mm f/4E FL ED VR with 2x teleconverter; AF Zoom-Nikkor 80-200mm f/2.8D ED; AF-S Nikkor 24-70mm f/2.8G ED; AF-S Zoom-Nikkor 17-35mm f/2.8D IF-ED; AF Fisheye-Nikkor 16mm f/2.8D; Canon EF 24-85mm f/3.5-4.5 USM; Sigma 10-20mm f/3.5 EX DC HSM
• Filters: Polarizer; NDs ranging from 2 stop to 10 stop, plus split ND
• Accessories: Cable releases and intervalometer
Cooper's Favorite Gear
"Tough question. I love super-wides for dramatic shots, meaning the 17-35mm or 10-20mm, or even the 16mm fisheye, but only on occasion. A fisheye needs to be used correctly and only occasionally to stand out."
Ben Cooper operates out of Orlando, Florida. To see more of his work, visit launchphotography.com.
Jack Neubart (jackneubart.com) has authored numerous books and articles on photography over the years.
FEATURED VIDEO