Pentax 645Z Medium Format Camera Review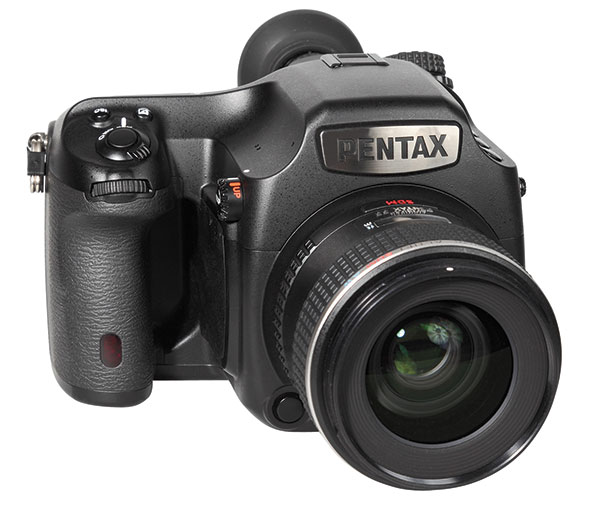 [Editor's Note: Lab test and comments are by Betternet, Shutterbug's TIPA-affiliated testing lab. TIPA (www.tipa.com) is a worldwide association of photo and imaging magazine editors. Shutterbug is the sole US member of the association, and Editor at Large George Schaub serves as a member of the Technical Committee. Please click on the Image Tech tab on the home page for more camera review tests.]
Ricoh Imaging's Pentax 645Z is a "medium format" digital camera with a 43.8x32.8mm CMOS sensor, 1.66 times the size of a standard full-frame sensor. The sensor features a very high resolution of 51.4MP (8265x6192 pixels) and can record in JPEG and in Pentax's own Raw (PEF) or Adobe DNG format.
The Pentax 645Z has a massive and robust sealed body. The large sensor, the large mirror box, and the large pentaprism for the optical viewfinder require a lot of space, thus the fairly bulky design. Despite this, the camera is very handy. A large grip on the right-hand side allows the user to hold the camera comfortably. Numerous function buttons and setup dials make it easy to change image parameters while holding the camera in its shooting position. And, for images taken in portrait format, the camera offers a 3/8-inch tripod socket on its left-hand side. It should be very easy for Pentax photographers to handle the new 645Z as the setup and the menu structure are very similar to Pentax K-series cameras.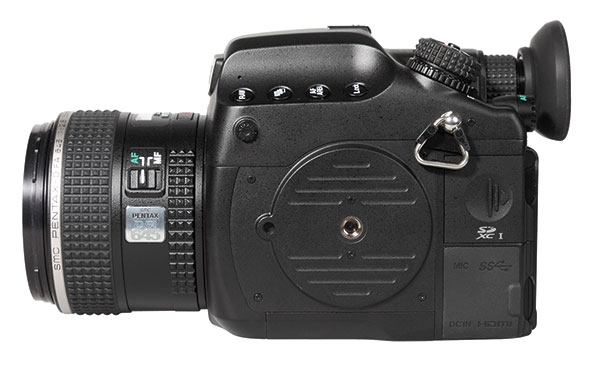 The camera has a large and bright viewfinder, which offers full control of the image. Manual focusing is easy, plus there's a handy swivel monitor. In addition, the 645Z is the first medium format camera that delivers video recording, with Full HD capability.
Comments On Image Quality
Color: The Pentax 645Z showed a very good reproduction of our color test chart. It was reproduced with nearly perfect saturation (98.2 percent). The automatic white balance system created a minor shift of brighter nuances into the yellow area, but this effect is quite insignificant. The color errors are on a very low level. Skin tones are reproduced very naturally and all other colors show no or only minor aberrations.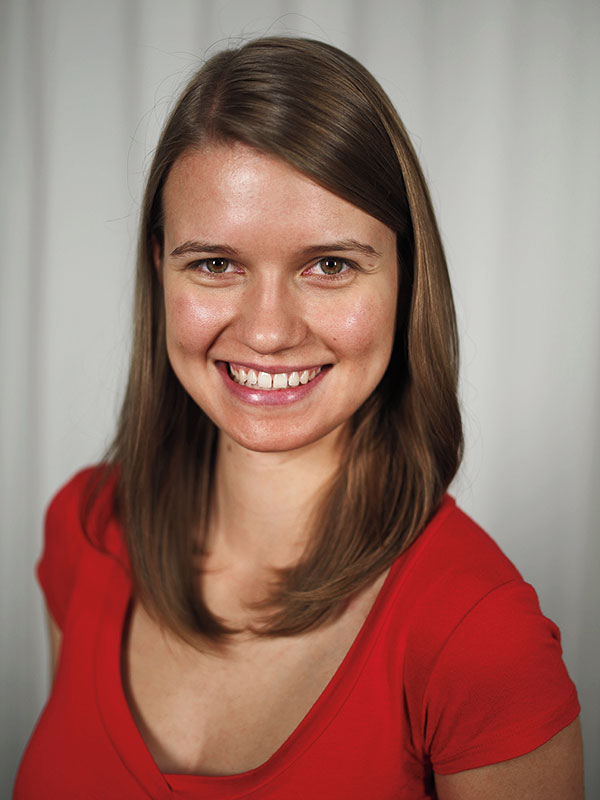 Sharpness: The Pentax 645Z created images with a sharp and crisp look, but doesn't deliver entirely on its nominal sensor resolution of 6,192 lines per picture height. However, the maximum result of 5,671 lines per picture height is still extremely high and can yield large format prints and even crops with rich detail. The shots have a very natural-looking sharpness and don't show typical sharpness filtering artifacts like contours on contrast lines.
Noise: The Pentax 645Z uses a 43.8x32.8mm sensor with 51.4MP with a pixel size of 5.3 microns. This is similar to the pixel size of the Phase One IQ250 digital back and the Hasselblad H5D-50c, which use a different sensor. The pixel size combined with CMOS technology allows the user to shoot with higher ISO speed ratings than with former CCD digital backs. The Pentax 645Z has a high ISO rating of 208,400, but this extreme ISO isn't recommended because the camera shows extreme luminance and color noise artifacts in the images. However, the noise results are very good at lower ISO speed settings. Between ISO 100 and 3200 they are a little bit higher than in images taken with full-frame sensor cameras made by Canon, Nikon, and Sony, but are still on a very good level.
The Pentax 645Z achieved high results in our dynamic range test. The maximum of 12.3 f/stops is an extremely good result, and this is maintained in the ISO 100 to ISO 6400 range. At higher settings it drops significantly: at settings higher than 51,200 it declines to less then 8 f/stops.
Comments On Video Functions
The Pentax 645Z is the first medium format camera that allows the user to shoot video clips. The camera takes videos with a resolution of 1920x1080 pixels up to 30 frames per second in progressive mode. In addition, it offers two modes with 50 or 60 interlaced frames. The camera saves video as Apple QuickTime MOV files with H.264 compression, but only at 24 Mbit/s, which is lower than the data rate Canon is using for its SLR videos. It can shoot videos in all exposure modes, so a manual setup of aperture size, shutter speed, and ISO speed setting is available. The ISO speed is limited to ISO 3200.
Video handling is easy: The camera has a mode switch on the back (to the right of the viewfinder) that allows the user to toggle between photo and video mode. The live view button (a small red dot) on the back can be used as an additional shutter release button for recording video. The camera allows for contrast metering to set up focus in live preview mode, but is unable to focus while recording the sequence. It also offers a very special kind of 4K recording: these are extremely short sequences (two seconds) in a time interval mode, quite useful for time-lapse recordings.
Comments On Video Quality
The video quality is noticeably lower than the superb still image quality. The downsampling of the extremely high-resolution sensor to the 2MP resolution of the Full HD videos causes some serious problems. Our test sample video shows that the Pentax 645Z takes videos with a lot of aliasing and moiré effects. Contrast lines and fine structures show intense flickering. The overall look of the video is very soft and even blurred. The resolution test result also reinforces our clip tests. The Pentax reproduced the ISO 12.233 chart with 399 lines per picture height, which is remarkably low.
The color reproduction is good: there are only minor noticeable errors. The test sample shows that the camera tends to create video images with very high contrast and therefore emphasized colors. The reproduction of bright to dark gradations is quite "hard." The camera achieved a maximum of only 6.13 f/stops in video mode, while it is able to record still images with up to 12.3 f/stops.
Scorecard
Pro
+ Professional medium format system with a lot of current camera features
+ Very large and bright optical viewfinder with 100 percent field of view
+ Very high-resolution still images
+ Realistic color reproduction
+ Fast AF system
+ Easy handling
+ Swivel monitor
Con
- Disappointing video results
- Massive camera body
Image Tech is where we publish web-exclusive lab reports on cameras. To read the reports please go to the Shutterbug homepage at www.shutterbug.com and click on the Image Tech tab on the top navigation bar. New reports are published frequently, so check Image Tech for updates.
The Pentax 645Z has a list price of $8,500. For more information, visit www.us.ricoh-imaging.com.
Lab results and test images by BetterNet, our TIPA-affiliated testing lab.
FEATURED VIDEO