Hasselblad H4D-40 Field Test; Is Spectacular Image Quality Really Worth $20K?
The Hasselblad H4D-40 is a formidable piece of machinery in every respect. Measuring 6.0x5.2x8.4", and weighing in at 5.04 lbs (with HC 80mm f/2.8 lens, battery, and CF card), it incorporates a 40MP (megapixel) CCD sensor measuring 33.1x44.2mm (nearly twice the area of full-frame 24x36mm) in its interchangeable modular Digital Capture Unit (DCU), outputs 8-bit image files averaging 120MB at full res, and costs five measly bucks under $20K.
Its mechanical roots go back to the Hasselblad H1 6x4.5cm-format film camera that provided the basic body and form factor for the landmark H1D, the first digital 'Blad that debuted about six years ago. The advent of the H1D also marked the merger of Hasselblad with Imacon, the esteemed Danish sensor manufacturer. Indeed, Hasselblad is now headquartered in Copenhagen, and with Fujinon lenses designed in Sweden and made in Japan and electronics and mechanicals sourced from Asia and Europe, the Hasselblad H4D is quite literally international.

The most significant upgrades to the H4D compared to the previous H3DII are True Focus, a medium format alternative to multi-point AF; a larger AE-Lock and new True Focus button; a new 3" LCD; a stainless steel bayonet mount; and new custom options, including four additional customizable user presets (a total of eight), 3 EV auto-bracketing, and an always-return mirror option. In addition, the H4D-40 can now shoot time exposures up to 4 minutes, 16 seconds, and it offers ISO settings ranging from 100 to 1600. There are currently three DCUs available for the H4D—40MP and 50MP with sensors made by Kodak, and a 60MP sensor unit made by Dalsa. The 50MP is available in two versions, H4D-50 and H4D-50MS, the latter providing multi-exposure capability. The fact that the H4D can be easily upgraded as new sensors are developed is a crucial factor for anyone considering investing in this system.
Hudson River Scene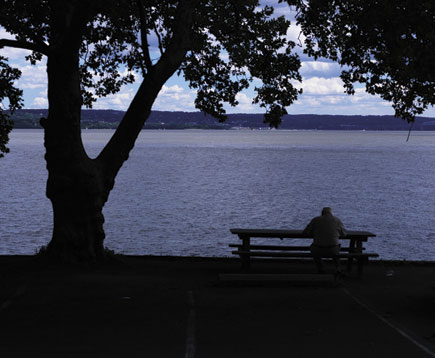 Shot in late afternoon, image shows very good definition and subtle color rendition. (HC 80mm f/2.8 lens, A mode, f/5.6 at 1⁄800 sec, ISO 100.)
Mark Kalan
Consumer and pro-level D-SLR shooters will be impressed by its ergonomically contoured grip, solidity, and sheer heft. The camera is very well-balanced with either of the lenses we used extensively—the six-element, five-group HC 80mm f/2.8 and the 10-element, six-group HC 210mm f/4—but with the latter in place the outfit weighs in at 6.9 lbs and our wrists sure felt it after about an hour of handheld shooting. The upside is that its mass tends to damp out any minor shake, and we were able to capture sharp portraits with the 210mm at 1⁄100 sec handheld without any noticeable loss of image quality.

The controls on the 'Blad are similar in function to those on a 35mm-based D-SLR, but there are also extra buttons on both the grip and body that may require your attention. Despite the inevitable learning curve, the longer we shot with the H4D, the more logical the placement and operations of the controls became and shooting on the fly became swift and intuitive.
Farmhouse Door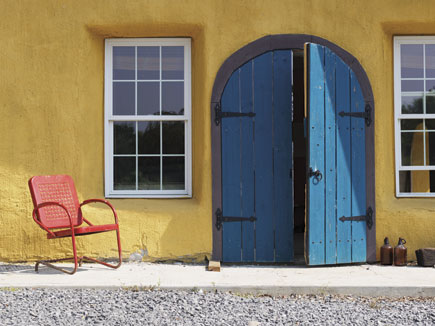 Subtle textures and colors are faithfully rendered at ISO 400 (note fine details on blue door). (HC 80mm f/2.8 lens, A mode, f/7.1 at 1⁄400 sec, ISO 200.)
Mark Kalan
The H4D's signature feature is True Focus, which is based on a new Absolute Position Lock (APL) processor and is designed to provide precise, accurate focusing at any point in the image field. Hasselblad uses a modern tilt-yaw sensor coupled to a sophisticated computer program to measure the angular displacement and instantly adjust the focus point when you shift the camera to recompose after locking focus at the central AF point.

The APL processor accurately logs camera movement during recomposing, uses this information to calculate any necessary focus adjustments, and sends a signal to the focus motor in the lens so it can instantly compensate. This all occurs so rapidly there's no additional shutter lag. According to Hasselblad, the H4D's firmware then further fine-tunes the focus using a data retrieval system built into all HC/HCD lenses. For a single shot, press the True Focus button with your thumb, lock in the focus, then reframe and shoot. You can also set the True Focus to work with every shot via the autofocus settings panel.
Portrait Of Heidi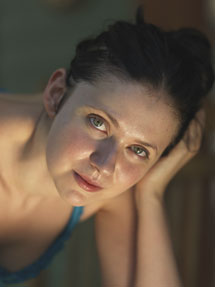 Note excellent skin tones, commendable sharpness at the point of focus (eyelashes) at maximum aperture and pleasantly shallow depth of field. (Handheld HC 210mm f/4 lens, A mode, f/4 at 1⁄500 sec, ISO 200.)
Mark Kalan
FEATURED VIDEO