Mamiya's DL28 Medium Format D-SLR; Digital Or Film, Take Your Pick
The Mamiya DL28 is the marriage of a Mamiya 645AFD III medium format camera with the new 28-megapixel Leaf Aptus-II 6 back, both neatly packaged with the newly introduced and distinctly matched Mamiya Sekor 80mm f/2.8 D digital lens. Change to an optional film magazine and you're shooting old-style. If you've worked with a Mamiya 645 before, the learning curve with the digital back attached should be minimal. I rarely found it necessary to crack open the instruction manual, either for the camera or the back. If this is your first excursion into Mamiya medium format, you're in for a treat.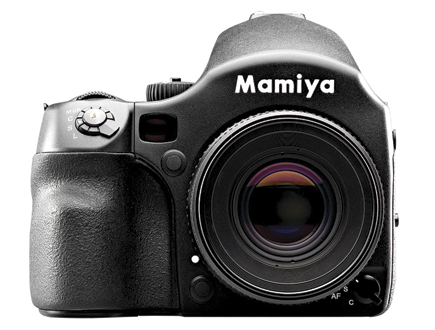 Clearly evident is the ergonomic, contoured grip on the DL28. It's a great fit.
Courtesy of MAC Group
The camera back presents a clean interface, with all key buttons neatly arrayed on top.
Courtesy of MAC Group
For this report I worked with Linda Bohm and Gerard Marrazzo (www.bohm-marrazzo.com) at their studio in Montclair, New Jersey, this time most ably assisted by Randy Harris. In fact, Harris's inventiveness led to a few additional photos we hadn't anticipated.
This necklace was no challenge for the Mamiya DL28 and 120mm macro. The jewelry was suspended from two small acrylic pillars and surrounded by milk-white Plexiglas, with one softbox on each side, and a larger box to the right and behind.
© 2009, Bohm-Marrazzo, All Rights Reserved
First Impressions
The DL28 outfit had been delivered to the studio shortly before I arrived. Working with the camera for that brief interval was enough to initially impress both Bohm and Marrazzo. By the end of the day, we had all expressed a fondness for the system, with Bohm and Marrazzo considering buying one for the studio. Of course we each had our wish list, but didn't find anything dramatically lacking—at least with regard to using this camera in the studio. And when you consider the $15,000 price tag, it leaves little doubt that you're getting a bargain, as Marrazzo pointed out. Leaf's Capture software (a favorite with Bohm/Marrazzo even before this test, although I had my reservations) is included, along with the necessary cables. That means that you have everything needed to get running with this camera right out of the gate for studio portraiture and still life.

We found that the lenses we tested held their own, made evident by the jewelry shot that was done initially with the macro lens (on assignment for New Jersey-based Yanina Jewelry). We were now eager to put the camera to the test with live models: an adorable 4-week-old baby and a lovely 10-year-old actress. As we continued shooting, the texture of the set would change, involving a mix of portrait subjects in the studio as well as outdoors.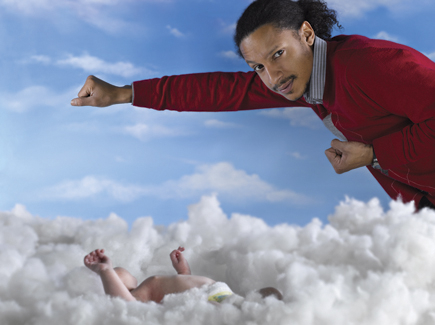 I picked up the DL28 moments after laying eyes on it, and went right to work. Linda Bohm and Gerard Marrazzo had styled the set, and their assistant, Randy Harris, playfully entered the picture, pretending to come to the rescue of baby Nicholas. All the lighting came from studio strobes.
© 2009, Jack Neubart, All Rights Reserved
The DL28 and 150mm lens combo felt like a natural fit the moment I grabbed the camera and put it to my eye to photograph baby Nicholas on "cloud 9" for this birth announcement. I did detect a bit of shutter lag, but it was easily overcome after the first few exposures.
© 2009, Jack Neubart, All Rights Reserved
Solid, Comfy, And User-Friendly
Mamiya invented the 645 format, giving the camera a look and feel that both 35mm and square-format shooters could easily adapt to. So we were not surprised by the camera's solid look. But more than that, each of us found that, the moment you wrapped your right hand around the grip, you felt as if it was specifically molded to your grasp (considering that hand sizes among us varied considerably): it's that comfortable and ergonomic.

Beyond that, one of the other things you notice is that practically all the controls are right on top—you don't have to search everywhere to find them. And that, my friends, is a major time-saver, further helping to reduce the learning curve.
The Leaf back itself has few controls on the surface—mostly they're on-screen menus. And get this: it's a touch screen. When shooting outdoors, this on-screen interface was easy enough to use, provided we viewed the display in the shade. And the display is large enough to operate comfortably. At first I thought all the fingerprints would get in the way and would need to be wiped clean, but, honestly, they weren't noticeable and did not hinder viewing in the least. My one complaint about the back was the delay in booting up, not a serious concern in studio work or other controlled settings.
Linda Bohm used the DL28 with 120mm macro to capture this special moment shared by mom and baby Nicholas. While the lens performed admirably, our only complaint was the lack of autofocusing.
© 2009, Bohm-Marrazzo, All Rights Reserved
FEATURED VIDEO