Hasselblad 907X 50C Medium Format Digital Camera Review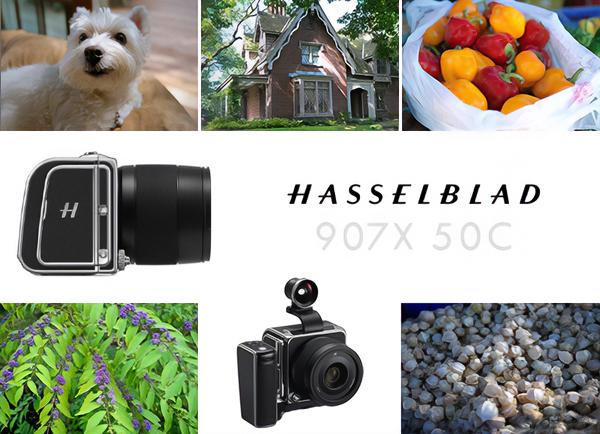 The Hasselblad 907X 50C camera is so different from the sorts of cameras most of us shoot with, I feel like I almost need a new vocabulary to describe it. If a visitor from Area 51 handed me the device used on their planet to take pictures, I'd expect it to strongly resemble this 'blad. It is at once familiar and yet radically different. Using it made me feel like I was at Disney's World of Tomorrow exhibit, sampling the future and finding it surprisingly intuitive.
That all sounds like a load of BS, I know. But if you've read me before you know I'm prone to clear, direct rhetoric, light on hyperbole and generally low in calories. So why did the Hasselblad 907X 50C temporarily knock me for a loop? Let's begin with the name.
Overview & First Impressions
The Hasselblad 907X is a modular camera body. It weighs 7.3 ounces (206g) and connects to the CFV II 50C digital camera back to create a Hasselblad 907X C50, the potent 50-megapixel medium format camera that's in front of you today. To that, of course, is added a lens. For this review we exclusively used the versatile Hasselblad XCD 45mm f/4 P lens.
If you've ever handled a 120 roll film Hasselblad, connecting the 907X to the CFV II digital back feels exactly like attaching a roll film back to a 'blad body. Exactly. It feels like snapping the cover closed on a finely made Swiss pocket watch. And when you put the 907X and 50C together, the result looks exceedingly like a vintage Hasselblad SWC (Super Wide C) body which debuted the mid-1950s.
The CMOS sensor measures 43.8 x 32.9mm and produces still images that are 8272 x 6200 pixels. Compared to a full-frame DSLR or mirrorless marvel, the area of the sensor is 1441 square millimeters vs. 864 mm² (i.e., 24 x 36 = 864). The sensor size of the Hasselblad 907X 50C is about 2/3 (or 67%) larger than a full-frame digital camera. The difference is hard to comprehend by just looking at a number. But when you see the image file on a computer, Pow!
For the curious, Fujifilm GFX cameras also have large 43.8mm × 32.9mm sensors. I am not implying any other similarity or relationship. Leica describes the sensor in their medium format S3 as 30 × 45 mm "Leica Pro Format."
The combination Hasselblad 907X plus 50C is so compact that it's a trifle difficult to handhold—that is unless you attach the 907 Control Grip. The grip provides plenty to hang on to and includes customizable camera control buttons. You can also add the Optical Viewfinder to complete the ensemble. The OVF provides frames for 21, 30 and 45mm XCD lenses.
Without the accessory finder you compose via the touch-sensitive LCD monitor on the back, much like any other digital camera. Optionally you can flip the LCD 90° down and aim the digital Hasselblad like a film-based Hasselblad, that is, the LCD becomes a waist-level finder with touch control. So you understand why I said this camera is futuristic yet familiar.
The Optical Viewfinder is useful and makes the camera look great, but unfortunately it does not turn the Hasselblad 907X 50C into a street camera. It's anything but inconspicuous. Besides, the start-up time is a bit too slow for that. You could leave the camera on all the time, I guess, but I can't imagine it being on while I walk the streets of Manhattan for hours. Once it gets started it's plenty fast, and the LCD has a 60fps refresh rate, so the viewing image is smooth and clear. The touchscreen menu is very responsive and the autofocus is quick and accurate. In other words, once it gets going it's great.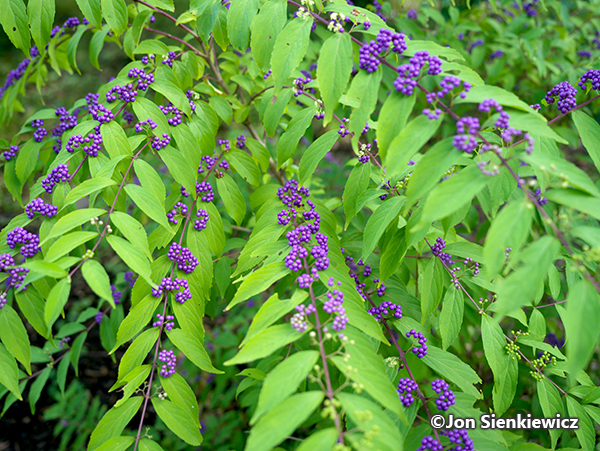 My primary complaint also involves sluggish start-up. After turning the camera on you must partially press the shutter release button to shift into Live View. The User Guide reads, "Press and hold the power button (1) for one second to turn the camera on. When the status LED (2) has turned green it is ready to make the first capture."
The first problem with this is the time required. But there's more to be done before using the LCD to compose. The User Guide continues, "Gently press the shutter release (half-press) to activate live view on the screen."
So I'm a klutz, what can I say? I had a difficult time doing a half-press and found myself shooting 50-megapixel images of the sidewalk. I regret that it's not possible to set the defaults so that the camera always starts up in Live View.
Those are the only two negatives I experienced. Everything else of importance was outstanding, particularly the results. Although not optimized for street shooting, I was able to use the Hasselblad 907X 50C in the field with no complications, once I understood the operation thoroughly and adjusted my approach.
Feature Summary
Specifications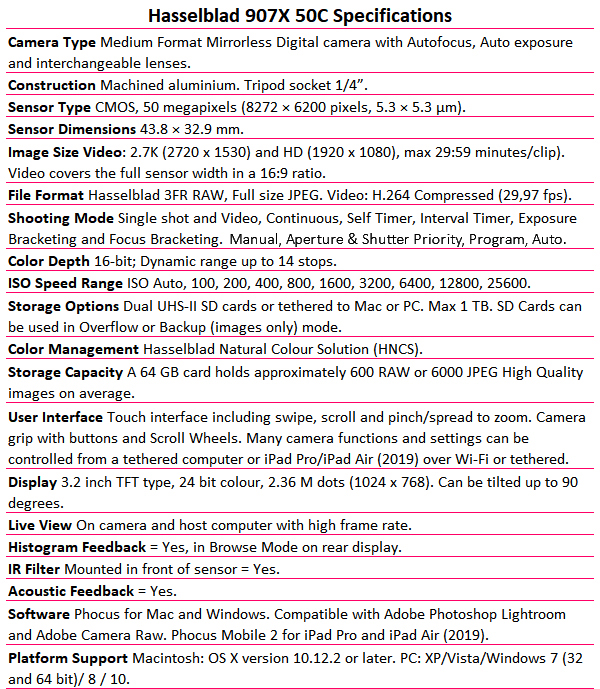 Phocus Software Suite
Hasselblad offers 907X 50C owners Phocus, their free Raw file image processing software that's recently been updated and expanded with new features. They've also added some new tools to enable finer control of the editing process and ensure the very highest quality output from Hasselblad 907X 50C image files. Phocus can also be used to tether directly to the Hasselblad camera for computer-based control.
In addition, for editing on the road as well as in the studio, Phocus Mobile 2 is currently supported on iPad Pro and iPad Air (2019) models and iPhones. Phocus Mobile 2 enables users to import, edit and rate Raw and full-quality JPEG images directly on their smart device.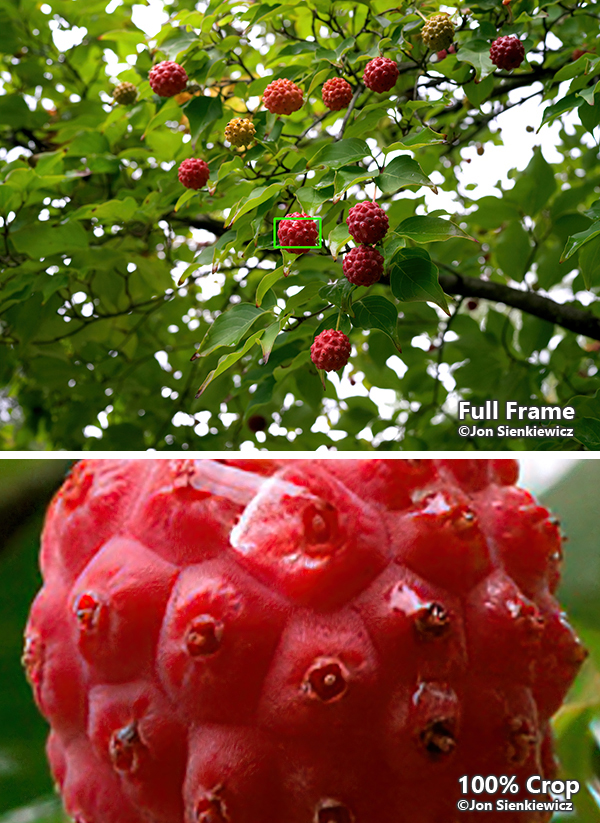 Field Performance
Shooting with a Hasselblad 907X 50C is an amazing experience. Fine details, invisible to the photographer's unaided eyes at shooting distances, appear sharp and clean in the image file. It takes some getting used to, in a very positive way.
I had a very similar experience at Minolta when we introduced the world's first 5-megapixel camera, the DiMAGE 7, back in 2001. I photographed a clump of flowers. During post processing I could easily see tiny insects and ethereal spider webs that my eyes could not discern when I took the picture.
Image sensor technology has come a long way in 20 short years.
With the LCD flipped down and the 907 Control Grip attached, the Hasselblad 907X 50C is a medium format digital camera with a waist-level finder that's obvious without being ostentatious. Composition feels natural and spontaneous. The LCD was easy to see in all lighting conditions and the touchscreen was comfortable to use.
Battery performance was excellent, and the dual SD card slots allowed me to create backup images as I shot. The second SD slot can also be configured to seamlessly collect overflow once the first memory card fills. A 64GB card holds roughly 600 Raw or 6000 JPEG images.
The extremely high quality images are the real proof of performance. Colors are true and bright, sharpness excellent and dynamic range superb. A camera like this could spoil you for other formats.
Conclusion
The Hasselblad 907X 50C is a superior professional tool that can be relied upon for consistently excellent images worthy of the legendary Hasselblad name.
In your hands for the first time you realize immediately that you're holding an exquisite camera. Shot after shot you're reminded that it's one of the best cameras money can buy.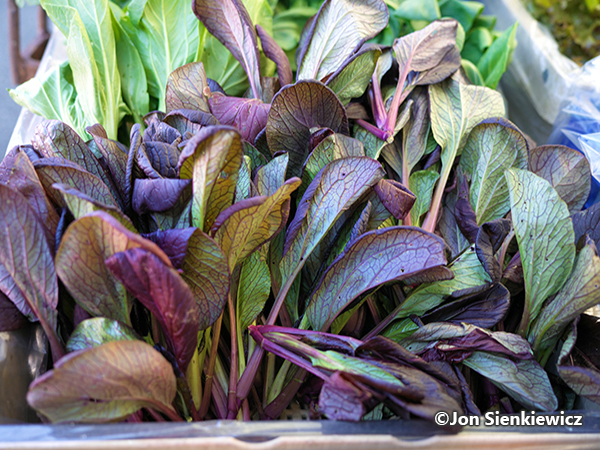 Pricing & Availability
The Hasselblad 907X 50C has an MSRP of $6399 without lens. The 907X Control Grip lists at $729 and the 907X Optical Viewfinder has an MSRP $499. The lens used to capture the images included in this review, the Hasselblad XCD 45mm f/4 P, costs $1099. All products are available now.
—Jon Sienkiewicz
(As an Amazon Associate, Shutterbug earns from qualifying purchases linked in this story.)
FEATURED VIDEO