Panasonic's Lumix DMC-GH1; A Micro Four Thirds ILDC Page 2
I'll be upfront and note that I am not a fan of EVFs. I find the response and resolution to be lacking, and when faced with this as my option, I'll almost always opt for the larger LCD. The GH1 is no different in this regard. While the EVF is better than many other cameras I've used, I still feel like I'm looking through a tunnel at a low-resolution movie. One advantage to an EVF is that you can see exactly what your camera settings are going to give you. On a camera with a fixed LCD, it's often the only way to get a clear view of your composition in bright locations. But, with the large and clear swivel LCD on the GH1, I found that this was the best option for me.

The GH1 supports recording images in 4:3, 3:2, and 16:9 aspect ratios, which are shown on the LCD. When shooting at 4:3, you're getting the full 12.1-megapixel resolution of the sensor; 3:2 gives you 11.4-megapixel resolution, and 16:9 takes you down to 10.7-megapixel resolution.
ISO 400

ISO 800

ISO 1600

ISO 3200

Digital cameras keep improving on their high ISO noise handling. The GH1 does an admirable job here with speeds up to ISO 800 being very clean, and ISO 1600 looking pretty good with minimal luminance noise. By the time you reach the maximum ISO of 3200, the noise is much more obvious.
All Photos © 2009, Jon Canfield, All Rights Reserved
Focus speed is good with the GH1, in fact it feels a bit faster than the previous G1 model did. Panasonic uses contrast detection for focusing, and offers good focus tracking for moving subjects. Focus is based on 23 areas in the Multiple-Area AF mode, or you can drop this down to a single selectable focus point. Also available is a Face Detection AF mode, something that seems to be all the rage these days. In my limited testing, Face Detection does work well, but the bulk of my shooting was in the Multiple-Area mode.

Along with all of the standard Shooting modes that you'd expect—Program, Shutter-Priority, Aperture-Priority, and Manual, Panasonic adds an iA (intelligent Auto) mode that is brought over from their compact camera line-up. In this mode, the camera determines all shooting parameters, including ISO adjustments, stabilization, and an Intelligent Exposure that optimizes the exposure for each part of the image in an effort to prevent blown highlights or blocked shadows in your captures. The Scene Selector will automatically detect among common shooting situations like macro, portrait, night, and scenery. One area that sets the GH1 apart from other D-SLRs that include Video modes is the ability to use all of these settings while shooting movies as well as during still capture.
The GH1 AF tracking does reasonably well with moving subjects, particularly when there is good contrast between the subject and background. Side-to-side movement is handled better than movement toward the camera, but overall, I was impressed with the tracking capabilities.
The information display on the camera's LCD can be configured in a way that suits your needs. I particularly liked the ability to position the histogram anywhere on the screen that I wanted, so it didn't block areas of the image I wanted to evaluate more closely. The screen also lets you place a grid with varying styles to assist with composition.

The bane of many smaller sensors, especially as resolution keeps increasing, is noise. It wasn't that long ago that shooting at anything above ISO 400 was asking for trouble. The processing done by the GH1 is pretty remarkable. Shots at ISO 1600 were very usable with a low level of luminance noise. As you can see from the series of images, ISO 3200 was significantly noisier, beyond what I would consider acceptable. ISO 800 was very clean.

The on-board flash, like most, is not going to greatly extend your shooting range with a GN of 11 (ISO 100), but it does help in low light when you're close to your subjects. I was surprised at the quick recycle time—less than 2.5 seconds, which is pretty remarkable for a camera in this class. For those of you who shoot in Burst or Continuous mode, you can capture up to seven Raw or "unlimited" JPEG images at a rate of 3 fps. Movie mode is a full 1920x1080 HD at up to 24 fps.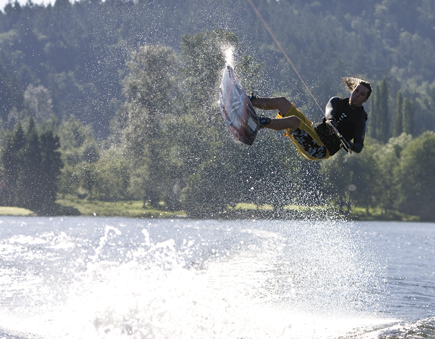 To test the metering under strong contrast conditions, I shot the subject with both backlighting from bright sun and a bright white foreground. In this lighting condition, the meter did a reasonable job. The darks in the wakeboarder have some detail but the highlights in the water are blown out. Given the dynamic range in this scene, the GH1 balanced the exposure appropriately.
The Panasonic ships with a suite of software applications, including SILKYPIX Developer Studio and PHOTOfunSTUDIO HD Edition, for organizing, editing, creating projects, and working with the AVCHD video files. I used Adobe's Photoshop Lightroom to work with the Panasonic .RW2 Raw files, but SILKYPIX is a capable editor if you're not using Photoshop or Lightroom and want to shoot in Raw. Of course, you can also shoot JPEG images at a variety of quality settings, or shoot Raw+JPEG if you prefer.

The included kit lens is of much higher quality than many other kit lenses I've seen. The lens has been optimized for capturing HD video with a virtually silent AF stabilization system. I also had the opportunity to test the new Lumix G Vario 7-14mm f/4.0 ASPH. This is equivalent to a 14-28mm lens on a full-frame camera and gives a wide 114? field of view. With a suggested price of $1099, it's not going to fit into everyone's budget, though. Both lenses performed admirably in my brief period of testing with good contrast and minimal barrel distortion or chromatic aberration, particularly when compared to other kit lenses.
Making Movies
One of the big new features of the GH1 is the Movie mode. With full HD capture in the AVCHD format, the Panasonic offers more control over video capture than any camera I've seen outside of a dedicated video cam. You can select different frame rates, and have continuous AF while recording. Both 1920x1080 (1080i) and 1280x720 (720p) Recording modes are available. At 1080i resolution the video is captured at 24 fps; 720p mode bumps this up to 60 fps. Even the iA mode features are available during video shooting—face detection, scene selection, and image stabilization. In the video category, the GH1 is the camera to beat as of now.
Conclusion
Panasonic has brought out a solid upgrade in the Micro Four Thirds category. The smaller size and lighter weight will appeal to many people, and if you're interested in shooting video with a still camera, it's hard to beat the GH1. The overall image quality is on par with the Nikon D5000 and the Canon Rebel series. Shooting at ISO speeds up to 800 is extremely clean, and ISO 1600 is a usable setting on the GH1. The included 14-140mm kit lens is very well made, and offers a 10x optical zoom. Some people will have a difficult time justifying the price tag of the GH1 though. At a suggested $1499, it's nearly twice the cost of the comparable Nikon and Canon models. It does more with video, but lags a bit in the still image capture.

For more information, contact Panasonic Consumer Electronics Company at: www.panasonic.com.
FEATURED VIDEO