Miops Splash Water Drop Kit Review & Examples
You've probably seen dramatic waterdrop images like this one and sensibly assumed that it took years of experience and thousands of dollars in equipment to get similar results. Frequent Shutterbug Photo of the Day contributor and long-time photography professional Jeff Van Scoyk introduced us to the Miops Splash, the $150 photo accessory for controllable waterdrop photography.
The Miops Splash Kit looks more like a plumbing repair kit from Home Depot than a precision scientific instrument, but Jeff's images convinced us otherwise. (Sidenote to you English majors out there, "waterdrop" is one word but the name of the product is Water Drop Kit, hence the inconsistency of our spelling.)
The Miops Splash Water Drop Kit releases one or two drops of liquid onto a container of liquid below it in a precisely controlled manner. You photograph the splash that results when the waterdrop impacts the surface of that liquid. The Miops kit enables you to control the size of the droplets and the interval between them, and fire your camera via Bluetooth on your smartphone. The Miops app also lets you precisely control the timing of your camera's shutter release and trigger the flash(s). You should be able to shoot images rivaling these in less time than you think.
The basic kit hardware consists of the Splash Holder that holds and dispenses the liquid and an articulated arm that attaches the Splash Holder to a suitable support—a tripod or light stand for example. The kit comes with very complete instructions. Jeff used a camera copy stand, truly a relic of the past, to hold the apparatus, but you can improvise.
Lighting is provided by one or more electronic flash units. You can use a shoe-mounted flash or, as Jeff did, studio strobes and a shoe-mounted on-camera flash controller. Depending on the types and brands of equipment you own you need the appropriate cables to make the necessary connections.
Download the free Miops Android or iOS app to manage everything. With it you can fine-tune the delay for triggering the camera and flash. When you elect to release two drops, you can control the delay between them. It takes practice and patience, but soon you'll be coordinating the drop size, release interval settings and triggering exposures from your smartphone.
"Be careful about the mounting height above the liquid," Jeff said. "Mounting height determines all subsequent settings." Jeff also recommends that you begin using the settings recommended by Miops and setting the Splash Holder 25cm (9.9 inches) above the surface of the liquid. Also, check the camera specifications to ascertain the Flash Synch Speed and, if possible, the shutter trip delay.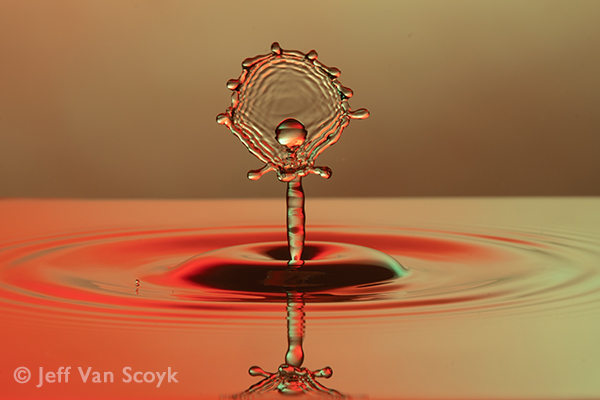 BTW, Jeff also captures waterdrops using a baggie and a CorningWare casserole dish. Although we don't to cover that today, some of the images herein were done using that method. As you can imagine, doing everything manually requires abundant trial are error and can end in total failure. Leave a comment if you'd like to read more about this au naturel approach.
Skill Level Required
"Any intermediate or above level photographer should have no problem mastering the Miops system," Jeff told me. "Beginners who are comfortable with smartphone features and who can handle the Miops app will get great results, too," he added.
Jeff Van Scoyk's Gear List
Jeff used one of the Sony Alpha 7-series mirrorless cameras from his arsenal and initially a Sony 90mm macro lens. He later switched to a Sony 55mm f/1.8 lens to get greater depth-of-field and then cropped the images for more attractive composition. This is a good starting point, but clearly other equipment combinations will work.
To light the waterdrops, Jeff used a pair of Godox electronic studio strobes and a shoe-mounted on-camera flash controller. Proper exposure depends on flash output and power adjustment. In Jeff's case he varied between 1/16 and 1/32 power to reduce flash duration and an aperture between f/11 and f/16 (more toward f/16) at ISOs ranging between 800 to 1200. Flash synch speed depends on your camera specifications, and the actual exposure time is determined by the duration of the flash.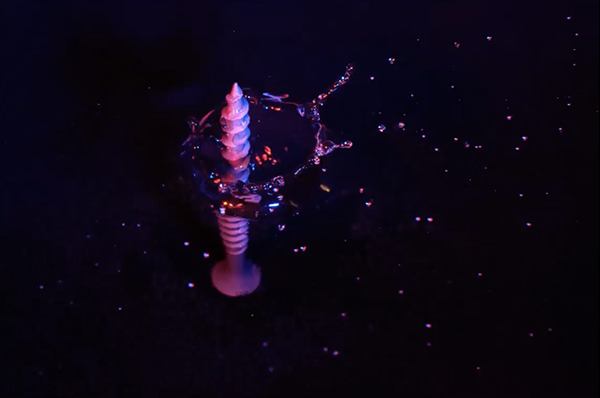 How to Focus
To focus on the texture-free surface of the water, something virtually no autofocus system can do, Jeff set a long woodscrew in the bottom of the catch basin at the exact spot where a test waterdrop landed, as shown above, and focused on the knurls of the screw.
To add color to the splash photos, Jeff used colored filters over the flash tubes. He recommends combinations of blue and red, and red and green. You can buy a set of 12 or so different colored gels to fit your flash units for as low as $15 and they practically last forever.
Using the above equipment with the Miops Splash Kit, Jeff got good results within about an hour or so. This took a bit longer because he frequently stopped the process to check the results on a computer monitor—and he strongly recommends that you do the same.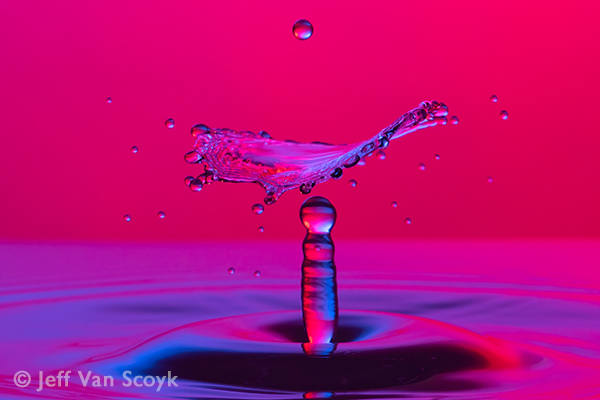 Which Liquids?
Jeff used only water in the Miops Splash Holder although you could use other liquids (at your own risk). In the catch basin below the Splash Holder, where the real action happens, he used water and later milk. Milk has a higher viscosity and reflects light differently. He tells us that in the future instead of milk he plans to try other liquids like motor oil, molasses and perhaps thick water, a commonly available beverage for people who have difficulties swallowing (dysphagia).
Visit the Miops website for more information, and download the instruction manual before you get started. Read the FAQs and Troubleshooting sections on their website, too.
Price and Availability
The Miops Splash Water Drop Kit is Available from Amazon for $179. It's also been seen at B&H Photo priced around $150. Make sure you specify the right connection cables when ordering bundles, and get a long synch cord for more comfortable operation.
Become a Member of the Shutterbug Community
Register for a free account. Sign up for our newsletter. Spend five minutes (or less) uploading your best shots once every week or so. Potentially become a Shutterbug Photo of the Day winner. Enjoy viewing the fantastic work being done by thousands of photographers all over the world—and add your images to the enduring collection.
—Jon Sienkiewicz
(As an Amazon Associate, Shutterbug earns from qualifying purchases linked in this story.)