Platypod Handle: Multifunction Compact Grip & More
Exactly what is a Platypod Handle? It's a grip for vloggers. It's a tripod tool: a camera riser. It's a versatile attachment point for lighting paraphernalia, microphones, monitoring gear and other accessories. It pairs perfectly with any Platypod tripod alternative and the Platypod Grip ballhead. It's the brainchild of highly respected NJ physician and brilliant inventor, Dr. Larry Tiefenbrunn, CEO at Platypod Pro LLC.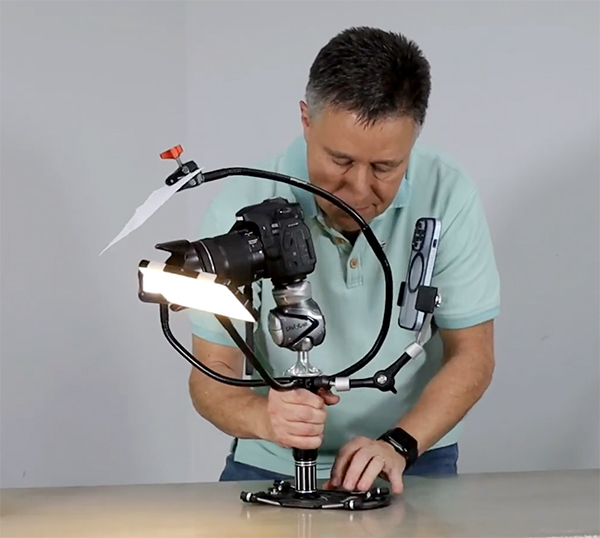 We estimate that there are more than 99 ways to modify, adjust and deploy this multifunction camera-attachment accessory, not including the dozens you'll think of yourself. The Platypod people offer a large number of components that work superbly with the Platypod Handle. To see a few of the applications in action, check out this YouTube video.
The Platypod Handle started out on Kickstarter. At the most recent accounting, 1,539 backers pledged $127,767 to advance it from a dream into a reality. It's expected to begin shipping in August, and you can still get a handsome discount if you preorder.
While Shutterbug, by policy, refrains from covering products that are not yet on dealers' shelves, we've been covering the Platypod Phenomena since 2015 as evidenced by this article in which we call the Platypod Pro "…quite possibly the coolest camera support around." So we have enormous confidence about the viability of the brand.
In the Hand
The Platypod Handle is a robust handful. It strongly resembles the lower portion of a three-stage rocket and sports the stylish silver-on-black coloration of a classic Exacta film SLR. Measuring 6.5 inches in the normal position, the Handle extends to 10.5 inches and the girth is about 1.5 inches at its widest point. Weight is about 7.6 ounces, just under one-half pound. It can be collapsed to 3 inches with a few disassembly twists of its cleverly designed torso.
Up top we find a 3/8-16 permanently attached stainless steel bolt that accommodates standard ballheads. Eight equidistantly-spaced 1/4-20 threaded sockets encircle the CNC-machined aluminum alloy cap. On the bottom a round Arca Swiss compatible base with a 3/8-16, stainless steel reinforced socket, awaits attachment directly to tripod legs.
The threaded parts are very secure yet easy to manipulate. You'll be like a kid with an Erector Set when you customize the configuration. If you don't know what an Erector Set is, it's clear you haven't been a kid for a very long time.
In the Field
The Platypod Handle allows users to make microadjustments to a camera's position above the tripod legs with great precision. We found this very useful when doing Macro work. Used with any Platypod it provides excellent height above the ground or working surface. Once again, this function is very useful for Macro, especially flowers and other subjects below knee level.
Used solo as a vlogger's grip, the Platypod Handle is adequate but unremarkable. It has no extra features unless you attach lighting or audio accessories to it. Then it roars. It's also a more substantial handful compared to typical grips, and that's a welcomed differentiator.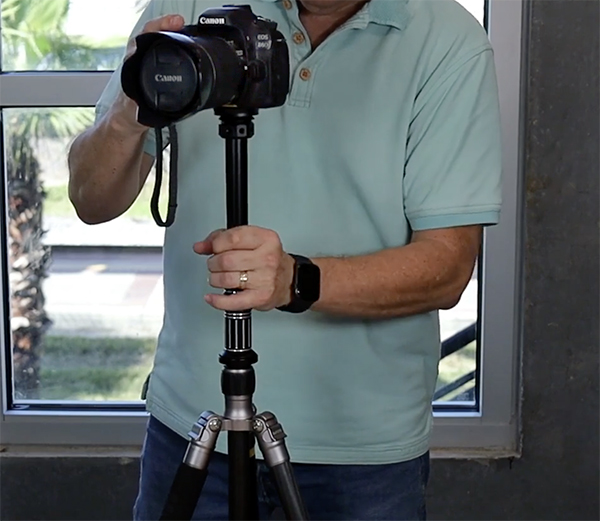 Conclusion
The Platypod Handle is a versatile tool with many flexible functions. Whether using it as a camera riser on a tripod, as an extension of a Platypod tripod alternative or as a base for attaching lighting, sound and monitor equipment, you'll find it immensely useful and easy to pack, carry and store. And it looks really cool.
Price & Availability
As declared in the text above, the Platypod Handle began its journey on Kickstarter. Deliveries are expected to begin in August to Kickstarter backers who will, of course, receive their Handles first. Everyday price is $69 but visit the Platypod website and check for preorder savings offers.
—Jon Sienkiewicz