Peak Design Camera Straps are the Most Innovative in the World
When Peak Design introduced camera straps with their proprietary Anchor quick-connector system in 2014, they quietly revolutionized the way the world had been attaching straps to cameras. Here's a guide to their current lineup nearly 10 years on.
Repeat after me: Slide, Slide Lite, Leash, Cuff, Clutch. Those are the planets in the Peak Design camera strap universe. The translational labels are Wide Strap, Medium Strap, Narrow Strap, Wrist Strap and Handgrip.
The beauty of the system is that you can switch from one camera conveyance configuration to the another in seconds. The heart and soul are the high quality construction and superlative reliability. The brain, then, is the group of creative geniuses at Peak Design who've conceived and produced not only camera straps but also world-class photo and everyday backpacks, messenger bags, sling packs, totes, weather shrouds, mobile phone accessories, packing cubes for tech gear and a breakthrough travel tripod. Not to mention the Capture camera clip series.
There're probably more, or at least more coming. I can't keep up.
The nucleic core is the Peak Design Anchor system. It's a remarkably innovative way to attach a strap to a camera (or binoculars, et al) easily and securely. And although the safety of customers' cameras has always been the number one priority for Peak Design, the cosmetic appearance of their products also ranks at the top—modern, minimalist, tech-forward designs that're supremely functional at the same time.
The Peak Design Anchor has been updated three times. The most recent Anchor Link V4 was released in 2018. The idea is simple in execution. A loop of virtually indestructible cord is molded inseparably into a small, flat nylon disk. The loop attaches to a camera and the disk is snapped into a nonretractable metal clip that sits at the end of the shoulder strap, wrist strap or handgrip of your choice. The Anchor can withstand up to 200 pounds of weight, which equates to about 71 Nikon D6 professional DSLRs (body only). The setup is totally secure yet easy to disengage and switch to a different carry mode.
Tip: even if you don't own a Peak Design strap you can enjoy the convenience of the system by using the Peak Design Anchors with your current strap.
In addition to no-nonsense gray (ash), most Peak Design straps are available in these colors: black, midnight (blue) and sage (green).
Peak Design Slide
MSRP: $69.95
Maximum length: 57 inches (145cm)
Minimum length: 39 inches (99cm)
Width: 1.8 inches (45mm)
Peak Design Slide Lite
MSRP: $54.95
Maximum length: 57 inches (145cm)
Minimum length: 39 inches (99cm)
Width: 1.3 inches (32 mm)
Peak Design Leash
MSRP: $49.95
Maximum length: (57.1 inches (145cm)
Minimum length: (32.6 inches (83cm)
Width: 0.75 inches (19mm)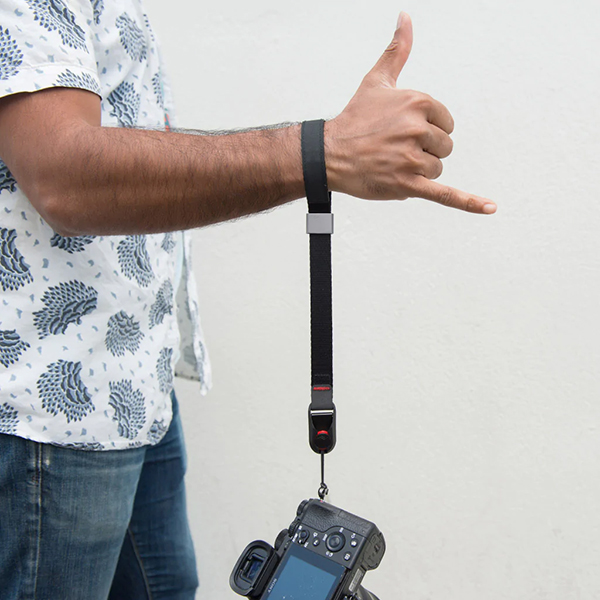 Peak Design Cuff
MSRP: $34.95
Wrist loop size: 3.82 inches (97mm)
When sinched: 1.75 inches (45mm)
Fits hands 5+ inches wide in diameter.
Strap width: 0.75 inches (19mm)
Peak Design Clutch
MSRP: $44.95
Maximum length: 11.4 inches (29cm)
Minimum length: 8 inches (20cm)
Strap width: 2 inches (51mm)
Peak Design Anchor Links
MSRP: $24.95
Material: Glass-reinforced nylon links with stainless steel springs.
Cord: Two-layer anti-abrasion woven thermoplastic with thermoplastic overmolding.
Anchor head diameter: .67 inches (17mm)
Anchor loop length: 1.7 inches (43 mm)
Strength rating: Can withstand over 200 pounds (90kg) of stress.
You can browse and order any of the above directly from Peak Design or from the Peak Design Store on Amazon.
Conclusion
No matter how you prefer to carry your camera, there's a Peak Design strap that fulfills your every need. They're strong, versatile, and very good looking. You will appreciate the ability to remove the shoulder strap when using your camera on a tripod. And of course, the ability to switch from a shoulder strap to a wrist strap or hand grip in a flash is a huge benefit. I've been using Peak Design camera straps personally since they first hit the market and I can recommend them highly.
FLASH: Do you know about Peak Design's mobile accessories? Here's a link to a video that explains the intriguing Peak Design Out Front Bike Mount that will amaze you.
—Jon Sienkiewicz
(As an Amazon Associate, Shutterbug earns from qualifying purchases linked in this story.)
FEATURED VIDEO