Lensbaby Velvet 56 Portrait Lens Review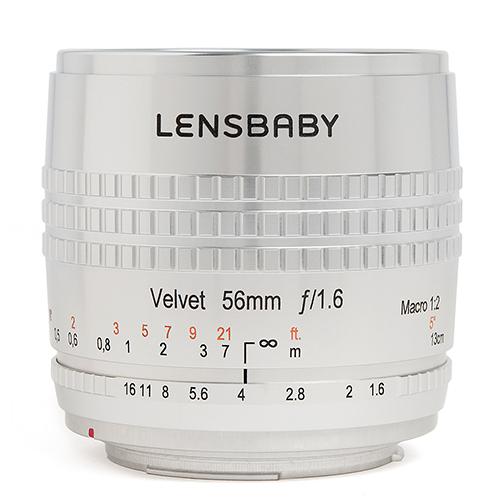 I've been writing about and playing with—emphasis on play—Lensbaby lenses since they were introduced in 2004 and ten years later they're still coming up with new ideas. All their products, including the Medium Format 3G with "Marvin the Martian"-like antennae, have been interesting and the new Lensbaby Velvet 56 portrait lens not only looks like fun but appears to be the most practical Lensbaby product ever.
The Lensbaby Velvet 56 is a 56mm f/1.6 SLR and mirrorless camera lens with 1:2 macro capabilities that is mainly intended for portraiture. Its soft focus design delivers a glowing look when shot at wider apertures but produces sharper results as you stop down producing an effect the company describes as "velvety." You can use it to shoot environmental portraits, capturing details in a subject's clothing or jewelry while nature and macro photographers might enjoy its modest close-focusing (five-feet) capabilities.
The Lensbaby Velvet 56 has an all-metal body with the heft and manual focus of film-era lenses and is available in Canon, Nikon, Sony A and Pentax mounts. It's offered in black or as a silver Velvet SE with a clear-anodized finish that should look great on my Olympus EM-10, when the mirrorless version is available later this year.
The mirrorless edition is available for Micro Four Thirds, Sony E, Samsung NX and Fuji X and includes a lens hood, something not included with the SLR model. Since the front element of the SLR lens is deeply recessed, I wonder whether you even need one. The lens comes with a beautifully crafted metal lens cap.
The SLR version measures 3.3 x 2.8-inches and has a 62mm filter size in case you want to enhance those unpretentious close-focusing capabilities with close-up filters or use ND filters to shoot wide open to maximize the whole "velvety" thing. At 3.7 x 2.8-inches the mirrorless version is slightly larger and both weigh a hefty 14-ounces.
Like all Lensbaby products it's not inexpensive. Velvet 56 sells for $499.95 or $599.95 for the Velvet SE but is delivered in higher quality packaging than Japanese or most German lensmakers typically provide.
Shoots Like Velvet
Lets get the elephant in the room out of the way first: the classic portrait focal length range is 85-105mm. You can stretch that concept if you shoot the Velvet 56 using an APS-C camera like my Canon EOS 60D, producing an angle-of-view (but not perspective) of an 89mm lens, with Nikon DX DSLR users like my wife getting 84mm out of it. When mounted on my Olympus or Panasonic cameras, the mirrorless version produces a 112mm focal length.
I tested a black Lensbaby Velvet 56 in Canon EOS mount and was impressed with the lens's fit, finish, aperture ring and real depth-of-field scale. It is a manual focus lens but don't be afraid: try it, you might like it.
And while the Lensbaby describes the Velvet 56's focusing as "smooth, dampened," it feels a bit stiff to me but it's also likely that focusing action might loosen and "ride up with wear" as they say on PBS' Are You Being Served. The lens' focusing ring is made from grooved and checked metal, not rubber as you see on most lenses but was easy enough to grip and focus.
The mega-lingual instructions suggests SLR shooters adjust their viewfinder's diopter correction to produce maximum sharpness and that's a good idea because without an automatic diaphragm, once you get to f/5.6 and smaller the view gets pretty dim and shooting at f/11 in my studio was a challenge for my peepers.
Shooting outdoors makes focusing slightly easier because of higher ambient light. Mirrorless camera users won't find this a problem because their EVF will compensate producing a bright image and many mirrorless cameras have the advantage of a focus peaking option.
EXIF data identifies Velvet 56 as a "50mm" lens and doesn't supply aperture data. If that's important, write it down much like we did in those bygone film days. To get proper exposure Velvet 56's instructions suggest you set Nikon cameras in Manual and Canons in Aperture preferred (Av) exposure modes.
In the studio I shot a Canon EOS 60D in manual and exposures were right on. Outdoors I switched into Av and when shooting images at a nearby lake had to make ongoing exposure compensation adjustments to get proper exposures.
I suggest you chimp after each shot to check both the amount of soft focus at a given aperture and exposure. Sharpness too at smaller apertures.
I used the Velvet 56 while photographing Safina, a model I just started working with and found all of Lensbaby's claims about the lens were on target. Shooting at apertures of f/8 and smaller retained the kind of sharpness you would expect.
Conversely when shooting at wider apertures, the soft focus effect was quite charming and you could deliver these portraits to a client right off the memory card—no retouching required. The Velvet 56 should make a useful lens for boudoir photography although I was unable to schedule such as shoot during the time I had with the lens.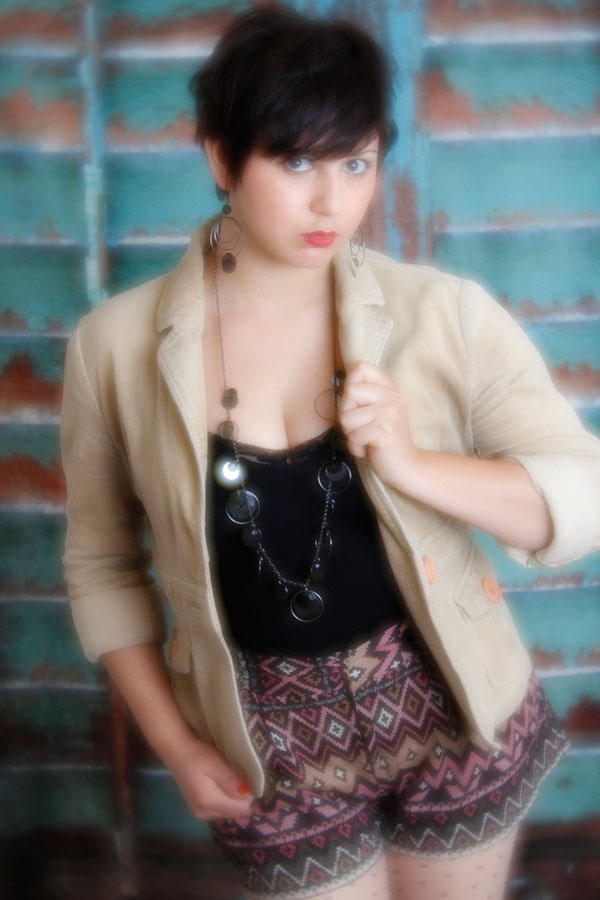 I've often written that "special effects are subject dependent" and that's just as true for lenses like the Velvet 56. Landscape images I made wide open exhibited a soft, foggy look and I was happier with a semblance of reality when shooting between f/2-f/2.8.
There are no half-click stops on the Velvet 56 but the lens will remain halfway between marked aperture clicks. I found that window light portraits of my wife, Mary, made at f/2 removed most facial detail but stopping down to f/2-f/2.8 produced a result I liked.
You may prefer more or less softness. Look at my comparison images of images shot at that aperture and f/8, which is usually considered a lens's sweet spot for sharpness and that proved true for the Lensbaby lens.
If you want to capture soft focus images in cameras, Lensbaby's Velvet 56 is the only game in town. Canon discontinued their 135mm f/2.8 SF (soft focus) lens that had soft focus settings from zero to two along with the same one Velvet 56 offers—stepping down the aperture.
Conclusion
Shooting the Lensbaby Velvet 56 was a different experience but at the same time rewarding in that I enjoyed the manual focusing experience because it slowed the process allowing me to concentrate on composition but was faster because after focusing; you can bang off shots quickly catching fleeting expressions without waiting for the camera to focus again. I think this is the kind of portrait lens that the more you use it the more uses you will find for it. While some people will wonder what the fuss is about the Lensbaby Velvet 56, others—and you know who you are—will love it.
FEATURED VIDEO