High-Flying Autonomous Lily Camera Drone Crash Lands; Refunds Forthcoming
It was one of the most hyped camera drones in recent years and one of the best product demos we've ever seen but the flight is over for Lily. In a post on the Lily website titled "The Adventure Comes to an End," company founders Antoine Balaresque (CEO) and Henry Bradlow (CTO) announced that Lily is shutting down and customers who invested in the project will be receiving refunds over the next 60 days.
Some estimates suggest the company had received over $34 million in pre-orders for the Lily drone. The post (at the bottom of this story), which was also emailed to supporters, follows several stop and starts for the three-year-old company, including ongoing tech hiccups and product delays.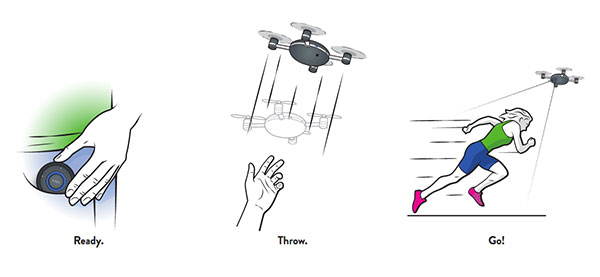 All of which is a shame to investors and to those interested in innovative imaging and drone tech. Back in 2015 when Lily was launched, Shutterbug shot a video of a Central Park demo of the Lily drone, which was designed to have fully automated features allowing it to take off and land from your hand – or by throwing it into the air – and automatically track, follow, and watch the user while capturing HD video and 12MP still photos. The final version of the drone would also be waterproof.
We came away impressed but, it appears, the cost and complications of bringing Lily to market at an estimated price of $999 per drone ($499 for pre-sales) were too high for the company.
Read the "The Adventure Comes to an End" post from Lily below.
Antoine and Henry here from the Lily team. When Lily set out on the journey to create a flying camera over three years ago, we were determined to develop and deliver a product that would exceed your expectations.

In the past year, the Lily family has had many ups and downs. We have been delighted by the steady advancements in the quality of our product and have received great feedback from our Beta program. At the same time, we have been racing against a clock of ever-diminishing funds. Over the past few months, we have tried to secure financing in order to unlock our manufacturing line and ship our first units – but have been unable to do this. As a result, we are deeply saddened to say that we are planning to wind down the company and offer refunds to customers (details below).

We want to thank you for sticking with us and believing in us during this time. Our community was the drive that kept us going even as circumstances became more and more difficult. Your encouraging words through our forums and in your emails gave us hope and the energy we needed to keep fighting.

Before we sign off, we want to thank all the people who have worked at Lily, who have partnered with us, and who have invested in us. Thank you for giving your all, nights, weekends and holidays, in the effort to deliver a great product.

After so much hard work, we are sad to see this adventure come to an end. We are very sorry and disappointed that we will not be able to deliver your flying camera, and are incredibly grateful for your support as a pre-order customer. Thank you for believing in our vision and giving us the opportunity to get this far. We hope our contribution will help pave the way for the exciting future of our industry.

Refund Details:

Lily will be offering a refund to customers over the next 60 days. We will be initiating refunds to the payment card used for the original transaction (no action is required on your part; please allow 14 days for the refund to appear on your statement).

If the card you used is expired, please fill out this form so we can work with you on providing a refund by other means (e.g., PayPal or check).
FEATURED VIDEO