The FourSquare; Speedlights Take Center Stage
As studio lights have gotten bigger and shoe-mount flashes more sophisticated, on-location photographers increasingly have reached for speedlights to solve lighting problems. It's a trend that's been going on for a while and an entire subculture has grown up around this phenomenon. Visit the Strobist website (www.strobist.blogspot.com) to see for yourself. Speedlights don't take up as much space as monolights or power pack and head systems, and while one itty-bitty shoe-mounted flash may not have as much power as a 1600 ws monolight, what happens when you use four of them? Enter, stage left, Grin&Stir's (www.lightwaredirect.com) FourSquare speedlight mounting system.
It's All About Speedlights
The foundation of the FourSquare system is a T6061 hard-anodized aluminum block that's designed to mount up to four speedlights. (For some reason, Canon calls them "speedlites.") The block also lets you attach an umbrella or light bank to provide excellent light quality as well as quantity. A Center Mount Adapter ($28.95) lets you place a fifth—or just one—speedlight on the block while answering the obvious question of how to aim one directly into the center of the FourSquare light bank that's part of three kits that range in price from $269.95 to $409.95. Travel is easy with the FourSquare because it's delivered in a ready-to-fly pouch that packs in any standard-sized airline carryon case along with a few compact light stands, speedlights, and that FourSquare light bank.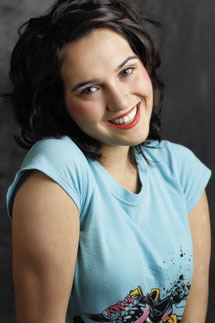 Here, a single speedlight was used inside two FourSquare light banks to provide the main light for a studio session with Victoria. A white reflector was used at camera left as fill. With the two Nikon SB-800 speedlights set at their lowest output, the exposure for this shot was 1⁄100 sec at f/6.3 at ISO 200.
© 2010, Joe Farace, All Rights Reserved
Attaching the FourSquare block to a light stand requires an adapter such as Manfrotto's (www.manfrottodistribution.com) 026 Swivel Umbrella Adapter or any similar device that uses standard threads. The basic FourSquare kit system includes the FourSquare light bank and you can rotate any of the speedlights' heads, aiming them directly into the light bank's diffuser, side panels, or any position in between to obtain whatever look you are trying to capture. A Handle Assembly is available individually ($59.95) or as part of the Super Pro Pak kit and attaches directly to the FourSquare block, allowing an assistant to conveniently hold the light bank/speedlight combination. But it's not just a handle. The base has a standard thread for mounting to a tripod, ball head, light stand, or monopod.

Grin&Stir offers lots of other accessories, starting with an unbundling of the FourSquare block ($99.95) that will let owners of other light banks get into the system economically. You'll need a four-pack of Spindle Extentions ($54.95) to attach other manufacturers' light banks to the FourSquare speedlight mounting system. The new Swivel Adapter is designed to meet the needs of photographers who want to point their speedlight's infrared port directly at the in-camera controller. A single Swivel Adapter costs $21.95, but you can buy a four-pack for $79.95 that also includes a Lightware-designed case. The Fixed 90 Adapter ($15.95) allows you to face the speedlight's infrared receiver straight back without the expense of the Swivel Adapter.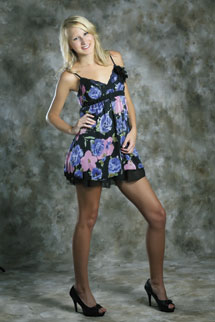 Using three speedlights, I photographed Cami against a custom-painted muslin background from Silverlake Photo Accessories (www.silverlakephoto.com). The FourSquare light bank was at camera right with a Canon 550EX inside and a reflector was placed at camera left. I made changes from the original setup for this shot and aimed the background light at the model's back. Exposure with a Canon EOS 5D and an EF 85mm f/1.8 lens was 1⁄125 sec at f/7.1 and ISO 100 using the camera's Landscape Picture Style to punch up color and contrast.
© 2010, Joe Farace, All Rights Reserved
In The Real World
Flashes slip easily into the machined slots in the FourSquare block and they won't fall out the other end because the slots are tapered. A small thumbscrew at the bottom of each slot helps keep the speedlights snugly in place. Assembling the FourSquare light bank may seem daunting to newbie photographers who skip the directions packed with the kit, but instructional YouTube videos (www.youtube.com/user/LightwareDirect) show how to assemble the components. Smarty-pants me assembled the light bank in the opposite than recommended order, but after watching the video I found it was much easier to do it the right way.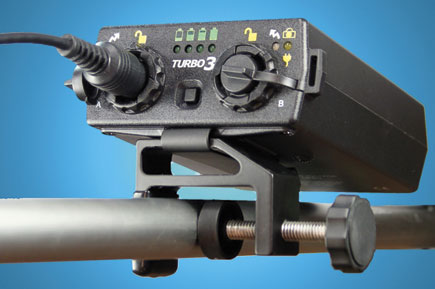 Quantum's Turbo 3 power pack works with most speedlights as well as the Q-flash T-series, including Trio/Pilot portable flashes. It produces high-voltage, ultra-fast recycling for up to 1050 full-power flashes.
The FourSquare block easily holds four speedlights but when powered by AA batteries or even rechargeable AAs you'll need to be patient waiting for recycle. The Canon 550EX flash I used for some test shots has an 8-second recycle at full power and as my sessions progressed that recycle interval got longer. When photographing people, you might consider using an accessory power pack such as Quantum's (www.qtm.com) Turbo 3 that lets you connect two speedlights or one speedlight and a camera. Tip: In some of my studio shots I used a Canon speedlite along with two Nikon SB-800 speedlights, one as a background light and the other as a hair or accent light. Since most recent Nikon speedlights have a remote mode that lets them act like optical slaves, I was able to have them sync with output from the Canon speedlite.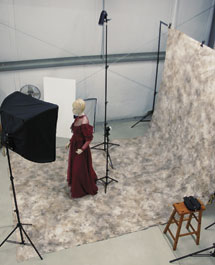 Before the model stepped into the shot, I worked on the lighting setup with Anna the Mannequin. A Canon 550EX was placed inside the FourSquare light bank and a reflector was placed at camera left. A Nikon SB-800 with a STO-FEN (www.stofen.com) Omni-Bounce diffuser was at camera left and aimed at the background, while a second SB-800 was placed high and behind the model with a Zoot Snoot (www.zootsnoot.com) acting as a hairlight.
© 2010, Joe Farace, All Rights Reserved
FEATURED VIDEO