Flashpoint 14" Ring Light: Large Coverage & Affordable, Too
Lester A. Dine invented the ringlight for making dental photos in 1952 but today people use them for all kinds of photography. A ringlight is a circular light source that surrounds the optical axis of a lens causing light to hit the subject from different angles, producing soft shadows in much the same manner as a light bank. When photographing people, the unique way that a ring flash renders light also produces a shadowy halo around the subject that's much beloved by fashion photographers. I use a small ring flash to photograph butterflies, but if you want to photograph people, to paraphrase Jaws Chief Brody, "You're gonna need a bigger light."
What's New?
Flashpoint's 14" Fluorescent Dimmable Ring Light is the first continuous source ringlight that I've used and its attractive price ($114.95) makes it a good fit for a photography world that's embracing LED and fluorescent sources to produce a Brave New World of studio lighting. Why fluorescent? A digital SLR's imaging chip is least sensitive in the blue channel where tungsten light has the least output. By contrast, fluorescent lighting closely matches an imaging chip's RGB spikes more than tungsten sources that produce 93 percent heat and 7 percent red light. As with all continuous lighting sources you can use your camera's built-in light meter to measure exposure when using Flashpoint's Ring Light. For most of the images shown here, I often put the camera in Program mode, letting the camera determine aperture and shutter speeds while tweaking with the SLR's exposure compensation control.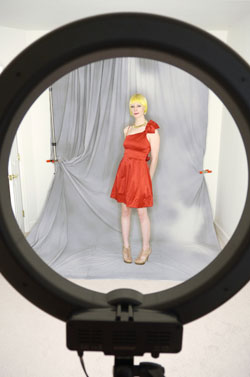 The downside of fluorescent lights is, that unlike LEDs, which have a long life, sooner or later that bulb will burn out. Since you can't run down to Home Depot and buy a replacement 80w ringlight bulb, Adorama offers one for $15.95.
Tip: If you purchase the Flashpoint 14" Fluorescent Dimmable Ring Light be sure to order a spare lamp. You never know when a bulb may burn out or break and Murphy's Law says it'll happen at the worst possible time. Having a spare is cheap insurance and lets you keep working.
The ringlight's housing is 17.32" in diameter and uses a 5600K circular fluorescent bulb that produces soft lighting. The unit's circular bulb creates a pleasing light that's enhanced by producing striking catchlights in a subject's eyes. Flashpoint's Ring Light creates a near circular highlight that mimics the "angel eye" headlights of recent BMW's or the look of characters from the Twilight movies. You eitherlike it or you don't, but it's part of what comes with shooting with any ringlight.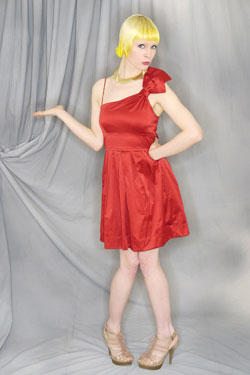 Flashpoint's Ring Light includes a nicely made fabric case that's about the size of a large pizza box and should protect the tube and allow you to take the ringlight on location, enabling wedding and event shooters to create fashionable studio-like images anywhere.
In Studio & On Location
Flashpoint's Ring Light is the simplest light source you can use in the studio for headshots or beauty lighting and it works with any camera system, film or digital. In addition to being able to rotate 360 degrees on a light stand, the attached mount allows the light to tilt to create interesting angles, placing light to emphasize different parts of the portrait, although the adjustment lever is a bit awkwardly located. Or you can simply set the unit on a light stand, stick your lens through the opening and "Bob's your uncle."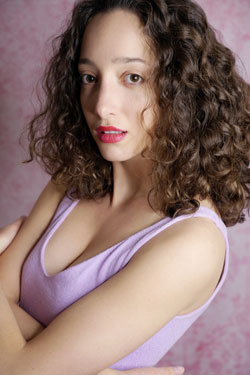 The ringlight is daylight balanced. When working in the studio I shot with three different cameras (Canon EOS 60D, Nikon D600, and Panasonic Lumix GH3) and the Canon and Nikon produced neutral tones when shooting in Auto White Balance (AWB) mode, while the Lumix required minor color correction in postproduction with PictoColor's iCorrect Portrait.
Tip: If shooting in Aperture-Preferred mode, you can twist the power knob on the base of the unit and hone in on an aperture that's in the "sweet spot" of the lens. From a strictly human engineering perspective, the output knob may not be in the best possible position—it's located close to the tilt/adjust lever—yet was reasonably accessible for my US Medium-sized fingers.
For my first shoot with the light I mounted it on a 7.2-foot Flashpoint air-cushioned three-section light stand ($25). The background was a gray muslin Belle Drape ($64.95). I was initially concerned that the ringlight would not be bright enough to cover a full-length pose, but was pleasantly surprised to see that when shooting at these distances at ISO 1000 it produced an f/5.6 aperture. For this series of shots the ringlight produced the characteristic shadow around the subject. This shadow appears softer than shadows created by studio-sized ring flashes, but it's been a while since I shot one of those to know for sure. When using the Flashpoint unit, the effect is nonetheless quite visible and pleasant.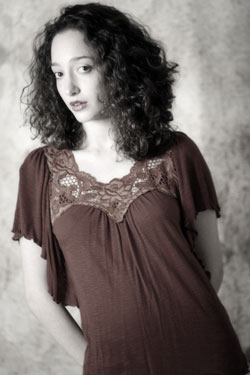 You can control the output of the ringlight from somewhat bright to really bright, so much so that it was uncomfortably intense for the first model I photographed. The upside to that problem was that because of this subject's sensitivity, I ended up using the ringlight in non-traditional (ringlight) configurations for her.
Tip: To avoid the problem, tell your subject to look through the ringlight instead of at it and it shouldn't bother them, theoretically anyway, since the light didn't trouble Mary during my initial testing. It also didn't bother Pam Simpson in later shoots, although I passed on Mary's tip to her and was able to shoot more images with her using the ringlight in the traditional "shoot through the circle" mode.
Lighting Choices
Initially I was concerned that shooting with a ringlight gave me just one lighting choice, but my first model's sensitivity to the ringlight caused me to move it off to the left or right side, treating it as a traditional light source. This made the model happy and at the same time created different looks. With the ringlight at camera right, it produced more modeling and less of a flat look, and because the placement was not too far off-axis it retained the circular catchlights in the subject's eyes.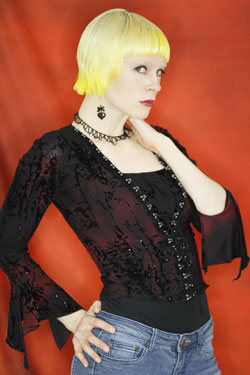 Conclusions and Recommendations
I suspect that I'm not the only photographer who's wanted to try a ringlight but was put off by the purchase price. As I write this, the least expensive ring flash for portraiture costs about $400, while Flashpoint's Ring Light provides an affordable, alternative way to give this lighting technique a try, so try it and see if you and your clients like the results. High school senior photographers should seriously consider getting the Flashpoint Ring Light because it won't break their piggy bank and in that highly competitive world any creative edge you can get over the competition could also be a useful marketing tool. At $114.95, Flashpoint's 14" Fluorescent Dimmable Ring Light is one of the most affordable, unique, and fun lighting products that I've tested in a long time.
Quick Specs
Dimensions: Outside diameter 17"
Power Supply: AC cord
White Balance: Daylight-balanced bulb
Line-in Cable: Yes
For more information, contact Adorama at www.adorama.com.
FEATURED VIDEO