Photographer Paul Cary Goldberg Turns His Passion For Food Into A Project Documenting The Life Of The American Farmer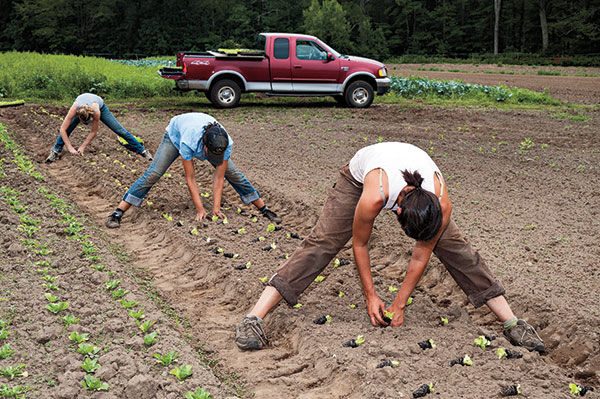 Paul Cary Goldberg has long had a passion for two things: photography and food. A self-taught photographer, Goldberg's love of food led to an interest in farms and farming as a way of life. Combine all this and you have Goldberg's latest photo project, which involves documenting the life of the American farmer.
But it wasn't all food, farms, and photography for Goldberg. Early on in his career, he shot weddings and portraits for Bachrach Studios in Boston. He then freelanced and shot personal photographs, seguing into the business world with a job in sales for about eight years. By 1995, after suffering bankruptcy, his life changed when he and his wife moved to the Rockport/Gloucester area of Massachusetts and he decided to return to his true calling: photography. At first he shot landscapes and portraits, then he rented a painter's studio one winter and was able to do portraits in natural light. When he started selling photos through Boston's Pucker Gallery in 2000, he concentrated on still life, and has had success with exhibitions in the New England area.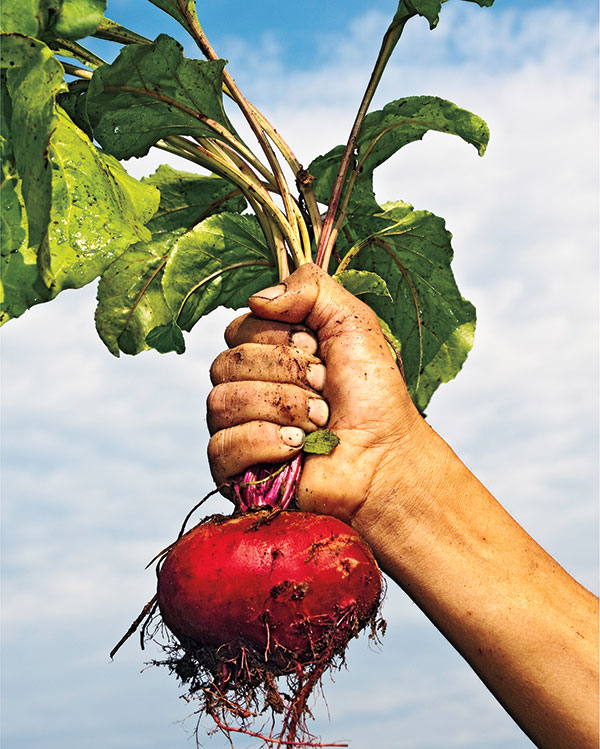 In 2007 Goldberg began a farm project when he became friends with farmers in a local community agricultural organization. He came up with the idea to start bartering his photography for their website and brochure business in exchange for shares of produce and livestock.
"I became totally hooked in photographing farms and farmers," Goldberg says. "Regularly, I have shot their concerns, namely planting and worrying about weather and harvesting, which drew me to other photo opportunities that are photogenic. The antics and sights of animals and my relationships with the farmers offered pictorial opportunities I have enjoyed over the years."
Goldberg is able to spend a lot of time shooting because he is fortunate to have a small part-time practice in psychotherapy, which allows him a flexible schedule. It also gives him an opportunity to spend some mornings at Caffe Sicilia, a popular spot in Gloucester where he has been shooting images for a potential book.
"Farms and farmers have offered me many good subjects," Goldberg says, "from farmers and farms to livestock and equipment, to barns, chicken processing, harvesting, lambs giving birth, and landscapes. I also look for interesting farm details such as antique machinery plus interactions between people and people with animals. I am often led to subjects by the way the soft or strong light falls on them. Camera angles and unusual compositions also suggest what I want to convey. Subject choices are often driven by when I come across certain subjects that intrigue me, as well as whether these are subjects I'm looking for that appear to be either fine art or abstraction."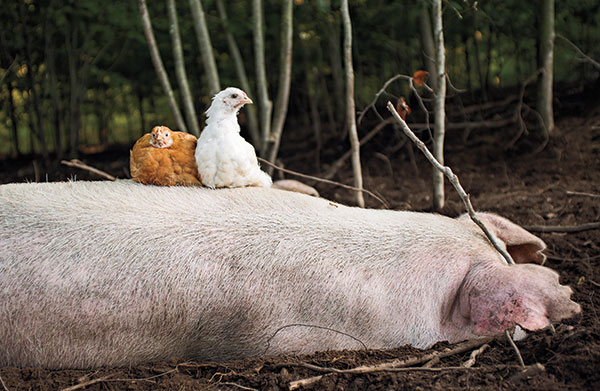 The gear Goldberg uses to photograph the farms includes a Nikon D700 digital SLR and the following lenses: an AF Nikkor 35mm f/2, an AF Nikkor 50mm f/1.8, and an AF Nikkor 28-85mm f/3.5.
Though he prefers shooting in the early morning and late afternoon because the light quality is softer and more beautiful then, Goldberg also likes the soft light that cloudy days provide. He tries to shoot once a week, every week, in order to take advantage of the seasonal changes. "I like to capture as much variation as possible, though it depends on what's scheduled at a farm."
Because the act of farming is very repetitious (planting, weeding, storing, feeding, etc.), Goldberg admits that it can be challenging to find fresh ways of seeing. He often switches lens focal lengths and uses zoom lenses.
"Shooting from different angles and paying attention to changes also makes repetitive subject matter more interesting," Goldberg says. "I find that faces and relationships are always evolving. Many employees work for one season and move on, to be replaced by new people. And I've found that farm animals can have distinctive personalities. They can be smart and funny, or beautiful, and they do things and take poses that are unexpected.
"I've been fortunate to photograph farm activities for extended periods of time, covering a small number of farmers, so I can develop strong friendships and we stay out of one another's way. We also have stimulating conversations and I may be asked to document particular subjects or events like flooding, disease, or bugs, and they keep me updated about their schedules."
Recently Goldberg has been shooting both for pleasure and for bartering. Last year he was on a payroll to document the "renaissance of a long dormant farm." However, in the "near future" he expects to begin selling and exhibiting his farm photographs more regularly, which he may develop into a book. For that potential book, he's creating an overview of his body of work and investigating ways to organize and present some of his best work. In a related project, he is making photographs of farmers' hands holding seeds, grain, produce, dirt, etc., because "hands are such fundamental, iconic subjects and they may be good stock images."
Goldberg is also always looking for ways to capture livestock, both individually and in groups, playing, fighting, and close-up. "I'm often lying on the ground shooting across or up at my subjects that are best seen almost at eye level."
Often asked how he decides between shooting in black and white or color, Goldberg admits that's a tricky question. "For many farm subjects I could use either one successfully. I'm drawn to seeing black and white for people and farm equipment, but I try to vary. For the many bright or subtle colors on farms I go back and forth between black and white and color since digital capture offers me easy choices when I'm editing."
Goldberg has managed to leave large cities behind and make himself at home shooting the farms and farmers he cares about so much. His path is a good example of finding subjects that stimulate you and developing this passion into interesting and potentially sellable, long-term photo projects.
To view more of Paul Cary Goldberg's work, which includes a range of subjects from farms to fine art, visit his website, www.paulcarygoldberg.com.
FEATURED VIDEO