Exploring the New Features of Adobe Photoshop Elements 14
Adobe has released version 14 of Photoshop Elements and Premier Elements. Both are exciting and easy-to-use, and offer enough editing horsepower for most photo and video enthusiasts. Although Premier 14 is chock full of improvements, including some cool new things you can do with 4K, I found the enhancements in Photoshop Elements to be more groundbreaking and fun. So that's what we'll focus on today.
The familiar Photoshop Elements interface still provides Quick, Guided and Expert modes. The Guided mode has a new interface that's a bit more instructional. The eLive tab, which is a collection of how-to and inspirational videos interspersed with attractive websites, is still as motivating as before. I believe that even folks who have been using Photoshop for a long time could learn a thing or two by poking around in Elements.
Here's what's new.
Remove Camera Shake
No, it's not as effective as Image Stabilization built into your lens or camera—that's technically impossible. But it is a potent remedy for the shakes. And it's a one-click solution.
© Jon Sienkiewicz
Remove Haze
Seeing is believing. Yes, you could do this with practice and/or training. But in Photoshop Elements 14 you simply select Haze Removal from the Enhance dropdown menu and tweak a couple sliders.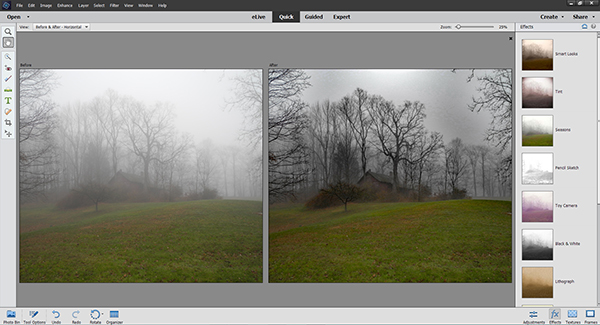 © Jon Sienkiewicz
Five Effects that Fit Perfectly
There is a menu icon labeled Smart Looks in the right-hand navigation pane in the Quick mode. Click it and Elements analyzes the image and suggests five enhancements that are displayed as thumbnails.
© Jon Sienkiewicz
34 Guided Effects
The Guided interface has changed—for the better. It now displays 34 options—sorted into categories like Basic, Color, Fun Edit, etc. Under Special Edits, for example, you'll find Orton Effect. Make this selection and watch your image being transformed while you fine-tune Blur, Noise and Brightness.
© Adobe
Improved Selection Tool
Making selections and applying creative effects to parts of images is easier than ever with the improved tools.
© Jon Sienkiewicz
Enhanced Ways to Find Photos
The Adobe Elements Organizer has four tabs at the top labeled People, Places and Events. Open a tab and you're guided through the organizational process. While I concede that this could be of great value to many people, I still prefer Bridge, Adobe's "old way" to locate images and load them into the editor. But then again, I still ask for Unleaded Gas at the full service pump, even though the sale of Leaded gas was banned by the Clean Air Act in January of 1996.
Adobe Photoshop Elements 14 is available for $79 as an upgrade or $99 from scratch. If you use Photoshop Elements and Premier Elements you can upgrade both for $119. Teachers and students get a discount (check website) and most important of all—you can download the full version and try it for 30 days before buying.
If the idea is enticing but you think that Elements is too light for your needs, Adobe offers a special Creative Cloud Photography plan that provides Photoshop CC, Lightroom CC and the mobile apps for $9.99 per month.
—Jon Sienkiewicz
FEATURED VIDEO