Delkin Devices Black SD Memory Cards Review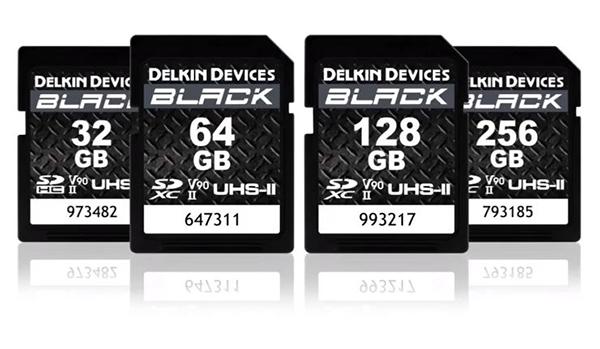 Don't gamble with your image files. If you're serious about the pictures you take, be serious about the memory cards you use to store them. There is a handful of reliable, consistently dependable brands available, and one of the most popular with advanced photographers is the Delkin Black lineup. Let's zero in on their latest SD card and find out why.
Delkin Devices just updated their already trustworthy Black line of SD memory cards. Here's a rundown on the key features. If some of the nomenclature is unfamiliar, take a look at SD Memory Cards: Everything You've Ever Wanted to Know About SD Cards But Were Afraid to Ask.
BLACK UHS-II (U3/V90) SD Memory Cards
• Storage Capacities: 32GB, 64GB, 128GB, 256GB
• Bus Type: UHS-II
• Speed Class: 10
• UHS Speed Class: U3
• Video Speed Class: V90
• Bus Interface Speed: UHS Class II
• Maximum Read Speed: 300MB/s
• Maximum Write Speed: 250MB/s
• Minimum Write Speed: 90MB/s
• Ribless Design
• Durable design (no write protection switch)
• Water / Shock / X-Ray Proof
• 3X stronger than conventional SD cards (45+ pounds of force)
• Uninterrupted 8K, 4K, 3D, HDR, 360º and high-speed recording
• Specialized to record and store multiple files and file types simultaneously
• RAW Burst and High-Frame-Rate ready • Free 48-Hour Replacement
Overview
Delkin Devices offers three lines of SD memory cards in addition to the Black line. Each series has its specifications and purpose. The Black line is the premium series and offers the highest quality, and is sold only through authorized camera stores that are chosen for their commitment to customer service and knowledgeable staff. Delkin also manufacturers other memory products including CFexpress cards and card readers of all sorts.
Features
The BLACK UHS-II (U3/V90) SD Memory Card from Delkin Devices delivers read/write speeds suitable for professional photographers and videographers and today's demanding cameras. More important, Delkin Black offer an unparalleled level of reliability and structural strength.
Fast, Very Fast
With a rated Video Speed Class 90 (V90) and utilizing two rows of pins, the Delkin Black UHS-II (V90) SD card provides recording speeds surpassing 250MB/s for uninterrupted 8K, 4K, 3D, HDR, 360º and high-speed video capture. The card guarantees a minimum sustained write speed of 90MB/s, allowing for simultaneous multi-file recording and ensuring that data is written swiftly and safely to the card. They're also approved for real-time broadcasting and support continuous-burst shooting.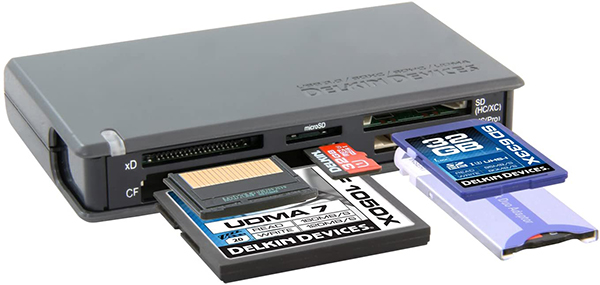 Back at the computer, on the download side, Delkin Black can deliver data at speeds reaching up to 300MB/s. Combined with a bus-connected card reader, downloading is exceptionally fast and efficient.
Tough, Durable Construction
The Delkin Black line has been redesigned to make it stronger than ever, in fact, it's purported to be three times stronger than a conventional SD card, and capable of withstanding 45 pounds of impact. The injection-molded case is comprised of a special material that is said to be virtually unbreakable under normal and even extreme conditions. It's also optimized for protection against dust, moisture, impact shock and temperatures down to -13 F° and up to 185 F°.
Ribless Design
The Delkin Black SD card has neither write-protect switch nor plastic ribs that run in between the contacts. This design enhances reliability and contributes to overall strength. The write-protect switch is seldom (if ever) used by modern photographers and even presents a liability; if broken off in the wrong position, it can render an otherwise-perfect card unwritable.
48-Hour Replacement Warranty
Delkin Devices presents a Lifetime Warranty and enhances that with a guaranteed 48-hour replacement policy (simple registration required). Delkin Devices will replace any non-working card within 48 hours or less (not including weekends). Replacement proceeds before they receive the defective card from owner, thereby sidestepping additional delays. Even better, registered owners can exchange a non-working card over the counter at any authorized Delkin Black reseller.
In the Field
Immediately, you notice that the card is different. It has a serial number but does not have a write-protect switch. I have never used a write-protect switch on an SD card, but I have managed to break one or three by accident – grrrr. There is a double row of gold-plated contacts but there are no ribs between them. That's something else I have succeeded in breaking—sounds like I'm a real klutz but in fact I'm probably more careful than most.
While I did not test the data transfer speed scientifically, I did use a 128GB Black SD card extensively for three weeks in both a Fujifilm X-T4 and Sony Alpha 7RII. The card performed fast and reliably during both high-speed still and video capture. Using a bus-connected card reader and, alternatively, a Delkin Devices USB 3.0 wired card reader, download time was very fast and more than satisfactory.
Conclusion
A dear friend once told me that when visiting Shanghai she didn't have time to take a lot of pictures, so she only took good ones. I try to use that mental approach every day. Consequently, it's of the utmost importance for me to use high quality, highly reliable memory cards. The Black line from Delkin Devices fills the bill and then some.
—Jon Sienkiewicz
(As an Amazon Associate, Shutterbug earns from qualifying purchases linked in this story.)
FEATURED VIDEO