Book Reviews Page 2
After The Ruins, 1906 And 2006: Rephotographing The San Francisco Earthquake And Fire; by Mark Klett, with Michael Lundgren, essays by Phillip L. Fradkin and Rebecca Solnit; The University Of California Press; 140 pages; $49.95; (ISBN 0-520-24434-6)
In 1906 disaster struck the city of San Francisco. Over a period of three days, tremors shook the city to pieces as fires swept across the ruins leaving only charred and broken remains. Brave photographers documented the devastation in vividly detailed panoramas. This book contains a marvelous collection of these images displayed next to shots taken recently in the very same locations. It's a dramatic comparison of the city's tragic past as seen next to today's modern advances and architecture. This book is a riveting lesson about the fury of Mother Nature and power of human courage.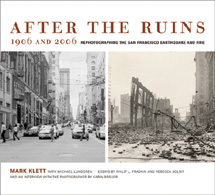 Rick Sammon's Travel And Nature Photography; by Rick Sammon; Norton & Company; 303 pages; $29.95; (ISBN 0-393-32669-1)
Rick Sammon's educational guide provides a great selection of hot tips that are certain to spice up images. He has traveled to over 50 countries in the course of his impressive career, capturing candid portraits, breath-taking landscapes, and awe-inspiring panoramas that delight the eye. The first part of the book covers such topics as creating a successful photograph, compact vs. SLR cameras, digital photography, and travel smarts. He then explains the fine points of various styles of photography from portraits to landscapes, wildlife and even underwater. His expert advice will have a positive impact not only on the quality of your work, but on the entire photographic experience.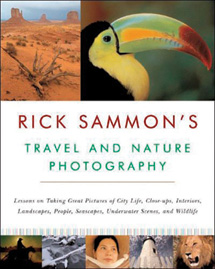 Night And Low-Light Techniques For Digital Photography; by Peter Cope; Amherst Media; 128 pages; $34.95; (ISBN 1-58428-174-X)
Peter Cope's guide reveals how your digital camera can be used to explore the world of night photography without the usual drawbacks experienced with a traditional film camera. His easy to understand step by step instructions are expertly paired with 180 color images and diagrams that make learning simple. Cope uses his years of professional experience to teach you how to use image-editing software to enhance your photos while providing tips on the best exposure techniques for low-light shots and provides expert advice on how to capture the beauty of fireworks or city lights. Let Peter Cope show you how to harness the power of digital technology to heighten your photographic experience.
Wedding Photography: Art, Business, And Style, 2nd Edition; by Steve Sint; Lark Books; 224 pages; $24.95; (ISBN 1-57990-546-3)
This impressive guide was created with the professional or advanced amateur wedding photographer in mind. In order to tame the normal chaos of the wedding day, Sint makes good use of detailed diagrams, sample images, and step by step instructions. He expertly covers every topic from interacting with customers to marketing your skills, pricing your work, and which equipment to use to make the job a breeze. This is wonderful advice from a pro that will have a positive impact on your business.
Yellowstone To Yukon: Freedom To Roam; by Florian Schulz; The Mountaineers Books; 200 pages; $34.95; (ISBN 0-89886-989-7)
Award-winning nature photographer Florian Schulz traveled from his native Germany and spent 10 amazing years exploring the many scenic wonders of America's Northern Rocky Mountains. During his travels, he diligently created a marvelous body of work and 200 images were used in the creation of this book. Colorful essays by David Suzuki, Douglas Chadwich, and Dave Porter give the book its rich voice as they draw the reader into this awe inspiring adventure. I highly recommend adding this book to your personal library or sharing a copy with friends and family.