Book Reviews
Posing For Portrait Photography: A Head-To-Toe Guide; by Jeff Smith; Amherst Media; 128 pages; $29.95; (ISBN 1-58428-134-0)
Studio owner and portrait photographer, Jeff Smith's years of experience have been transformed into a useful guide that will assist you in isolating and correcting some of the most common posing errors. He offers the reader a bounty of information on the best ways to position both male and female clients and how to correctly pose the subject in order to capture the most flattering images. This book includes 100 photos that illustrate various portrait styles and posing techniques that will surely enhance the quality of your work.
Bikes Of Burden; by Hans Kemp; Visionary World Ltd.; 158 pages; $29.95; (ISBN 962-85637-3-4)
Dutch photographer Hans Kemp has a true passion for Saigon. His creative book documents the major role that motorcycles play in the daily life of this vibrant and bustling city. An amazing collection of 150 of his wonderful images capture bikes being used as transportation for every thing from people and pets to toys, clothes, fresh meat, and produce. All of these items are creatively stacked and secured as to enable the driver to carry the greatest amount possible. The busy streets of Saigon overflow with motorcycles doing the job of many other types of vehicles each and every day which makes this a truly fascinating book to explore.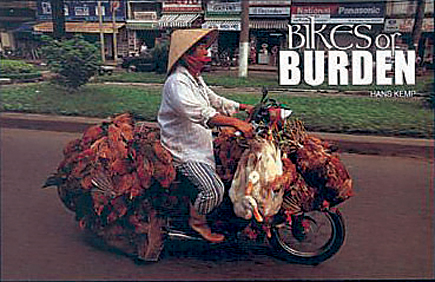 Magnum Ireland; edited by Brigitte Lardinois and Val Williams, introduction by John Banville; Thames & Hudson Inc.; 256 pages; $60; (ISBN 0-500-54303-8)
Through a stunning collection of 236 images, this enlightening book documents the often harsh reality of life in Ireland from the 1950s to present day. These powerful photos were captured by such talented photographers as Henri
Cartier-Bresson, Inge Morath, and many others. Their work is expertly paired with highly informative essays from six of today's most highly acclaimed Irish writers. Together, these artists reveal the amazing transformation that Ireland has undergone over the years and the country's hopes for the future.
Images Of The Present; by Stanley W. Trzoniec; Xlibris; 76 pages; $25.99; (ISBN 1-4134-4779-1)
If you are searching for ways to improve the quality of your work, then this title from Shutterbug contributor Stanley Trzoniec is certain to be a valued resource of professional advice. With the aid of a wide selection sample images, Trzoniec covers every topic from buying the proper equipment to capturing the perfect shot. He shares a wonderful selection of his images with the reader and provides tips on how they were created.