Black Pro-Mist Filter from Tiffen Creates Unique Effects for Professional Results
Creative photographers use special effects camera filters to produce unique images and videos that make us wonder, "How did they do that?" The Black Pro-Mist filter from Tiffen is a screw-in filter that delivers results that cannot be created consistently using any other method. The Tiffen Black Pro-Mist filter is similar in performance to the original Tiffen Pro-Mist filter (which has been a favorite among moviemakers and professional photographers for about three decades) except it's better.
Like the original, the Black Pro-Mist reduces highlights and lowers overall contrast while creating a softer quality of light. This is ideal for certain portraits because it gently softens wrinkles and fades imperfections. But it's not limited to that role. Even everyday portraits take on a moody, ethereal quality. With the new Black Pro-Mist, highlight flares are subdued and the lighting takes on a soft, almost pastel effect.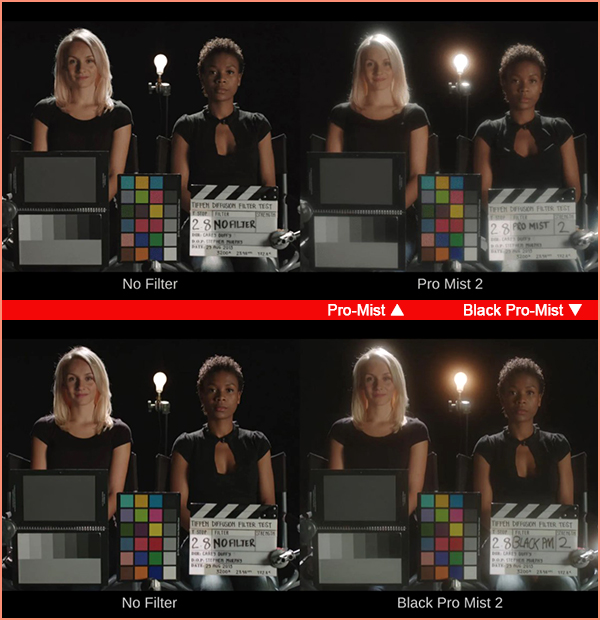 Tiffen Black Pro-Mist filters are available in six densities from 1/8 through 3 (density options may differ for some sizes). Even at the lower densities, the Black Pro-Mist filter creates an increase in light-source halation which adds pleasant warmth but does not corrupt or distort the skin tone values.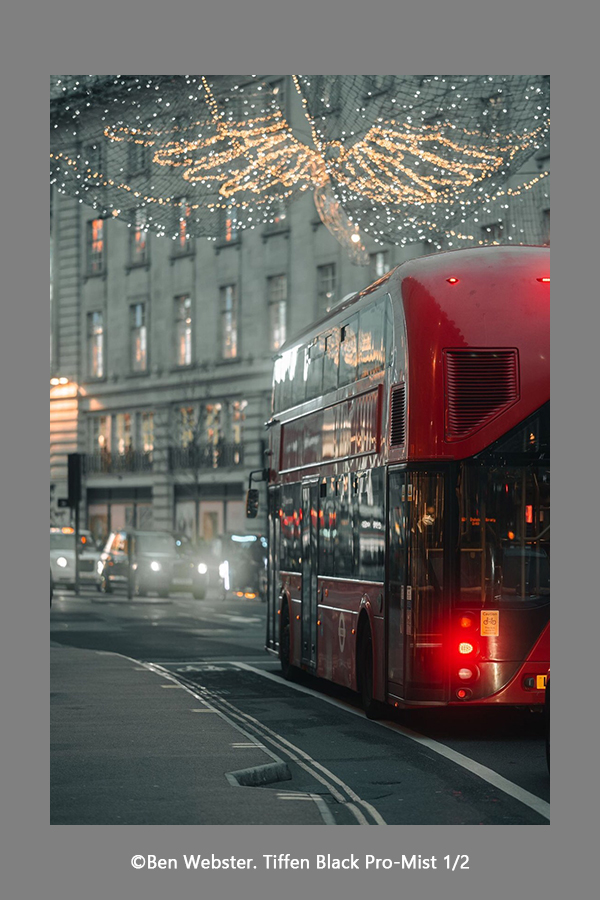 Increasing density increases the intensity of the effect. In the higher densities, the effect becomes more pronounced but the image does not become muddy or blurry. Although this sounds contradictory, diffusion is achieved without smothering details. This is one reason why Tiffen Pro-Mist filters have been in professional videographers' toolkits for decades.
Tiffen filters are made using a proprietary process they call ColorCore technology. This method involves laminating the filter substrate between 2 pieces of optical glass, grinding the sandwich flat to a tolerance of 1/10,000th of an inch, and then mounting the finished filter to precision metal rings.
Tiffen Black Pro-Mist filters are priced based partly on size. For example, the 67mm Tiffen Black Pro-Mist in 1/8 density is available from Amazon for $71.95. While you're at Amazon, pick up a Tiffen 52mm UV Protection Filter. In 67mm size it's a bargain at $9.95. (Prices are subject to change, as every online shopper knows.)
Amazon Best Seller
And here's a fact: Tiffen Black Pro-Mist filters rank #1 and #5 on Amazon's "Best Sellers in Camera Lens Effects Filters" listing. Check it out at Amazon.com. And the Tiffen Red filter ranks #7 on the same list.
If you're undecided, or if you want to browse other Tiffen filter options, visit the Tiffen Store on Amazon.
Tip: Tiffen has an Outlet shopping page on their website. From time to time you can score some pretty good deals on Domke camera bags and accessories. Domke is one of several Tiffen brands, a stable of products that includes Steadicam, Lowell lighting, Davis & Sanford tripods and Zing neoprene camera cases and straps.
Tiffen filters are proudly manufactured right here in the US of A, in Hauppauge, Long Island. They have additional facilities in Burbank, California and at the Pinewood Studios outside of London, England. When I say that Tiffen is a favorite among Hollywood filmmakers, I'm putting it mildly. Tiffen has been recognized with numerous awards from the Academy of Motion Picture Arts & Sciences, as well as multiple EMMY Awards from the National Academy of Television Arts and Sciences, and the Academy of Television Arts and Sciences.
So while we may think of Tiffen SFX and utility filters as creative tools we can use to make our imaginative images just right, movie studios see Tiffen filters as a necessity, a vital ingredient as important as cameras and light meters.
—Jon Sienkiewicz
(As an Amazon Associate, Shutterbug earns from qualifying purchases linked in this story.)
FEATURED VIDEO