Beth Moon's New Photo Book Is An Astonishing Visual Homage to the Oldest Trees on Earth
Beth Moon's photo book Ancient Trees: Portraits of Time is the result of a 14-year-long global journey in search of the oldest, most ancient trees on Earth. In this book of gorgeously reproduced black-and-white images, Moon takes us into magical primordial forests and to isolated islands on a voyage of discovery.
In corresponding with Moon over the last few weeks, I asked her what inspired her to photograph these trees.
"I began this project while living in England, a country with an affinity for all things arboreal," Moon replied.
"From the first moment I saw an ancient yew, a love affair ensued. The United Kingdom has a high concentration of old trees, so it seems I was in the right place to start."
Remarkable Vision
There are lots of photographers who love nature and photograph trees but what lifts Moon's photographs out of the ordinary is her remarkable vision. Unlike the usual images of coldly majestic arbors, Moon's trees and forests are lyrical and warm; never foreboding.
In photographs like "The Strangler Fig", "The Ifaly Teapot" or the "Nantanglyn Pulpit Yew," she evokes a fairy tale world of Middle Earth-like strangeness.
They illustrate Moon's photographic skill with light and composition which she used to capture the "old souls" of these trees. As a photojournalist, I was particularly struck by her photo "Off to Market, Madagascar 2006." It illustrates the enormous patience she exercised in producing these images.
Moon would spend days in remote locations waiting for the light to conjure up the mood she was after, and as in this image, waiting for the people to move into in place. Her patience gives what might have been ordinary "travel" or "nature" photos their extraordinary quality of magic realism.
Down to Earth
Nonetheless, Moon's love affair with trees is tempered by real and very down-to-earth concerns. By reminding us of the long history of trees and their close relationship with humanity, she wants us to share her passion for protecting and caring about these ancient beings.
"Early in the project, I photographed the massive Bowthorpe oak, one of the greatest British oaks. Its full crown of leafy green foliage was quite a sight to behold," Moon says.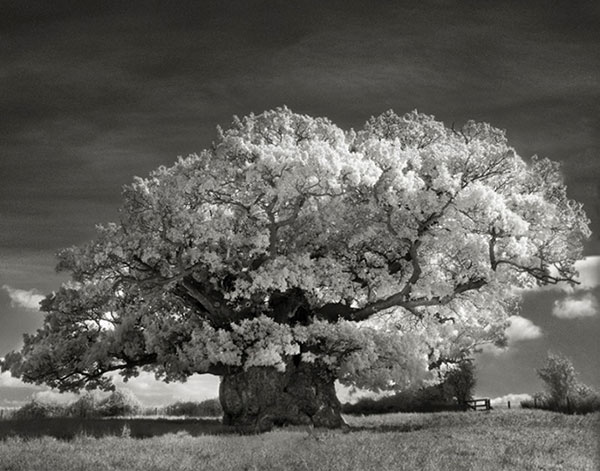 "Just six months later, part of the crown was lost when a violent storm tore a major limb to the ground, causing other branches to collapse into the tree's hollow center.
Why do we need old trees? Beyond the sublime, old trees are biologically critical. They contain superior genes that have enabled them to survive through the ages, resistant to disease and other uncertainties. Their genetic heritage is invaluable for future research and reforestation."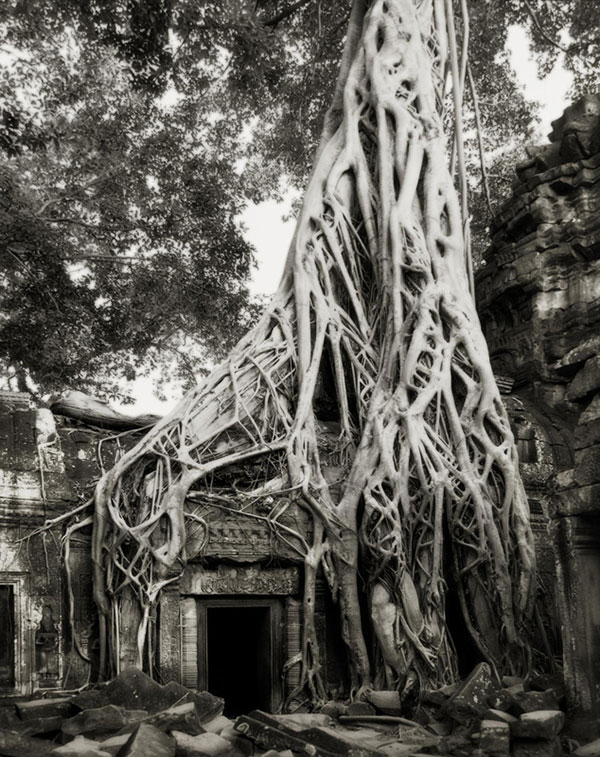 "The Strangler Fig," ©Beth Moon
A Tree with Roots
As Moon began her work, she soon realized that this project was not going to be simple. Photographing ancient trees across the planet required a lot of planning.
"I also carefully considered the best season to photograph each particular tree. Some places could only be visited at certain times of the year. For example, the Yemeni island of Socotra, home to the remarkable dragon's blood trees, is inaccessible for many months at a time due to strong monsoon winds.
I also carefully considered the best season to photograph each particular tree. In the case of the baobabs of Madagascar, I felt they presented better with full crowns of foliage, which meant traveling there during the rainy season. On the other hand, many grand oaks photographed better during the winter months, when they were bare of leaves, allowing their wildly twisted branches and full trunks to be seen clearly."
Yet despite these challenges, she soon learned that the work had its own special rewards as well.
"In some countries, I was able to camp right under the trees I photographed, allowing me to take advantage of the last light of the day and the first rays of morning sun. Sleeping in the frankincense forest on Socotra, or in the salt pans of the Kalahari under giant baobab trees, was an experience unlike any other. I have never felt more vibrant and alive than on these occasions, my senses awakening to a landscape filled with birdsong and the light of stars."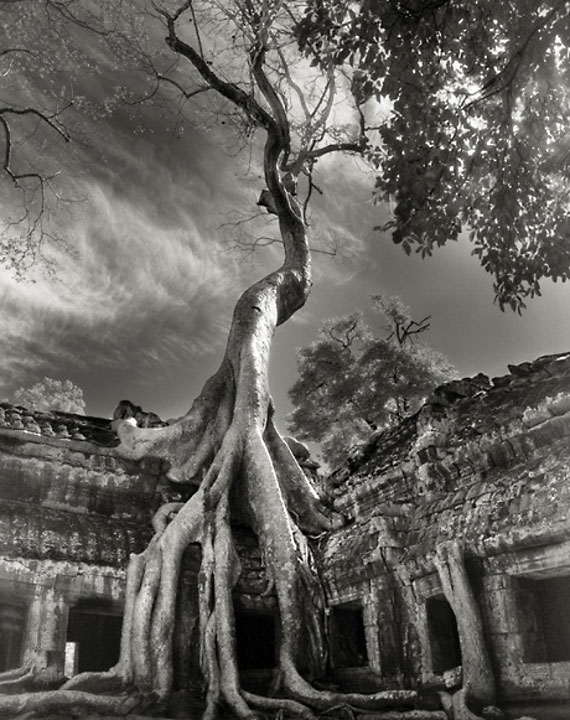 Time and Longevity
Ancient Trees is a story about time and longevity and Moon wanted to give her photographic prints a timelessness befitting their subjects. Photographing the trees with a Pentax 67 film camera, when she returned from a location she would process her black-and-white negatives and then print them on handmade archival platinum/palladium paper.
"For each print, I mix a tincture that I hand-paint onto heavy watercolor paper and expose to light," she says.
"The metals are actually embedded into the fiber of the paper. A platinum print can last for centuries. By using the longest-lasting photographic process, I hope to speak about survival—not only of man and nature, but of photography as well. A platinum print can last for centuries, drawing on the common theme of time and continuance, pairing photographic subject and process."
The process of making platinum/palladium prints is arduous. The 6x7 negatives had to be first scanned and the digital images enlarged.
These were printed out as high-resolution transparencies and then each is put into a vacuum frame, tightly pressed against the paper and exposed under a UV light source. Developer is then poured over the exposed papers and after several cleaning baths and an archival clearing wash, they are left to dry on glass plates.
For all the effort and the years of travel Moon's odyssey across the planet and amidst the trees was a transformational experience for her.
"I have since taken other photographs that I am happy with, but these trees hold a very special place in my heart, as they are the sole reason I began to work with a camera in 1999. They were the seeds planted in me, the inspiration that took root and grew."
Looking at Moon's photographs I was reminded of something the poet-philosopher Khalil Gibran once wrote: "Trees are poems that the earth writes upon the sky."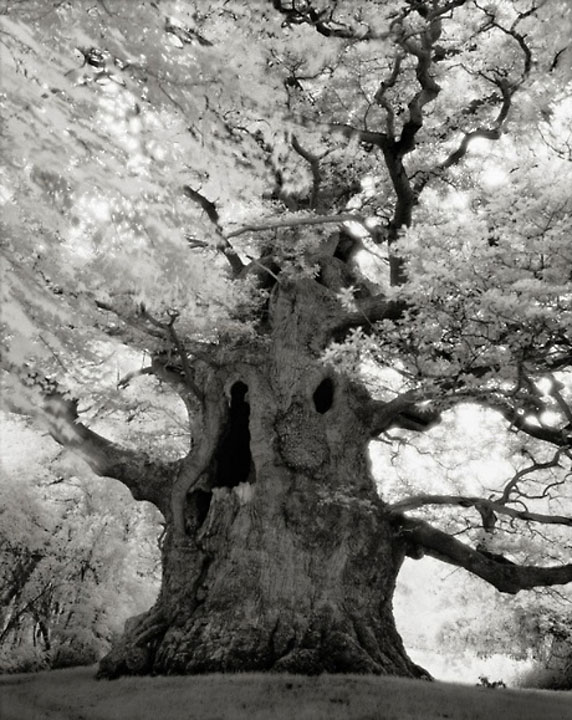 "Ancient Trees: Portraits of Time" (104 pages, $49.95) is published by Abbeville Press (2014) and includes essays by Todd Forrest and Steven Brown Makes that help round out the story of these primeval trees and add to our understanding of the perils they face.
FEATURED VIDEO