Wide Eyes: Our Favorite Wide-Angle Lenses for Outdoor Photography
"Nature is a vast, chaotic collection of shapes. You as an artist create configurations out of chaos."—Ansel Adams
It probably won't surprise you that more photographs are made out of doors than indoors. When shooting outdoors—particularly with infrared-converted cameras—I prefer using wide-angle lenses because they produce a dynamic perspective, especially in situations where you can't back up far enough to capture expansive vistas.
The terms angle of view or field of view describe how much of a scene a lens can capture. A "normal" lens covers an angle of view of 50 to 25 degrees but the focal length of a wide-angle lens is shorter and its field of view typically covers between 100 to 60 degrees, with super-wide-angle lenses covering up to 180 degrees. Tip: Be sure to use a lens hood! Capturing large chunks of sky in your photographs increases the chance of flare.
When shopping for a wide-angle lens, presented for your approval, is a collection of my favorite (mostly) zoom lenses to expand your view of the world.
The DSLR Options
Nikon's AF-P DX Nikkor 10-20mm f/4.5-5.6G VR lens ($306) offers 3.5 stops of vibration reduction, letting you capture sharp(er) images hand-held or in low light. Several Nikons, including the D500 that has a DxO score of 83mm, use the smaller DX (24x16mm) sensor. The lens has three aspherical elements to produce minimal distortion even at the widest focal length. It uses Pulse Motor technology for fast, quiet AF operation that's useful for recording video.
The angle of view covered is 109 to 70 degrees and the lens will focus to 8.6 inches for close-up work. The filter size is 72mm and while the lens is not that expensive, protecting it with Nikon's Clear NC filter ($69) would be a good idea when shooting in areas with blowing sand or other environmental hazards.
Who's It For: Full-frame shooters might prefer Nikon's AF-S Zoom-Nikkor 17-35mm f/2.8D IF-ED lens ($1,951). But if they can live with the 15-30mm equivalent of the Nikkor 10-20mm using the camera's Auto DX Crop option, it's a bargain. And at 8.11 ounces, it's lighter than the 17-35mm's 1.64 pounds.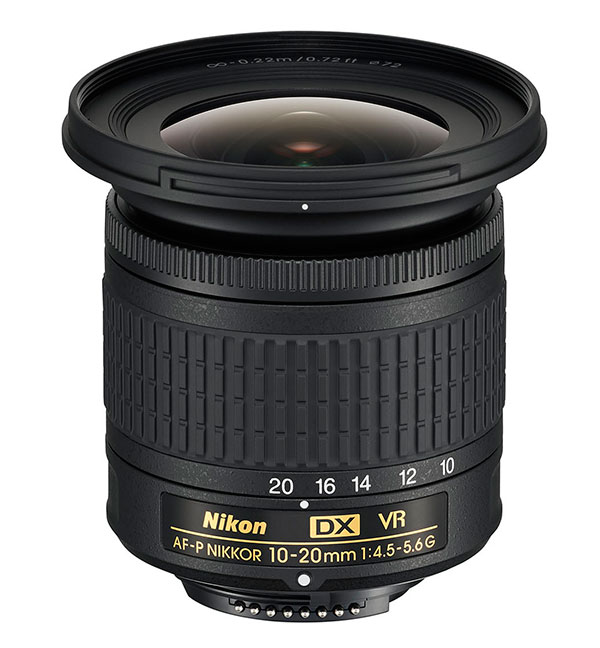 Why I Like It: Producing a 15-30mm equivalent focal length range, it will be appreciated by those shooting the outdoors, nature, and car shows, plus photographers using an infrared-converted DX body.
The optical design of Canon's EF 16-35mm f/4L IS USM lens ($1,099) uses three aspherical elements, including an aspherical element and two ultra-low dispersion elements, to minimize chromatic aberrations and maximize sharpness. To reduce flare and ghosting and maintain contrast, a fluorine coating is applied to front and rear lens surfaces.
An Optical Image Stabilizer minimizes camera shake for up to four stops. A ring-type Ultrasonic Motor is used with internal focusing to maintain the lens's overall length. When used with the optional 77mm Protect filter ($59) it produces dust- and water-resistant protection in challenging weather conditions.
This L-series lens can be used with full-frame or APS-C-sensor DSLRs to create a 25.6-56mm equivalent focal length range. Bokeh fans looking for an aesthetic out-of-focus quality will be pleased with the nine-blade circular diaphragm.
Who's It For: Canon shooters looking for the build and optical quality of L-series lenses (and expect to pay for it).
Why I Like It: It's a great lens. APS-C Canon shooters looking for a bargain might check out the EF-S 10-18mm f/4.5-5.6 IS STM: at $299, it is image stabilized and offers the field of view of a 16-28.8mm lens.
While many shooters like the flexibility of zooms, some prefer the low-light performance of prime focal length lenses. Sigma's 14mm f/1.8 DG HSM lens ($1,599) is part of their Art line that uses FLD and SLD glass elements to control chromatic aberrations and color fringing. Four aspherical elements reduce distortion and spherical aberrations for improved sharpness and a Super Multi-Layer Coating is applied to elements to suppress lens flare and ghosting.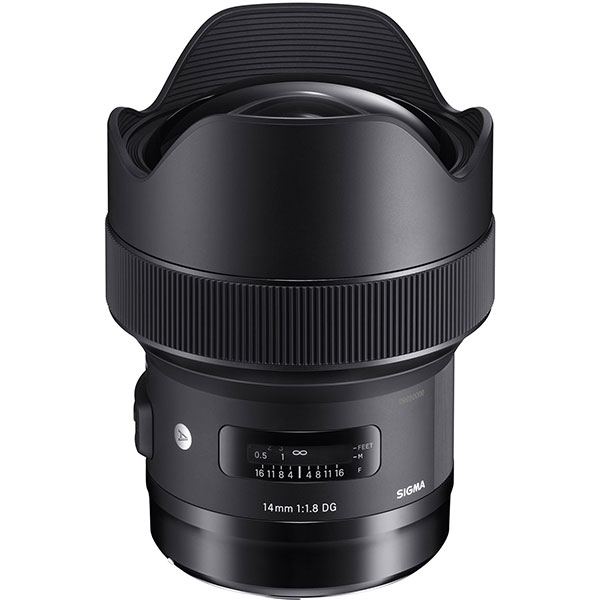 The Hyper Sonic Motor provides fast, smooth AF, allowing manual override and focusing as close as 10.6 inches. The lens is designed for full-frame Canon, Nikon, and Sigma DSLRs, but can also be used with APS-C models. To fine-tune focus parameters and other lens characteristics, it's compatible with Sigma's optional USB Dock ($59).
Who's It For: Canon, Nikon, and Sigma shooters looking for low-light performance in a wide-angle lens. It should find a home with music scene and street shooters.
Why I Like It: Sigma's Art series of lenses have become a standard of excellence that matches and often exceeds the build quality performance of lenses from the Big Two.
Tamron's 10-24mm f/3.5-4.5 Di II VC HLD lens ($499) is designed for APS-C-format Canon and Nikon DSLRs. To suppress both chromatic and spherical aberrations, it has two low dispersion elements and two aspherical elements. A BBAR coating is used to reduce reflections, flare, and ghosting.
The lens offers four stops of vibration compensation to minimize camera shake. Its close-focusing capabilities let you capture images at 9.4 inches. The lens is sealed and moisture-resistant and the front lens element has a fluorine coating to protect against dust, dirt, and smearing. Even though this is a modestly priced lens, I think something like Hoya's 77mm UV Haze NXT HMC filter ($53) is a good investment.
A rounded seven-blade diaphragm should produce pleasing bokeh. It's compatible with the optional TAP-in Console ($59) for fine-tuning focus and updating lens firmware.
Who's It For: Canon and Nikon shooters with APS-C cameras looking for an affordable wide-angle zoom with a wide angle of view (108 to 60 degrees).
Why I Like It: It's a well-made, relatively lightweight lens (15.5 ounces) with a zoom range I like for infrared photography. It includes a HB023 lens hood that's useful since IR photography can have flare if you're not shooting at high noon.
The Mirrorless Options
While the Big Two's efforts with mirrorless cameras have been half-hearted at best, I must confess that Mary loves her Nikon Series 1 camera, calling it her "art camera." Fortunately, real mirrorless camera makers have been hard at work making wide-angle lenses for outdoor photography enthusiasts.
The 19-ounce Olympus M.Zuiko Digital ED 7-14mm f/2.8 PRO ($1,299) is a 14-28mm equivalent lens with two aspherical ED elements, one dual super aspherical element, one aspherical element, three Super ED elements, one ED element, and two high-refractive index elements to minimize aberrations, distortion, and color fringing. A ZERO (Zuiko Extra-low Reflection Optical) coating controls flare and ghosting. It's dustproof, splashproof, and freezeproof for challenging weather.
The built-in lens hood should prevent flare, with protection from inadvertent impacts on the protruding front element. The lens has a Movie & Still Compatible autofocus system for smooth, quiet operation. It boasts an L-Fn button with 27 assignable functions, manual focus clutch, and a built-in focus distance meter. The rounded seven-blade diaphragm should delight bokeh fans.
Who's It For: Micro Four Thirds shooters looking for a quality weatherproof zoom with the build quality and optical performance to produce top-drawer images.
Why I Like It: Its angle of view is 114 to 75 degrees and the Olympus PRO series lenses are easily equal to Panasonic's Leica-designed lenses, which brings me to…
Panasonic's Leica DG Vario-Elmarit 8-18mm f/2.8-4 ASPH lens ($1,097) is a 16-36mm equivalent lens for Micro Four Thirds cameras, producing an angle of view of 107 to 62 degrees.
The Leica-designed lens uses one ED aspherical element, three aspherical elements, two extra-low dispersion elements, and one ultra high-refractive index element to control fringing and aberrations. A Nano Surface Coating minimizes flare and ghosting and Panasonic includes a nice metal lens hood. The lens is splashproof, dustproof, and freezeproof, which is quite beneficial when working in inclement weather. The rounded seven-blade diaphragm should produce pleasing bokeh.
Wide-angle shooters on a budget might consider Panasonic's Lumix G Vario 7-14mm f/4 ASPH lens ($897) that has an angle of view of 114 to 75 degrees. Ignore its clunky built-in lens hood.
Who's It For: Leicaphiles and Micro Four Thirds shooters who demand the best build and optical quality in their lenses.
Why I Like It: It's a beautifully constructed lens despite its fast maximum aperture turning into f/4 at about 8.5mm. There are more details about it in my review for the "Mirrorless Photo Tips" blog.
When used with Fujifilm's APS-C mirrorless cameras, the XF 10-24mm f/4 R OIS lens ($999) produces a focal length range of 15-36mm. Its Optical Image Stabilization (OIS) system minimizes camera shake when shooting at slow shutter speeds, although Fuji's specs don't say by how many stops.
To be fair, when working with lenses this wide OIS isn't as big a deal as it is in longer focal lengths. Four aspherical elements and three extra-low dispersion elements reduce chromatic aberrations. An HT-EBC multilayer coating minimizes ghosting and lens flare with an additional coating applied to the rear side of the front-most element to reduce ghosting that's common to lenses with deep concave elements.
An internal focusing mechanism maintains the overall lens length during focus. A seven-blade rounded diaphragm should please bokeh enthusiasts. The front measures 72mm so a filter like Hoya's 72mm EVO Antistatic Protector ($74) might be a wise investment.
Who's It For: Wide-angle shooters will like the lens's angle of view (110 to 61.2 degrees) and while not a macro lens, the 9.4-inch close-focusing capability enhances its versatility for nature and outdoor photography.
Why I Like It: I have not shot or tested a Fuji camera in a long, long time (2005), but owners appear rhapsodic over them, so this lens should make them even happier.
Sony's FE 12-24mm f/4 G lens ($1,698) is designed for the company's full-frame E-mount mirrorless cameras and is compatible with APS-C models where it produces an 18-36mm equivalent focal length range. Optical design uses one Super ED and three ED elements to control chromatic aberrations and four aspherical elements to manage spherical aberrations.
A Nano AR Coating is applied to individual elements to reduce surface reflections, flare, and ghosting. The lens's curved front element precludes the use of a protective filter. The lens has an angle of view of 122 to 84 degrees with an 11.02-inch close-focusing capability. It's dust- and moisture-resistant and has a focus hold button.
Who's It For: Sony shooters looking for a high quality, fast wide-angle zoom.
Why I Like It: While I haven't tested a Fuji camera in a while, I've never used a Sony mirrorless camera. But like Fuji shooters, Sony aficionados seem enthusiastic about these cameras.
Living in Colorado and especially on Daisy Hill, Joe Farace is surrounded by the Great Outdoors on a daily basis. There is always a camera with lens attached sitting next to his computer; today it's a Panasonic Lumix GH4 but is just as likely to be an Olympus mirrorless camera or one of his Canon DSLRs. Information about the gear he uses can also be found on his websites/blogs, joefarace.com and mirrorlessphototips.com. If you enjoy photographing cars, you'll find something of interest at joefaraceshootscars.com.