Tokina's AT-X 107 AF DX Fisheye Zoom; It Keeps The Look Throughout The Zoom Range
I developed a love for fisheyes way back when I was shooting film. In fact, when I took the digital route, the first new lens I bought for my brand-new Canon EOS 5D was a fisheye.

I figured, what better way to celebrate my purchase of a full-frame D-SLR than with a lens that could take full advantage of the larger sensor! So now, fast forward to the purchase of a Nikon D300. I wasn't looking for a fisheye in particular, but when Tokina came out with a fisheye zoom--suitable to the APS-C-size sensor, no less--I had to try it out. This lens is also available in a Canon EOS APS-C mount.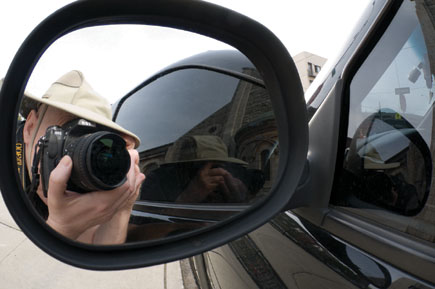 The fisheye seemed like the perfect lens to use here, capturing my reflection in a car mirror, with the zoom at the 10mm setting.
All Photos © 2008, Jack Neubart, All Rights Reserved
Focal length--or more specifically, angle of view--gets particularly interesting on the 10-17mm f/3.5~4.5 fisheye zoom. When used with a Nikon D300 (and its APS-C kin in the Nikon camp--those cameras not requiring a motorized lens) at 10mm, this lens yields a full 180° of coverage, making it a true full-frame fisheye. Canon users will feel a bit shortchanged, since for them the lens only covers 168°, falling a bit shy of the full fisheye field of view. The full range (rounding out the numbers) translates into 15-25mm (180-100°) for Nikon and 16-27mm (168-94°) for Canon.
The Tokina AT-X 107 AF DX Fisheye is so compact that you'd want to take it everywhere, to give you a different perspective on the everyday world.
The overall size of the fisheye zoom is comparable to a fixed focal length f/2.8 fisheye, although a bit slower at the fisheye end, at f/3.5 maximum aperture. Close focusing on the Tokina fisheye is roughly the same as on the Nikon 10.5mm fisheye prime lens, at about 5". When shooting tight with the lens, especially at its widest setting, physically move the camera to the nearest focusing point to avoid bumping into objects, then physically pull back, adjusting focus as you do so. Be especially careful with flowers to avoid pollen deposits or branches touching the lens.

Some of you may be wondering about using filters with this lens. As you know, a typical fisheye accepts rear-mounted gelatin filters or may have a filter turret built-in. The Tokina fisheye zoom, however, does not support use of any physical filters. That said, any needed color effects need be added in post. I would have liked to be able to use a polarizer with the lens when zoomed out.
Each image represents a step toward normalizing the view of this majestic, white stone church, originally shot at 10mm (barrel distortion is clearly obvious) (photo A). I corrected some distortion in Nikon Capture NX (photo B), then took it further using Photoshop's Transform function (photo C). Finally, to render the image with the least amount of distortion, I simply cropped in, giving this magnificent structure its imposing presence (photo D).
The Fisheye Experience
Because a fisheye pulls so much of the scene into the picture, you're bound to find yourself confronted with bright light sources, which spell potential flare and ghosting problems. I encountered the sun in several of my shots, one in particular being a picture of a garden. Thanks to internal baffling and multi-coated optics (with camera design paying no small part, I'm sure), this did not prove to be a problem. This lens also boasts an exclusive Water Repellent optical coating that makes it easier to clean the lens--a feature, thankfully, I had no cause to test.
Compare this view of the church shot at 17mm (with no distortion correction).
FEATURED VIDEO