Time Passages: Long Light: Michael S. Miller Takes It Slow
While most of us are dedicated to capturing fleeting moments by slicing seconds into ever smaller fractions, Michael S. Miller has a different tale to tell. In a project he calls Long Light, he takes the time to let the moments simply accrue.
Long Light began with Michael's viewing of historic view camera images. One in particular—a Mississippi riverboat, blurred by the camera's slow shutter speed—caught his attention. "The water had this mystical kind of feeling to it because of the long exposure," Michael says, "and I thought, all right, let's see what happens if I do some long exposures of rivers."
The first thing that happened was the realization that as a digital shooter he'd have to make some adjustments. "The ISO settings of today's digital cameras aren't low enough to do the super-long exposures you could do with film that was rated at ISO 50 or 32," he says, "so I got some neutral density filters to effectively darken the scenes and increase my exposure times. I call it putting the sunglasses on the lens."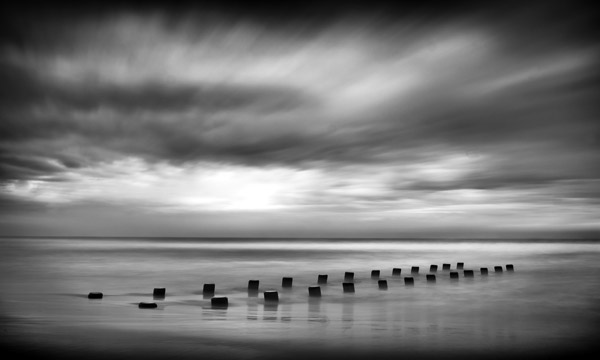 Michael uses B+W ND filters and prefers single-density filters rather than the variable-density variety. "I feel I get a better result with the single-density filters. I've noticed that there can be a color shift with variable ND filters that causes a contrast difference when I convert my Raw file to black and white." The exposure equivalents of his ND filters are six stops (with the 1.8 factor filter) and 10 stops (with the 3.0 filter), and even greater density when he stacks the two. "Looking through the lens I'll see the effect of the filters' darkening," he says. He also uses a UV filter between the ND filter(s) and the lens to cut some of the haze that might be present and neutralize the color cast of a scene; it also acts as a protector for the front lens element.
Michael sets his cameras to shoot black-and-white JPEGs and also to save the images as Raw files. Using the JPEGs as references, he processes the Raw files in Adobe Lightroom to produce his fine art black-and-white prints. Because of the long exposures—some can be up to 8 or more minutes—he also sets the cameras for long exposure noise reduction. Of course, a tripod (a 15-year-old Manfrotto 3221W with a Kirk medium ball head) and a cable release (a Nikon MC-30 for his D200 and D700 cameras) are absolutely essential. "I'll put the camera on bulb setting, lock the release open, walk away and wait it out, listening to music on my iPhone while the phone's Clock Pro app allows me to set the exposure times. When the timer goes off, I close the shutter." How long the shutter stays open is based on Michael's experience shooting the Long Light images. At first there was a lot of trial and error; now there are "rough estimates."
Finding the right locations and scenes is also essential. "I'm always scouting," Michael says, and if he finds a location that inspires him, he'll try to imagine how it might look on an overcast day and how water, wind, a structure (if there is one), and the light will interact. He'll take a couple of snapshots with his Fuji X10, and those photos go on his to-do list to await the overcast, cloudy days that are ideal for his Long Light images. "The light and the density of clouds play a part, and because the clouds are moving I'll get movement in the sky as well as in the water."
A print is the final product, and for his prints he wanted to find a substrate that would impart the visual stimulation he finds in the images. "I looked around and saw some black-and-white images printed on aluminum," he says. He found only a few labs that do that kind of printing. One of them is Bay Photo, in Santa Cruz, California, and Michael's been working with them for four years. "The aluminum prints offer the depth, contrast, and glossiness that I'm in love with." To guide Bay Photo in their printing, Michael will work on the Raw file in Lightroom using the JPEG version of the image as a guide. He might adjust exposure, bump up the contrast a bit, or build a tonal curve. Adding a touch of toning is the last step. Then he'll make a 15x15-inch print on his Epson 3880 printer on the glossiest stock he can find. "That print is as close as I think it's going to get to the aluminum print. Then I send that print and the image file to Bay Photo, and two weeks later get a big box in the mail."
Michael says that a key to the entire process is his ability to previsualize the captured image. "I have to use my imagination to go beyond what I'm seeing through the viewfinder," he says. "I don't know what the cumulative effect of time will give me." And in fact what we're seeing in Michael's photographs is the effect of the passage of time and the movement of light and shadow.
Michael has referred to his Long Light images as a blending of art and science to create "the magical effect of photography." Despite the fact that experience has given him an idea of what each image will eventually look like, nature provides enough variables, enough magic, to always offer surprises.
The variety of Michael's work, including more images in the Long Light series, is showcased at his website, www.msmpix.com.

LATEST VIDEO