Tamron SP 85mm f/1.8 Di VC USD Lens Review
If you read my article "Sweet Glass: My 10 Favorite Lenses For Portrait, Boudoir & Wedding Photography" you know I'm fond of the 85mm focal length for portraiture. If you didn't read it, please check it out after reading this review. And Tamron's SP 85mm f/1.8 Di VC USD lens surely rings this bell.
It's available for Canon, Nikon and Sony mounts and as part of Tamron's Di family is designed to work with APS-C format and full-frame SLR cameras. I tested the Canon EF version ($749.) On an APS-C camera, such as Canon's 80D DSLR, the equivalent field-of-view would be 136mm, a focal length I like for outdoor portraits but can be tight when used in a small home studio like mine.
Build & Design
Lens design uses 13 elements in nine groups and includes one low dispersion element and one extra low dispersion element to reduce chromatic aberrations and color fringing as well as improve sharpness and resolution. Tamron's Ultrasonic Silent Drive autofocus motor enables full-time manual focus without having to shift into dedicated MF mode.
Bokeh fans will appreciate its rounded nine-blade diaphragm for shallow depth-of-field images. And it's not just optics: BBAR and eBAND coatings are applied to minimize flare and ghosting and Tamron includes a nicely made lens hood at no extra cost. The lens has moisture-resistant construction with a fluorine coated front element to repel water, fingerprints, and smudges.
Since comparisons to camera brand 85mm lens are inevitable, lets get right to them. Since I'm testing the Canon version of Tamron's lens, Canon's EF 85mm f/1.8 USM lens is 2.81-inches long, vs. the Tamron's 3.59-inches that weighs 1.54 pounds compared to the EF's 0.93 pounds.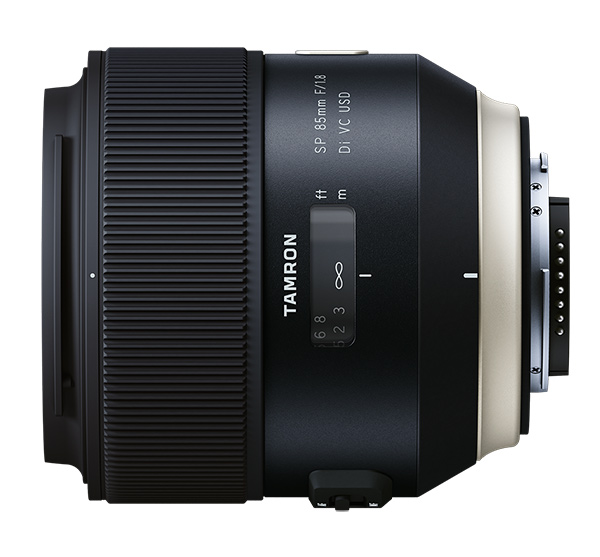 The Tamron has 67mm filter threads, Canon's is 58mm. Canon's lens costs $369 but doesn't include the $22.95 ET-65 III lens hood. Nikon's AF-S Nikkor 85mm f/1.8G lens costs $476.95 plus $39.95 for the HB-62 lens hood and fits between the two in size and price. So what's the big difference between all these lenses? The biggest is that Tamron includes its VC image stabilization that's designed to minimize camera shake up to 3.5 stops. The Sony version doesn't include VC because, you know, it's built into their camera bodies.
There's more: Tamron's SP 85mm f/1.8 Di VC USD lens is compatible with the optional ($59) TAP-in Console that, in addition to updating firmware, permits customizing focus adjustment, focus distance limiter, VC adjustment, and focus override settings. And in what could only be called another sign of the times, Tamron includes the redoubtable SILKYPIX Developer Studio, which does all the typical image processy things, using optical data from Tamron's SP-series to correct various aberrations, including color fringing, distortion, and peripheral light fall-off.
Real World Portraits
Because April (when I began testing the lens) is the second snowiest months in Colorado and May is the rainiest I was unable to coordinate a model and the weather to shoot any outdoor portraits but was able to make some indoor portraits using window light as well as shoot in my 11x15-foot home studio. To test the Tamron 85MM f/1.8 lens, I was fortunate to have professional model Pamela Simpson donate her time to pose for the studio portraits appearing here. Thank you, Pamela. And I also drafted Mary to pose for some window light testing too. Window light shots wide open were beautifully crisp where you wanted with delightful bokeh where you needed that too.
Since the lens is compatible with both full frame and APS-C sensor camera the first question you might have is how do results from using two different sensor sizes compare? See the illustration for a specific comparison but I think the side-by-side images exemplify a corollary of Ernst Haas' comment that, "Best wide-angle lens? Two steps backward." With a narrower angle-of-view, perhaps the effect is two steps forward. What does the 136mm field-of-view equivalent produce? For shooting headshots, it seems that tighter cropping is a good choice and working under those conditions the Canon EOS 60D I used for the headshot of Ms. Simpson was the right choice.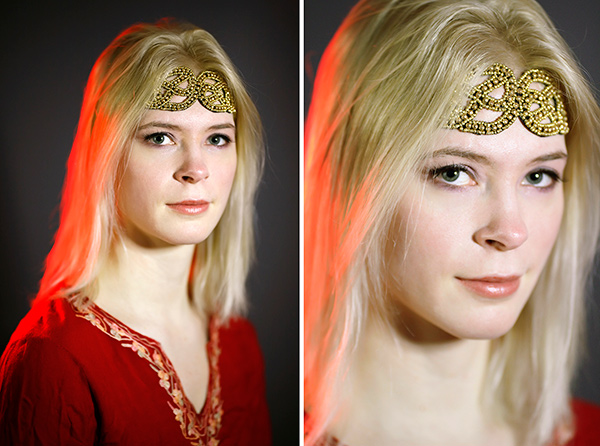 To test those image stabilization capabilities, portraits of Ms. Simpson were shot at what, for me, was slower-than-normal shutter speeds using the versatile but not powerful Rotolight RL-48 lights. The lens's fast aperture is a big deal for a couple of reasons: f/1.8 is obviously handy when shooting under low/available light but it's also useful for shooting under low light/artificial light.
I know, LEDs keep getting brighter but really, they are not close to challenging studio electronic flash, at least not yet, so a fast lens like the Tamron 85mm f/1.8 becomes doubly useful when coupled with built-in Vibration Compensation stabilization. Because of these inherent out-of-the-box characteristics, the Tamron 85mm f/1.8 becomes the ideal lens for boudoir photography where images are often made under low, moody light and a wide aperture (and that image stabilization) become an important maybe even indispensible asset.
Whether using Canon's EOS 60D or 5D, the resulting images were sharp even under low light conditions when the lens would occasionally be slow to focus but it always focused, even under dim, low contrast lighting. To be fair, focusing is a two-way street and the body has to do its job too. Surprisingly my older, original EOS 5D did a better job focusing under low light than the newer EOS 60D.
Conclusion
While not inexpensive the build quality of the Tamron 85mm f/1.8 rivals that of those German lens manufacturers. (You know the guys I'm talking about.) It's a versatile lens that can be used on multiple camera brands with both 1.5 and 1.6x factors on APS-C cameras as will as on full-frame SLRs. The lens is both a heavyweight in its physical form and delivers heavyweight pro quality results but is, I think, affordable enough for aspiring pros.
More info on the lens on Tamron's website.
Joe Farace has been shooting Canon EOS film then digital SLRs since the late 1990's. If you would like to see what specific gear can be found in his actual gear closet (and he does have one) visit www.joefarace.com or www.joefaraceblogs.com and click on "Gear."
FEATURED VIDEO