Tamron Launches Compact 35-150mm F/2.8-4 Di VC Portrait Lens for Canon & Nikon DSLRs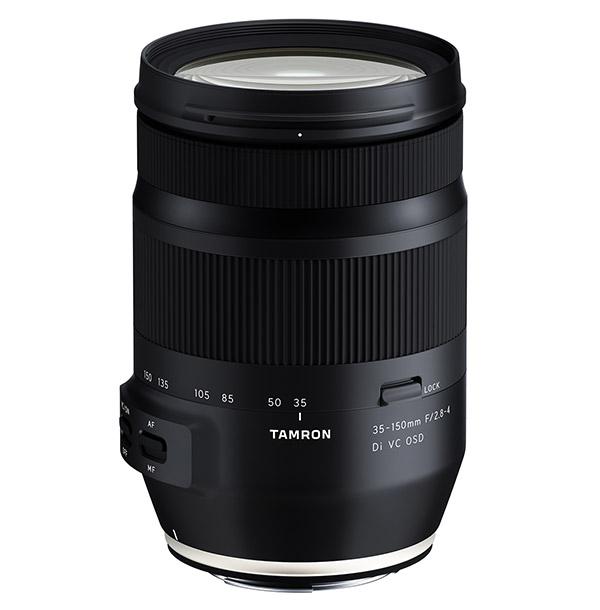 Tamron just announced the launch of a new zoom lens, the 35-150mm F/2.8-4 Di VC OSD (Model A043), for full-frame DSLR cameras. The new Tamron 35-150mm lens goes on sale May 23, 2019 in a Nikon mount version, and June 20, 2019 in a Canon mount version for $799.
According to Tamron, the zoom range of the new 35-150mm F/2.8-4 Di VC lens "incorporates the 85mm focal length (often regarded as optimum for portrait shooting) and covers everything from full-body shots that include the surrounding environment to head-and-shoulders shots that stand out from a natural defocused 'bokeh' background."
The compact Tamron 35-150mm F/2.8-4 Di VC lens "is designed for fast handling and easy transport, measuring only 4.9 innches long and...balanced. On the technical side, three...LD (Low Dispersion) glass elements and three hybrid aspherical lenses [reduce] various optical aberrations.
"Autofocus is exceptionally quiet with improved precision and speed thanks to the OSD (Optimized Silent Drive) DC motor. Furthermore, the Model A043 incorporates the Dual MPU (Micro-Processing Unit) system, which strikes the balance between AF performance and effective vibration compensation. For close-focusing, the MOD (Minimum Object Distance) is 17.7 in across the entire zoom range. Providing greater flexibility when used outdoors, a Fluorine Coating and Moisture-Resistant Construction deliver extra measures of protection. The new 35-150mm portrait zoom is the most useful and most creative lens a portrait photographer can own."
More details on the new 35-150mm F/2.8-4 Di VC OSD (Model A043) are available on Tamron's website.
FEATURED VIDEO