Tamron AF18-270mm F/3.5-6.3 Di II VC PZD; Sometimes One Size Does Fit All Page 2
When combined with a 32-bit RISC CPU that's built into the lens, proprietary algorithms and actuator, Tamron claims an up to four-stop advantage in making sharp handheld pictures at slower shutter speeds along with a smooth, stable viewfinder image. So you know I had to see how well that worked. Going into my low-light workshop a.k.a. train room, I turned off all the lights save for a few tiny bulbs in the structures on the layout. I believe that one's ability to hand hold a camera at slow shutter speeds decreases as you age and in real-world usage I can usually shoot at 1⁄15 sec—if I'm lucky. Using the Tamron 18-270mm F/3.5-6.3 I was able to get crisp images at 1⁄8 sec and that's good enough for me.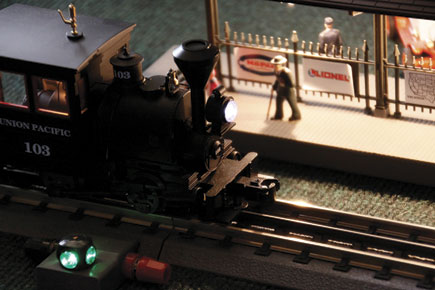 Using the 18-270mm F/3.5-6.3 in this tableau that is illuminated by two small bulbs in the waiting platform and tiny lights in the locomotive and switch, I was able to easily hand hold a shutter speed of 1⁄8 sec at f/5.6 and ISO 1600 while focusing on the locomotive in the foreground.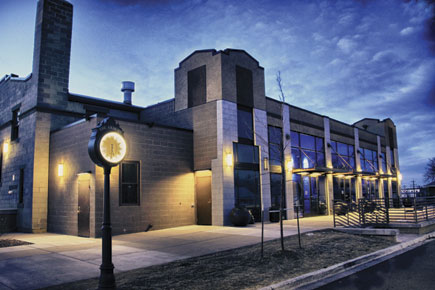 Armed with the information that I could easily shoot images at 1⁄8 sec, I decided to try a three-stop HDR bracket of the Brighton Cultural Center at dusk using Tv mode and a fixed shutter speed of 1⁄8 sec. I put the Canon EOS 50D in Continuous (slow) mode and fired several bracketed sets, and all produced sharp images. With a focal length of 18mm, the nominal exposure for this image was 1⁄8 sec at f/4.5 and ISO 400 to minimize noise. The three exposures were processed in Nik Software's HDR Efex Pro.
With visions of 540mm dancing in my head, I did try using my Pro-Optic tele-converter on the lens but quickly ran afoul of the two-stop light loss and f/6.3 maximum aperture at 270mm, which the EOS 50D's autofocus was not capable of handling. Then I remembered the old rule of thumb that manually focusing is recommended when using a tele-extender with a lens that has a maximum aperture of f/4 or slower. In addition to a wide and grippy zoom ring, the lens has a narrow, rubberized manual-focusing ring—much as on similar zooms—hanging off at the end. And much like other zooms there's little if any focusing drag and while that might not be optimal for the all-manual, all-the-time shooter, it's more than adequate for the average photographer who will use the lens in AF mode 99.5 percent of the time. Having internal focusing does make the process smoother and if you want to use a 2x tele-converter, you can manually focus Tamron's 18-270mm F/3.5-6.3 without a lot of drama.

On my first road trip, I went to Prospect, Colorado, a unique community in Boulder County, for a great lunch as well as a place to photograph interesting architecture. Since weather during the time I had the lens was quite unpredictable, I found that using the lens' VC feature made shooting an automatic (AEB) three-stop bracket for future HDR processing ensured that all three shots would align perfectly—without a tripod. Tip: I also put the camera in Continuous mode so it would fire a quick three-shot burst, making it easier to hold the camera steady enough to keep all three image files in register.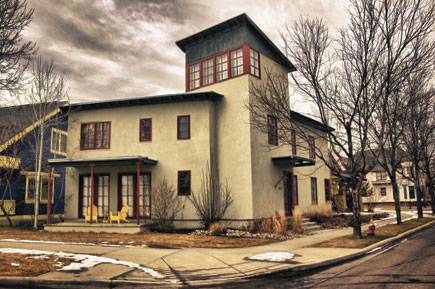 This HDR image was produced using a three-shot bracket of the house (used from my zoom range test) with the files processed in Nik Software's HDR Efex Pro. The nominal exposure in Av mode was 1⁄250 sec at f/4.5 and ISO 320 with the lens set at the 18mm focal length.
There are a lot of eagles near where I currently live but so far this is the only one I've been able to photograph and it's bronze! It was shot with the Canon EOS 50D and the Tamron lens set at 92mm. The Av exposure was 1⁄3200 sec at f/5.6 and ISO 320.
Shooting the Tamron AF18-270mm F/3.5-6.3 Di II VC PZD was a delight. Its compact size, wide zoom range, and more or less affordable price ($649) make it an ideal travel photography lens. The images produced were consistently sharp, even when shot under marginal lighting conditions. When combined with Tamron's 11-18mm F/4.5-5.6 lens (now replaced by the internal focusing SP 10-24mm F/3.5-4.5 Di II LD Aspherical) they would make a fabulous two-lens kit for travel photography. Toss in a 2x extender for the 18-270mm F/3.5-6.3 with all the previously mentioned caveats and "Bob's your uncle."
Technical Specifications
Tamron AF18-270mm F/3.5-6.3 Di II VC PZD
Lens Construction (Groups/Elements): 13/16
Angle Of View: 75˚33'-5˚55' (APS-C size equivalent)
Diaphragm Blade Number: Seven
Minimum Aperture: f/22~f/40 (18-270mm)
Minimum Focus Distance: 19.3" (over entire zoom range)
Macro Magnification Ratio: 1:3.8
Filter Diameter: 62mm
Weight: 15.9 oz
Length: 3.5"
Entire Length: 3.8"
Diameter: 2.9"
Accessory: Flower-shaped lens hood
Mount: Canon, Nikon with built-in motor, Sony
Price: $649

For more information, contact Tamron USA, Inc. at: www.tamron-usa.com.
FEATURED VIDEO