The 5 Best Selfie Sticks & Smartphone Camera Tripods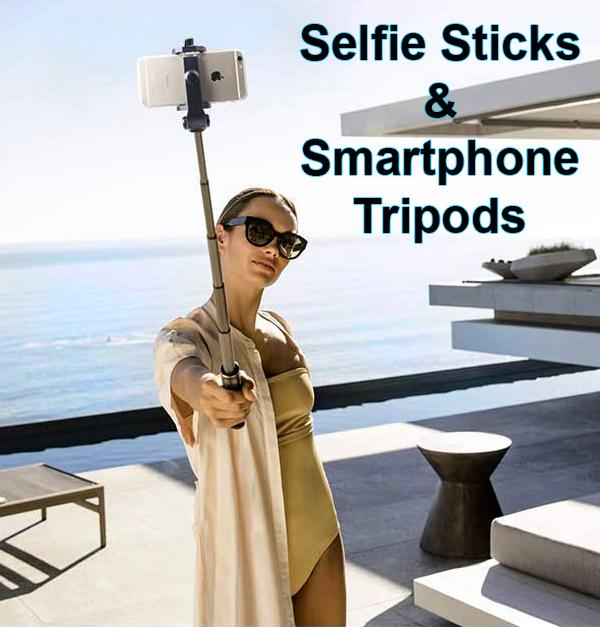 Selfie Sticks predate the smartphone by several years. But it wasn't until all mobile telephones adopted the (more or less) same thin, flat, rectangular shape that universal selfie holders could flourish. Here we look at five great ways to hold your phone in the best position for self-portraits, steady video clips, vlogging or Zoom.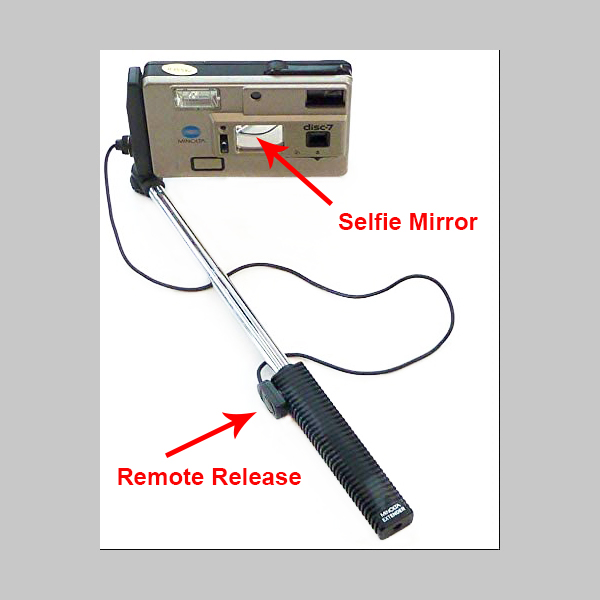 Yup, it's true. Back in 1983, Minolta Corporation, still 20 years away from being acquired by Konica and dismantled, introduced the Disc 7 and its optional accessory camera handle. The Disc 7 had a mirror on the front; the handle was extendable and included a wired shutter release. Put the two together and you had what might have been the world's first dedicated selfie kit. I might add that for a long time it was also the world's last dedicated selfie kit, that is, until the camera phone came along.
If you're not familiar with Disc film cameras, they were something like the Advanced Photo System (APS) only worse. If you're not familiar with APS, congratulations; you're one lucky dog.
If you're on the quest for a complete, turnkey vlogging setup, check out our recent article, Complete Kits for Vloggers and Video Content Creators Roundup Review.
Or if it's a table top tripod for a real camera or GoPro that you seek, read this: Table Top Tripod Roundup Review. And if you're really not sure what you need, we can still help: What Type of Tripod Should I Buy? Buying Advice: How to Buy a Tripod.
1. Benro BK15
Mini Tripod, Selfie Stick, Wireless Control
A perfect example of the selfie-stick-plus-tripod genre, and clearly best of the lot, the Benro BK15 can be used as a tripod or extended up to 32 inches (81 cm) for use as a selfie stick. Unlike some of the other brands, this Benro model features a small ballhead for easy control of camera position. That's possibly because Benro is a world famous tripod manufacturer who has been active in this category since 2002. The Benro BK15 includes a Bluetooth remote control that has a nesting place in the tripod handle, but can of course be removed. This unit is compatible with smartphones 48-100mm wide.
But I Already Have Five Tripods…
What if you already own a high quality tripod and don't need anything except a way to attach your cell phone to it? Here's a first class solution.
Benro Arcasmart 70
The Benro Arcasmart 70 is an Arca-Swiss compatible tripod plate that has a unique flip-up smartphone holder built in. You can use it as a regular tripod plate because the phone part is folded flat and out of the way until you need it. It's quite versatile and even includes a cold shoe mount so you can attach a GoPro, microphone or lighting accessories. Made of high quality CNC machined aluminum. (CNC is short for Computer Numerical Control, a precision, computer-controlled manufacturing technology.)
Available from Amazon (tripod not included) $59.95
2. Atumtek Selfie Stick
Mini Tripod, Selfie Stick, Wireless Control
From Atumtek we have a well made combination model that features an extending handle and fully adjustable phone holder. The Bluetooth remote release is said to operate up to 33 feet. The unique and differentiating feature of the Atumtek product is a rechargeable lithium battery instead of a disposable cell. The included 50mAh battery charges via a Micro USB port in the remote. Manufacturer claims that you can continuously capture 15,000 photos on one charge (so my guess is you won't be charging it every night).
3. Joby GorillaPod Mobile Mini
Mini Tripod
One of our favorite brands (and favorite concepts, for that matter): Joby Gorilla. You know these guys, they make the small tripods that have flexible legs that can twist and bend into just about any position and can wrap securely around things like fence rails or lighting rigs. Their functional design and versatile usability have made them the de facto tripod of Vloggers. This model, the Joby GorillaPod Mobile Mini, is expressly designed to accommodate smartphones (including today's larger models). It's rubberized jaw cradles even plus-size smartphones. Ideal for travel, for holding your phone while you watch Netflix or while vlogging, you should buy this even if you also buy a selfie stick.
4. Bluehorn Selfie Stick
Mini Tripod, Selfie Stick, Wireless Control
Extendable from 7.9 inches to 40 inches, the Bluehorn Selfie Stick is nicely made and compact. It includes a wireless Bluetooth remote control.
5. BlitzWolf BW-BS10
Mini Tripod, Selfie Stick, Wireless Control
A brand name familiar to many Amazon electronics customers, BlitzWolf offers up a combo cell phone holder that comes complete with rechargeable lithium-powered remote release. Suitable for large as well as small smartphones, the BlitzWolf BE-BS10 is constructed of heavy gauge aluminum and extends from 7.7 to 32.5 inches. It supports both horizontal and vertical phone orientation and fully collapses for easy transport or storage.
—Jon Sienkiewicz
(As an Amazon Associate, Shutterbug earns from qualifying purchases linked in this story.)
FEATURED VIDEO