6 Great Tips on How to Photograph Wildlife and Nature in the Tropics
Have you ever wished you could photograph colorful frogs, exotic birds, and tropical forest landscapes all in the same day? If so, then a trip to the tropics may be in order for your next photo adventure.
Tropical countries like Costa Rica are quickly becoming safe and popular destinations that are drawing photographers from around the world who want to get up close and personal with these exotic species normally found in the pages of National Geographic.
The only kicker is, while the tropics offer an amazing range of exotic landscapes and wildlife it is also one of the most difficult and harshest environments to shoot in. The humidity and frequent rain takes its toll on photo gear, while the very dark and high contrast light challenges even the most experienced photographer.
In order to help you protect you gear and get the most out of your next tropical photo adventure here is a list of six handy tips that will keep you happily shooting while others have run for cover.
1. Always carry a large garbage bag: A black plastic garbage bag is, by far, the cheapest and most effective insurance against getting caught out in a tropical downpour unprotected. Yes, many camera backpacks come with covers that work well but nothing is easier than throwing a bag over your tripod mounted camera while never having to put it back in your pack when its raining. In fact, bring two—one for the camera and one for your bag! You can never have too much insurance.
2. Condensation kills: Warm your gear slowly inside your camera bag (or in a plastic bag), otherwise you might as well dip your camera in a glass of water. When your gear goes from being cold in that nice air conditioned bus (or room) and is then quickly exposed to the tropical heat and humidity, water condenses all over it. This renders your camera and lens useless because they become all fogged up and potentially introduce moisture inside of your expensive equipment. Think about an ice-cold glass of lemonade on a hot, humid day and you get the idea.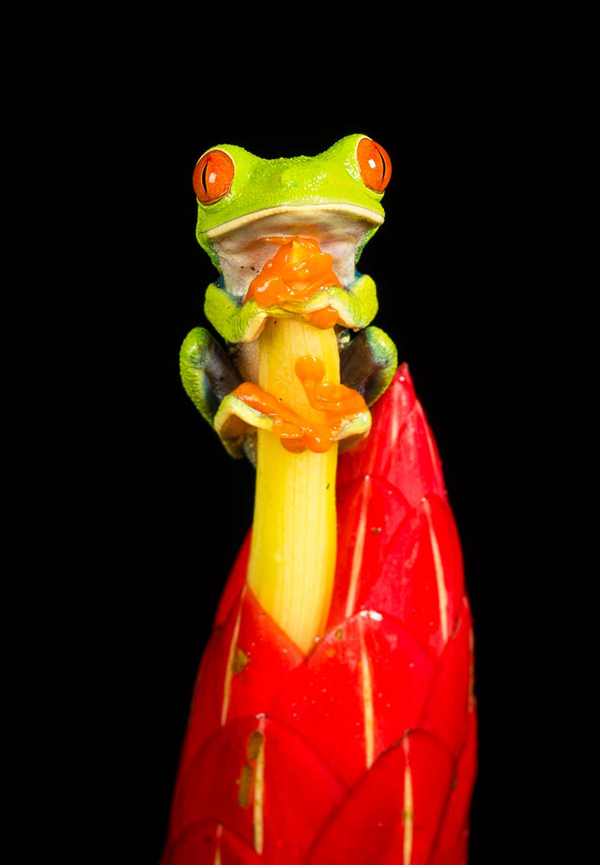 3. Keep your gear in the bathroom: This is a true guide's trick! In order to avoid the condensation issue, keep your photo gear in the bathroom with the door closed. Most rooms in the tropics do not have AC in the bathroom, so with your gear safely left "outside" in the bathroom, you can enjoy the AC in the main room while being able to grab your photo gear at a moments notice and be ready to shoot in the ambient outdoor temperature.
4. Towels, towels, towels: Always keep a towel handy to dry your gear the moment it gets wet. Because the tropics are so humid, moisture often takes a long time to evaporate off of your camera gear. Always try to dry your gear as much as possible before putting it back in your bag. Unlike in dryer climates, in the tropics your gear may never dry in your bag. While my last point was about avoiding air conditioning, if your gear gets seriously wet, nothing will dry it better than first a good toweling off and then leaving the bag open in your air conditioned room for the night. Just remember to let it warm slowly inside your sealed bag when you leave the AC.
5. Go light: For many of us, a tropical trip may be a once in a lifetime adventure so we want to bring every bit of photo gear we own. But remember, it is super hot and carrying heavy bags is 10 times harder in the humidity. Personally, I opt to carry all of my photo gear in a big Think Tank roller bag and then transfer whatever I might need for any given shoot into a smaller F-stop daypack. Logistically I must decide if I am going to focus on macro or birds during any given shoot and thus limit my gear accordingly. While on occasion this has caused me to miss some shots—I have way more fun, am more productive and (most importantly for my traveling companions) I am far more pleasant when I am not dying in the heat.
6. Its dark in here: One of the first things new photographers to the tropics notice is just how dark it is inside the forest. With such a dense and multi-leveled forest canopy overhead, the light that does reach the forest floor is often very dim and littered with dark shadows. Thus, when walking along a trail I often choose to focus more on macro subjects which are close and allow me to control the light with flashes and LED panel lights. When shooting on a skybridge, photographers are in the top of the tree canopy so the light is brighter and more uniform. On these bridges I tend to carry my Nikon 16-35mm for broad scenes of the canopy and my Nikon 80-400mm for any wildlife I might encounter. The key is knowing what type shooting you will be doing depending on the conditions and only carry that gear.
(Josh's images have been featured in publications throughout the world and his work is represented by Aurora Photos. To find out more about his work and his workshops, follow Josh on Facebook and Instagram @joshmillerphotography, or check out his website. Paulo Valerio, whose images are represented in this story as Art Nature Photography, is the operations manager of Costa Rica's largest photo tour company Foto Verde Tours.)
FEATURED VIDEO