Shutterbug's Bag Man Reviews Case Logic Kontrast Pro DSLR Photo Backpack
Drive any highway in North America and you'll surely see the Thule logo on an automobile roof rack, bike carrier or ski bracket. What you may not know is that the widely popular maker of computer cases and camera packs, Case Logic, is part of the Thule Group. Today we look at the Kontrast Pro DSLR Backpack, the latest addition to their complete lineup of camera bags.
Case Logic has done it again, they've added a much-needed photo backpack that's sized right for pro cameras to their assortment of camera carrying solutions. Aptly named the Kontrast Pro DSLR Backpack (and slated to go on sale starting July 8, 2015), it comfortably and securely holds a pro DSLR with lens and seven or eight additional lenses plus flash, accessory odds and ends and a 10-inch tablet or 15-inch laptop in a dedicated compartment.
Two things immediately catch your eye about this bag. One is the large, water-defiant molded base that is sure to keep the bottom dry, even when sitting on rather long, wet grass. The second is the day-glow lime green accents that enhance the aesthetics. The same color has a more functional role on the inside where it provides a background color that makes it impossible for tiny parts and pieces—like wayward hot shoe covers, for instance—to hide. This bag is part of the Kontrast collection. Case Logic also offers the Luminosity and Reflexion series of camera bags. Poor spelling aside, the three lines offer a very complete array worthy of your serious consideration.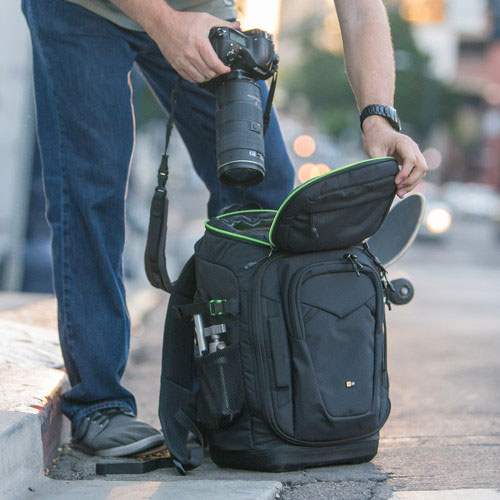 Inside, top down, you first encounter the unique "hammock system" that suspends a DSLR to protect it while keeping it immediately accessible. At first I did have a little problem pulling a fat round lens out of the notch provided, but once I became accustomed to it, things were fine. And it was great having the camera topside, easy to reach, while the bag sat in front of me on its thick, protective base.
The remainder of the innards can easily be customized using the provided assortment of moveable, padded dividers. The bag offers plenty of room and delivers more than adequate protection. This video gives you an idea of how the Kontrast Pro DSLR Backpack appears both empty and full. Unlike some bags that hide the trapdoor opening of the main compartment on the strap side of the backpack, Case Logic wisely chose to place the zippered door on the outside, so you needn't fight your way through a tangle of straps to reach a lens.
On each side, billowed mesh side pockets offer additional storage and can be used as tripod slings thanks to straps placed conveniently above each. Yes, you could carry two tripods. Or one tripod and a foot-long sub sandwich, monopod or water bottle. There's also a zippered, flap-type organized pouch good for holding tickets, keys or loose lens caps.
Given my druthers, I'd like to see more sturdy YKK zippers and a more robust haul handle (the loop-type handle found at the top of every backpack—the handle one would use to retrieve the bag from an overhead storage bin on an airplane). Small points, don't let these tiny criticisms detract from your overall impression of this nicely designed and well made bag.
The Case Logic Kontrast Pro DSLR Backpack sells for $149 and and is slated to go on sale this week, starting July 8th. The Case Logic Kontrast Pro DSLR Backpack will be available from Amazon and other retailers.
—Jon Sienkiewicz
FEATURED VIDEO