Shoot-Out In The Old West Page 2
As a back-up camera for a working pro, or the in-house corporate photographer, or for the serious amateur, this camera produces consistent results and has features and functions that are, for me, comfortable and enjoyable to use."
Nikon D70
"Wild Bill" Ellzey (Bill Ellzey has photographed around the globe (Egypt, India, China, Japan, Australia, Alaska, and the American Southwest) on assignments and teaching gigs since turning pro 33 years ago. He is published in numerous national and international magazines and newspapers, teaches workshops, judges photo exhibits, writes and lectures in the field of photography. To learn more about Ellzey, visit his website at: www.billellzey.com. You can also e-mail him at: bill@billellzey.com.)

"Right out of the box the Nikon D70 seems small. Small in a good way--a derringer, as my sheet-film amigo, Jay Dusard, refers to all 35mm-size cameras. It's compact and light, however you can't quite tuck it up your sleeve or down your boot.
Sangre de Cristo Mountains, San Luis Valley, Colorado. Welcome moisture in the high desert San Luis Valley (elevation: 8000 ft) blankets the foreground below 14,000-foot peaks of the Sangre de Cristo Mountains. Only a slight Levels move was applied to this D70 image in Photoshop.
© 2005, Bill Ellzey, All Rights Reserved
It is slightly smaller than its predecessor, the D100, and to my great joy it awakens from sleep quickly once you tap the shutter button. This has been a frustration with some earlier 6-megapixel cameras. If you're like me you want to take a picture right now, not a moment from now.

I was curious about this camera because 3/4 of my workshop participants last autumn were using it. Either Nikon had a great ad campaign going or the D70 was some shooting iron. Iron? Actually no. It is made of very tough plastic, which is why it's so light.

Having shot high-end digital SLRs (and no film) for the past three years, I tried to do as much as I could with this D70 without referring to the manual. The on-screen menus are pretty self-explanatory, the fonts on the large (easy to read) side, and shifting from menu to menu to submenu doesn't take long to figure out. When you do have to refer to the manual, it's easy to find what you're looking for. Page numbers accompany the names of the buttons, latches, and spin wheels in the picture diagrams.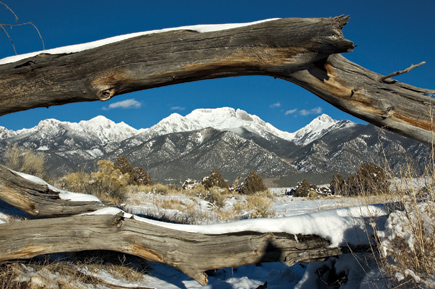 Sangre de Cristo Mountains, South Central Colorado. Wide depth of field at small aperture shows there is no problem with the "kit" lens at small ƒ/stops.
© 2005, Bill Ellzey, All Rights Reserved
One thing I like in particular about Nikons, including the D70, is the ability to adjust exposures, over and under, by up to five stops in 1/2 or 1/3 stop increments (#9 in the CSM menu). Why would you ever want to do this? In extreme contrast situations you can tripod mount the camera and shoot one exposure for perfect shadow detail and make a second for perfect highlight detail and blend the pictures in Photoshop. It's easier to hold down the exposure compensation button and rotate the main command dial while in Program or Aperture modes, which changes the shutter speed, than to make the adjustment in Manual mode or Shutter preferred. You don't want to alter the aperture to change exposure when you plan to overlay images in register.

The camera I received for review came as a kit that included an 18-70mm f/3.5-4.5 lens that Nikon shooters embrace warmly. So if you're just getting started with a digital SLR, e.g., you don't already have a stable of lenses, this is an excellent camera/lens combo to start with.

What's lacking in this nice saddlebag camera? No cable release, except for an infrared device sold separately, and the sensor is only on the front of the camera. The electronic viewfinder grid that I loved in the D100 was left off the D70. The tripod socket is a bit shallow for my quick clamp plates. This is easily remedied with a shorter screw or a shim.

There is always more to say than there is page space, so to wrap up, the D70 could be the perfect camera for entry-level digital SLR shooters as well as a nice derringer weight back-up body for Nikon pros. I will certainly sell images made while testing this camera."
Olympus E-1
"Pancho," a.k.a. Steve Anchell (Steve Anchell is an internationally published photographer/writer. He has authored many books on technique and has conducted photographic and darkroom workshops since 1979. For more information on Anchell's workshops, call (719) 256-4157 or visit www.anchellworkshops.com.)

"What impresses me most about this camera is that it is the first and only digital SLR built from the ground up for digital photography, including the lenses which were designed specifically to optimize the digital image. While many camera companies will try to convince you that they can optimize the performance of their lenses through a software or technology solution coupled to the sensor, it just ain't so (see "Digitally Optimized Zoom Lenses--Do They Really Make A Difference?," Peter K. Burian, Shutterbug, March 2005 issue). In a medium where the resolving power of the image capture is not inherently sharp, my feeling is that Olympus has gone further than any other camera company to create lenses that will get the most out of a digital image (Olympus also uses software and technology to further increase sharpness and resolution--but it begins with the lens).
Rio Grande at Sunset, Colorado.
© 2005, Steve Anchell, All Rights Reserved
The two Olympus lenses I tested performed admirably with no evidence of color falloff in large even areas, such as sky, or distortion on the edges of the frame. The native sharpness (the ability to define edges between two areas of different contrast or brightness) and resolution (the ability to render fine detail) were both excellent for a digital image, especially when the sharpness setting (a feature of the camera) is set to higher than normal. Having said this, I prefer to turn the sharpness off altogether and sharpen the image in Adobe Photoshop at the actual enlargement size it will be reproduced or printed.

In addition to the excellent optics I found the E-1 to have every feature a professional photographer would require to complete any assignment. This includes the ability to capture in raw+JPEG simultaneously or to capture in raw, JPEG, or TIFF only. What's more, it is possible to switch between these modes via an easily accessible button on the top deck, rather than attempting to find it in the menu, as you must with other digital SLRs I have used.

As anyone who has worked in the field with a digital camera knows, to their chagrin, dust on the sensor is a serious problem, more so because you can't just blow it off with canned air. Olympus has devised a Supersonic Wave Filter to actually shake dust off the CCD. Each time you power up the camera a high-speed sound pulse is sent across the CCD surface, causing dust to fall into a small, sticky trough below the sensor. This wave filter works perfectly and is one of the other unique features that makes the E-1 the first 100 percent digital camera.
Fall Foilage, Mendao Pass, Colorado.
© 2005, Steve Anchell, All Rights Reserved
I was especially impressed with the excellent color fidelity and separation between similar hues. While I am limited to 13x19" enlargements by my Epson Stylus Photo 2200, I have made many of which I am very pleased.

There were a few features of the E-1 that are not so pleasing to me. One was the low (by today's standards) megapixel count. However, as a result of the excellent optics and integrated software, the E-1 is capable of creating images as good, or better, than many digital SLRs with a higher megapixel count. For me, this makes the E-1 a serious contender in the digital SLR market. But what was my overall impression of using the E-1? It was hard to give it back when the 60-day loan was over!"
Manufacturers/Distributors
Canon U.S.A., Inc.
One Canon Plz.
Lake Success, NY 11042
(800) 423-2366
(516) 328-5000
www.usa.canon.com
www.canoneos.com

Konica Minolta Photo Imaging U.S.A., Inc.
725 Darlington Ave.
Mahwah, NJ 07430
(800) 285-6422
(201) 574-4000
www.konicaminolta.us

Nikon Inc.
1300 Walt Whitman Rd.
Melville, NY 11747
(800) 526-4566
(631) 547-4200
www.nikonusa.com
Olympus America Inc. (Olympus Image Systems, Inc.)
2 Corporate Center Dr.
Melville, NY 11747
(888) 553-4448 (digital)
(631) 844-5000
www.olympusamerica.com

FEATURED VIDEO