Rokinon Intros Xeen Pro Level Cinema Lens System with Affordable Price Tags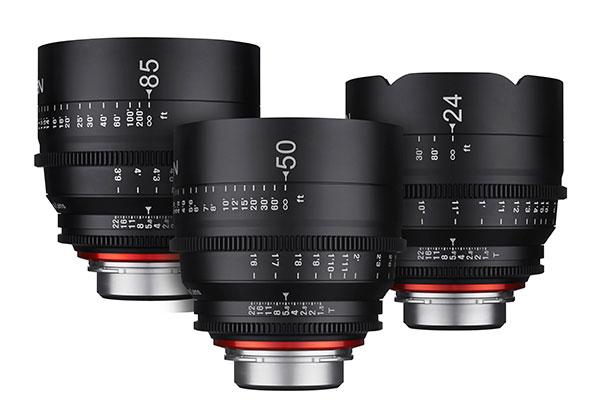 Rokinon's new Xeen is a pro level cine lens system with a surprisingly affordable price tag (for this type of video quality and performance). The Xeen system includes three lenses: 24mm, 50mm, and 85mm.
All three feature a constant aperture of T/1.5 and full frame coverage. They will be available in mounts for Canon EF, Nikon F, Sony E, Micro Four Thirds and PL. Additional focal lengths will be introduced throughout 2015 and 2016.
Features:
4K ready optics
Full Frame coverage
Tightly color matched
Durable all metal body
Unified 40° iris rotation
Unified 200° focus throw
Large easy to read markings
Lens support mount (Except PL)
11 bladed diaphragm for Bokeh
Xeen proprietary 14 layer multi-coating
Unified 114mm non-rotating front diameters
Dual calibrated right/left side distance and T-Stop scales
Unified focus/aperture gear positions for easy follow focus use
Mounts can be shimmed and are interchangeable (by qualified technician)
Smooth and fully damped movement of focusing/aperture controls
Engineered and optimized for high use pro cine/video applications, backed by a 3-year limited warranty
All three focal lengths are available for purchase from authorized XEEN dealers
Xeen by Rokinon lens mechanics and optics are manufactured and assembled in Korea. The three lenses sell for $2995 each.
More info on the Xeen system here.
FEATURED VIDEO