Review of HEX Ranger DSLR Sling XL Camera Bag - Shutterbug's Bagman Returns
Despite the name, it's not just for DSLRs. Is it an all-new category of camera conveyance products? More chubby than a sling and less bulky than most photo backpacks, the HEX Ranger DSLR Sling XL offers 15L of storage and an intriguing design.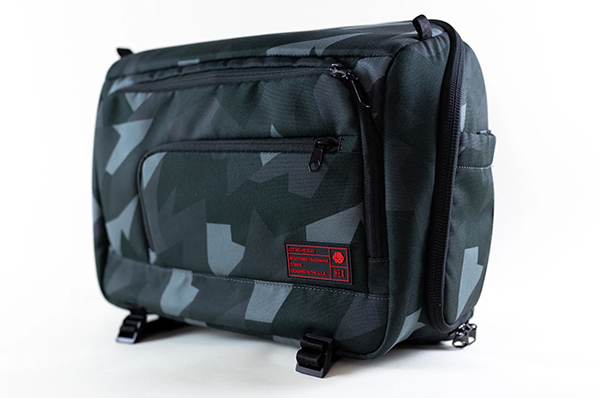 Mirrorless system cameras, DSLRs and lenses hog the headlines when the subject of innovation in the photo industry is discussed. Those products are exciting and fun, but truth told, they evolve relatively slowly. Camera accessories, including tripods, memory cards, editing software and yes, camera bags, all morph and progress at a much faster pace.
In the photo bag/backpack/sling arena, companies like Peak Design, PGYTECH, Think Tank, Vanguard, Lowepro, Tenba, Wotancraft and a couple others continually introduce fresh, new designs that dazzle the imagination. A lesser known brand, HEX, firmly belongs in this heralded group of manufacturers who repeatedly produce better and better ways for us to carry our kit.
The new HEX Ranger DSLR Sling XL is the latest member of HEX's growing Ranger line of carrying solutions. Immediately identifiable by their subdued camouflage color options, HEX Ranger products are universally well made, cleverly designed and stylish. They tend to be more covert, making it less obvious that they may be packing an expensive camera payload.
You can see the full lineup of photo bags, slings, backpacks and straps on HEX's website. HEX also offers a sizeable assortment of travel bags, waist packs and duffels for general use.
Design and Construction
Measuring 14.5 x 11 x 5 inches (37 x 28 x 12.7 cm) and weighing just 2.2 pounds (1 kg), the HEX Ranger DSLR Sling XL is airline carry-on legal and can tote a 13-inch laptop. The exterior is genuine Cordura Eco textile that's made in part from recycled material. The fabric is anti-microbial and resists bacteria, mold and fungus. It's abrasion resistant and water repellant; even so, HEX includes a stowaway rain cover for added protection.
I like how the HEX Ranger DSLR Sling XL opens. Placed on its back, you can unzip from the bottom right corner, over the right end, across the curved top, over the left end and into the bottom left corner. Or from left to right, of course, or from the middle to either side. The bag opens into two halves, allowing absolute accessibility to the contents.
For fast access to a camera or lens without setting the bag down, you can partially unzip just the top and fetch what you need. The YKK zippers are two-way, so its easy to leave the pulls in a convenient position.
Boasting a 15L (Liter) capacity, the inside is nicely padded and includes a generous supply of flexible foam dividers that are covered with nonabrasive gray cloth. You can remove all dividers and repurpose the sling to carry clothing and travel items or several Jersey Mike's giant sub sandwiches. Two long zippered mesh pockets complete the simple interior layout.
On the outside front we find large zippered pouch with organizer pockets along its back wall. There's also a separate zippered pouch that's lined with a fur-like material that effectively protects your cell phone, sunglasses or thin point-and-shoot from scuffs. On the bottom there's a pair of straps that can be used to lash a travel tripod or rolled jacket for easy transport. YKK zippers are used throughout.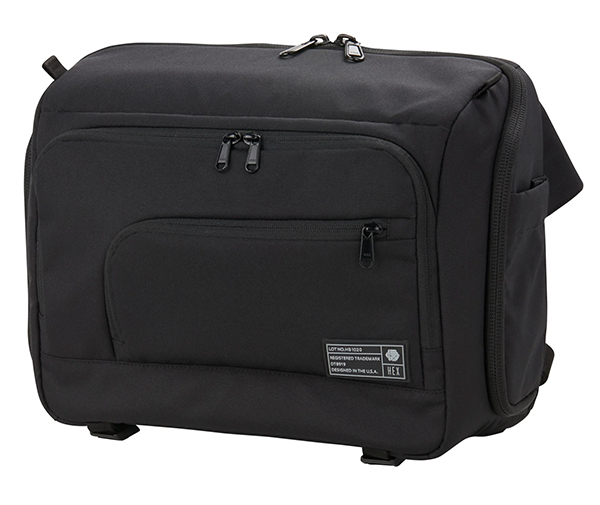 On the back, which is covered with a breathable mesh padding, there's a false-fur lined computer sleeve that snuggly accommodates my 13-inch MacBook Air. An unobtrusive grab handle is above. The fully adjustable shoulder strap is attached to the back and features a cushioned shoulder pad (that's not quite as nonslip as I'd like) and a quick release buckle.
Looking from the front, there's a slightly expandable slip pouch on the right side and a flat zippered pouch on the left. This is a relatively small bag, but these two pouches are too small to be very useful.
In The Field
Roomy enough to hold more gear than I normally pack, the HEX Ranger DSLR Sling XL feels secure and protective of its contents. The light empty weight helps keep overall load more portable. The adjustable (but not removable) shoulder strap is strongly attached and features a military-style snap closure. I suppose if you have the girth, this sling can be worn as a humongous waist pack.
HEX's new sling XL is comfortable to carry, but I did struggle to prevent the shoulder pad from slipping. I hate to keep mentioning this but it's annoying, particularly when the bag is spacious enough to hold some serious tonnage.
Like other HEX Ranger slings, the XL has a faux-fur-lined pouch on the front that provides scratch-free protection for your phone, handheld light meter, medium size electronic flash or what have you.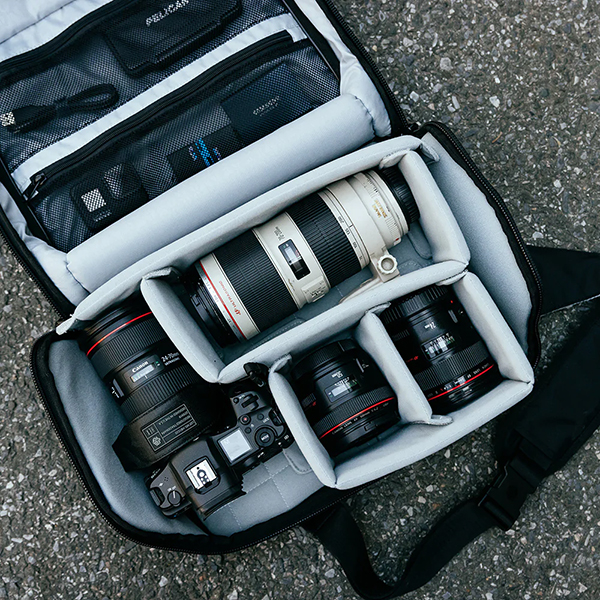 Conclusion
Does the HEX Ranger DSLR Sling XL Camera Bag design represent a new category of photo bags, or a purposeful hybrid? You decide—I'll call it innovative and eminently functional. I can easily imagine it being utilized in many different ways by active photographers (although it's a bit cumbersome for stealth street shooting, unless you have a very large frame).
I place it open on the passenger seat of my car and secure it with a seatbelt. The top moves freely to cover the contents and the bottom holds way more than enough gear for a day's drive. It's convenient, more than adequately protective and when I exit the car, two quick zips and it's on my shoulder. I wish the shoulder pad had a nonslip surface—that's my only gripe.
Available in classic black, traditional camouflage, glacier camo and subdued blackout camo colors, the HEX Ranger DSLR Sling XL can be found on Amazon for $149.95. It should also be on the shelves of your favorite local camera dealer, and as always I encourage you to support your local photo store if you're lucky enough to still have one.
—Jon Sienkiewicz
(As an Amazon Associate, Shutterbug earns from qualifying purchases linked in this story.)
FEATURED VIDEO