Product Preview
Photogenic Offers Versatile Lighting Options With PhotoMaster II
Photogenic Professional Lighting has introduced their new Professional Power Supply PhotoMaster II series, which incorporates the newest electronic technology providing improved lighting control, and power setting repeatability and expanded functions. This series was designed to give photographers expanded versatility with six f/stops of power settings from 25 ws to 800 ws/joules. Diagnostic controls are built-in along with auto-bracketing. Optional accessories include: infrared remote control and computer software to control and save your power and modeling power settings, and over 100 light shaping tools. Contact: Photogenic Professional Lighting, 525 McClurg Rd., Youngstown, OH 44512; (800) 682-7668; fax: (330) 758-3667; www.photogenicpro.com.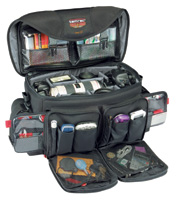 Tamrac Pro 12 Camera Bag, Model 5612
For those who now travel with both digital and film SLRs, or who want to bring along an extra body regardless of media, Tamrac's Pro 12-5612 model will do the job. With Tamrac's patented double LensBridge divider system, the Pro 12 protects two 35mm or digital SLRs with lenses attached, multiple lenses, and accessories. Inside the two ZipDrop front pockets, mesh and paraphernalia pockets help organize accessories and personal items. Two Slide Pockets incorporate Tamrac's exclusive Memory Management System (patent pending) for holding memory cards, batteries, a PC Card, and other accessories. Pockets inside the top keep film and accessories visible and organized, allowing you to separate, for example, filled memory cards from those ready for images.

Foam-padded end pockets, tripod straps, a foam-padded plastic bottom, a zippered back pocket, EasyGrip handle, BioCurve shoulder strap with S.A.S. attachment slots and Piggy-Back Pocket make this the pro's choice. More information? Contact: Tamrac, Inc., 9240 Jordan Ave., Chatsworth, CA 91311; (818) 407-9500; fax: (818) 407-9501; www.tamrac.com.
Denny's Computer Painted Backgrounds
The Denny Manufacturing Company Inc. has improved their Computer Painted backgrounds. The backgrounds, most liked for their realism, have been enhanced with new hardware and software that gives photographers an even more realistic background. The backgrounds can be printed on a canvas-like material ("Supercloth") or a muslin-like material ("Wondercloth"). The backgrounds are available in a variety of sizes and are produced quickly. Custom images can also be produced from digital files, glossy prints, and transparencies. Contact: The Denny Manufacturing Company Inc., PO Box 7200, Mobile, AL 36670; (800) 844-5616; www.dennymfg.com.
MediaStreet's Generations G-Chrome
MediaStreet has recently introduced their latest offering in pigment technology that is said to offer the least amount of sheen, bronzing, and metamerism often common to pigmented inks. The Generations G-Chrome Ink is optimized for the Epson 2200, 7600, and 9600 printer models, and is designed to come as close to a color match as possible. Their Generations G-Chrome Ink, with its matched Media Solution was specifically developed for the printing of true photographic images via ink jet onto Resin Coated (RC) photographic paper, as well as offering the flexibility of being able to print onto matte, canvas, film, and fine art papers. With Generations G-Chrome Ink those looking for fine art reproduction will get vibrant, durable prints that are said to outlast the life span of traditional photographic prints.

The inks include Generations G-Chrome Photo Black, which is 100 percent pigment and uses Enhanced Generations Ink base. The Photo Black is for imaging onto glossy RC paper. Their Generations
G-Chrome Universal Matte Black is 75 percent pigment and 25 percent dye black and is for printing onto matte and fine art papers boasting greater D-max. This Universal Matte Black can also be used for printing onto glossy RC papers, but will have a slight rub-off. The other colors in the set are 100 percent pigment.
The company notes on its helpful website that "for ink jet printers designed for dye-based ink that you will need to print at least at 2880dpi to achieve optimal results with this pigment ink set. Due to the fact that the Epson 1280, as an example, is a `dye-based' printer, you need to print at 2880dpi in order to run a `pigment' ink effectively through it. You will discover that Epson defaults automatically to the highest resolution when you print with their own pigment ink when you select a Photo Quality setting output." Contact: MediaStreet.com, 44 W. Jefryn Blvd., Unit Y, Deer Park, NY 11729; (888) 633-4295; fax: (888) 329-5991; www.mediastreet.com.
FEATURED VIDEO