Portrait Professional 10 Software Review: Retouching Made Easy
Like most professional portrait photographers, I use Photoshop every day. Yet, because Adobe Photoshop is such a powerful program with so many tools available, it also comes with a significant learning curve. And when it comes to facial retouching, there are several tasks involved that do not always make Photoshop the best choice for everyone, especially those who want to do the job and move on.
One option is to check out Portrait Professional 10 (PP10) software from Anthropics Technology. The basic learning curve is about five minutes. Load a photo in, map out a few key areas, and hit the space bar. Done! If you need more you've got it, but for many images that will do. But don't be fooled by its simplicity, there's plenty going on under the hood.
I have reviewed both Versions 8 and 9 (go to www.shutterbug.com and type Portrait Professional in the Search box) and have been impressed with each new version. For the record, I'm using the Studio Edition. It differs from the Standard Edition in that the Standard Edition does not read Raw files, is not able to be used as a Photoshop plug-in, and a few other exceptions. It's $20 more for the Studio Edition so if you're a pro it's a no-brainer. There is also a 64-bit version, Studio 64, optimized for 64-bit Windows machines.
Since I've been using the program for a while, I naturally wanted to see what's new with Version 10. According to the website, there is new ClearSkin2 ultra natural skin regeneration technology, a child mode, improved facial shaping controls, and better presets. To test the ClearSkin2 technology, I retouched a blemish with both PP10 and Photoshop using the Spot Healing Brush. Both did an excellent job: the Spot Healing Brush in Photoshop seemed to make the blemish disappear, while PP10 kept some of the redness—maybe it considers that more "lifelike."
So who would benefit from this product, the pro or the amateur? Easy—both. The amateur gets a stand-alone program that gets the job done quickly with only a few minutes required to learn the basics. The pro gets a sophisticated program that can be used on its own or as a Photoshop plug-in, both ways cutting retouching time down significantly and perhaps removing the need to resort to using Photoshop for the initial tasks.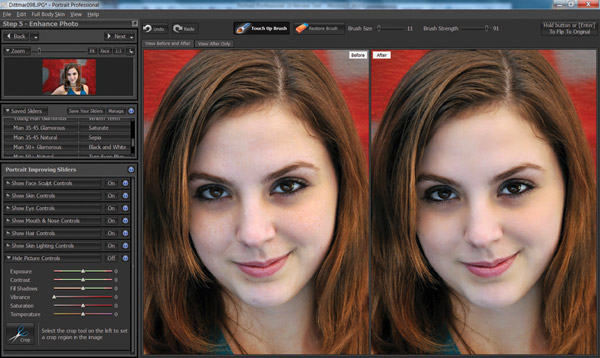 In the end, perhaps the most important feature of PP10 is its ability to save time. Many pro photographers I know are spending time retouching when they should be shooting or marketing. A workflow that incorporates PP10 as the main program for retouching and Photoshop to be used when needed would make a significant dent in retouching time. There is even a Batch command where you can line up all your files to retouch and just go right through them. I highly recommend this software for professionals and advanced amateurs who photograph people.
Face Sculpting: Friend Or Foe?
Every time I mention this product to a fellow pro, inevitably the first response is, "Oh yeah, that's the software that changes the face. My clients won't like that." Just what is face sculpting?
The company says they analyzed thousands of faces of men and women considered beautiful and PP10 takes the image and shapes it to conform to accepted standards of what is beautiful or handsome. There are many presets, including "young woman natural," "man 35-45," "glamorous," and more. My advice: try it out and see if it works for you and your clients. If it does, great. If not, just turn the function off in the software.
PP10 is available for download from Anthropics Technology at: www.portraitprofessional.com.
Pricing
Here are the prices of the three PP10 editions at press time:
• Standard: $39.95
• Studio: $59.95
• Studio 64: $119.95
Steve Bedell has been a portrait photographer for over 25 years. To subscribe to EPhoto, a free e-mail newsletter with tips for photographers, contact Bedell via e-mail at: sb@stevebedell.com. Also ask about his lighting DVDs.
FEATURED VIDEO