PMA 08; Inkjet Papers & Inks Page 2
These new baryta papers have an ultra glossy surface with a glazed finish that should be interesting to test. Also introduced were three new canvas products--Photo Glossy, Photo Matte, and Fine Art Matte. All are pre-coated with a microporous gloss coating to enhance color gamut and D-max, as well as eliminate the need to varnish the canvas after printing.
Moab
Moab, now part of Legion Paper, has a great line-up of papers. The newer Lasal and Colorado Fiber papers, reviewed in the April 2008 issue of Shutterbug, are excellent options for a variety of prints. New papers are going in the fine art direction with some conventional and not so conventional options. First up, the new Somerset Photo Satin 300 is a 100 percent cotton with "virtually no OBAs" in the paper. Still, it's a bright white with a very nice surface and reproduces both color and black and white very nicely. On the not so traditional side, three Japanese Washi papers are now available. All three papers are made in Japan from mulberry. Kozo 110 has a slightly textured surface in a natural warm tone. Unryu 55 is a very highly textured paper with fibers running wild on the surface. Finally, Bizan 300 is an individually handmade paper with natural deckled edges that has been sun-dried. This one isn't cheap--$15.77 per A4 sheet.
Pictorico
Pictorico is making a big push with the new Gekko line of papers. Four different surfaces are available, each tuned for a different printing need. Gekko Blue is a traditional pearl finish paper optimized for a standard silver halide look and feel. Gekko Red is a warm-toned cotton paper with a glossy finish. Gekko Green is Pictorico's baryta offering, while Gekko Black is a matte surface optimized for grayscale printing.

The company also has a new Pictorico Pro line with both Hi-Gloss White Film, a very glossy plastic-like paper using a polyester film base, and Hi-Gloss Photo Paper, a more traditional RC paper base with high gloss and very white surface.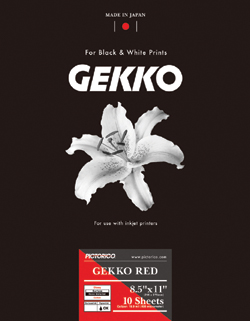 Ink Options
Although the market for third-party inks is shrinking due to Epson's tight control over their cartridges, there are still a couple of options available for those looking to use CIS, or Continuous Ink Systems. The advantage to CIS is reduced price, sometimes as much as an 80 percent savings. One dropout from the ink market has been Pantone, who has stopped production of their ColorVANTAGE replacement inks. Others are still very much alive.

Jon Cone has been making inks for years, and his piezography ink set has been the standard for black and white ink. Cone now has the ConeColor inks that are direct replacements for the Epson UltraChrome K3 ink set. The complete system comes with replacement cartridges and a set of 4 oz bottles of ink. Setup is hardly more difficult than swapping the ink cartridges out for the new ones and filling the tanks. The ConeColor inks have been formulated to match the color gamut of the Epson inks so your existing profiles will work correctly. The inks are available for the R2400, 4800, 7800, and 9800 printers, and start at $388 for a complete set for the R2400 with 4 oz bottles, and $1020 for the larger printers, including 16 oz bottles of ink.
Media Street was also showing the new Niagara system for the Epson R2400. By switching to genuine Epson cartridges that have been modified to work with a CIS, Media Street is able to avoid the legal issues plaguing other companies. Like the ConeColor CIS, the Niagara comes with 4 oz bottles of ink, in this case the Media Street G8 color inks and setup is a simple swap of the existing cartridges for the new system. The Niagara CIS is available with either a Matte Black or Photo Black option at $300, or a dual black configuration at $338. For best results, you'll want to download the free profiles for your new inks from the Media Street website. The Niagara line is also available for larger format Epsons such as the 4800, 7800, and 9800. Media Street is also one of the few options you have for quality ink replacement and CIS for other brands of printers, such as the Canon PIXMA line.
FEATURED VIDEO